I love a good browse and shop when on holiday and Burleigh Heads in January did not disappoint. On a rainy Thursday when the beach wasn't calling, I brunched and did a lap of James Street, revisiting some old favourites and discovering some new. In a favourite that's now called James and West, I fell in love with a new Australian label, Boteh, promptly buying the below top and wearing it out the following night.
Boteh has that special magic that appeals to me in a sophisticated, boho-inspired collection. Its designer and founder is Amelia Mather, who spent 14 years as designer with Tigerlily. Hello Nina Proudman vibes! When the label's second collection dropped, the team contacted me to see if I'd be keen to feature more. Umm. Hello. Please and thank-you.
I took this amazing shirt on a trip to Noosa. Bonus … it doubles as a beach cover-up (click and swipe for the pre-beach look).
… I loved it so much, I bought it in white/guaze. Sizing is super generous because it's a relaxed look. You can size down. I've got the L and M and could easily fit the S.
Boteh shirt; Golden The Label shorts; FRANKiE4 Footwear sandals
For this post, I'm featuring an off-the-shoulder top in one of the stunning prints currently available at Boteh. This was gifted to me for editorial consideration.
The model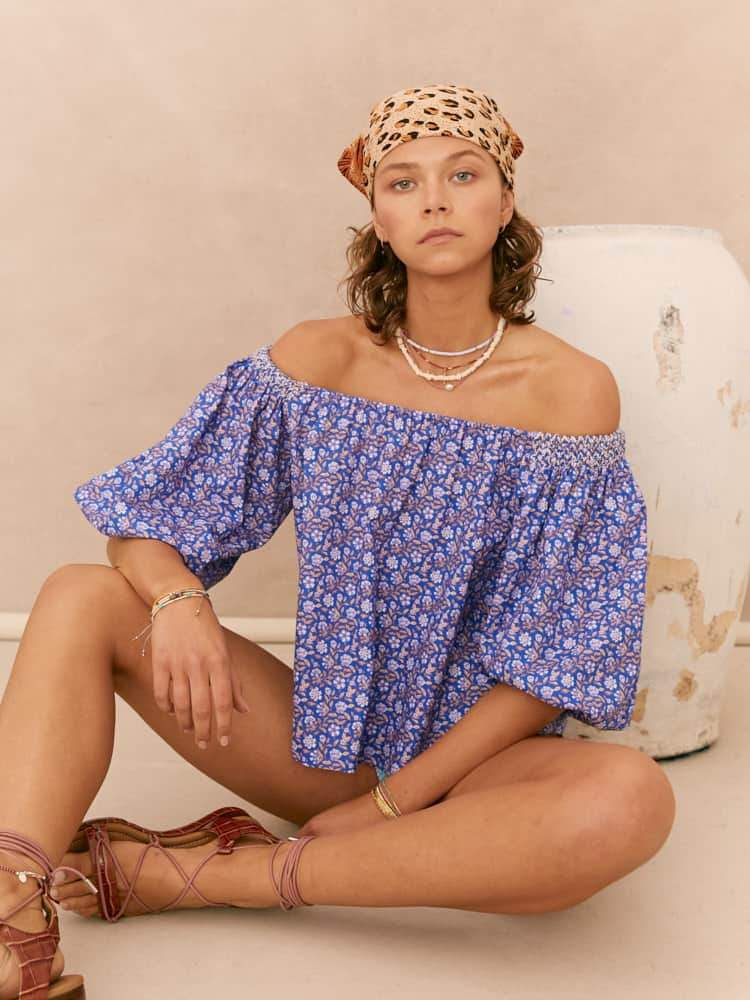 Boteh Polyxena off shoulder top
and me
Boteh top (I'm in size 3) | J Brand jeans bought via The Outnet (I'm in size 32) | FRANKiE4 Footwear heels
I'll address the elephant that's always in the room whenever I wear an off-the-shoulder anything. I love this style and always will. I invested time a few years ago in finding a strapless bra to suit my bust size and shape and that's what I suggest you do too. There is not one strapless bra that works for everyone! Read more HERE.
The vibrant colourway of this print is something else. It's a late-summer head turner that I'll happily be making work into autumn with either white jeans as I've worn here or denim jeans and a lightweight jacket.
This top can be worn on the shoulder but I have to say it's one of the most comfortable off-shoulder tops I've worn, thanks to the hand-smocking zig zag detailing at the shoulder. I'm in size 2 in the first top I bought from this label but opted for a size 3 here so it would sit well off the shoulders. The key to keeping a top like this off the shoulders and not constantly pinging up is to not buy too small for your shoulder width.
Love this print but want shoulder and arm coverage? It's been incorporated into Boteh's signature smock blouse.
Boteh is proudly the opposite of fast fashion. It's a label you'll be drawn to if you're looking for luxe, elevated boho pieces that will be worn and loved for years to come. You can read more about the label's considered approach to its design and production HERE. This might not be important to you but increasingly I'm looking for this kind of transparency when buying new clothing pieces. Yes, it's another lesson I'm taking from 2020! I respect that not everyone's budgets are the same but I can vouch completely for the quality of the pieces I've bought or received and worn.
---
ABOUT THE MODEL AND ME CONCEPT
If you're new to Styling You, my Model and Me posts are in their 11th year. I know, I can't believe it either.
I started them because so many of my then personal styling clients (I stopped seeing clients in 2012) could not imagine themselves in the clothes they saw on models in campaign images in store, in magazines or online. This is pre-Instagram. Just. And definitely pre-brands showcasing their garments on more than just the traditional model size.
I wanted to offer a different visual perspective from what was visible to the fashion consumer. It's not a better visual perspective. It's just a DIFFERENT one. I took that six steps further in 2019 when I started my own label, choosing to invest in photographing all our garments on each size that we sell.
The Model and Me posts have continued – they are designed to help you understand your size in a garment but also to support and champion fellow independent fashion labels I love.
For more Model and Me, click HERE to see the archive.