Whenever the cocktail or formal event dressing question pops up in our Facebook group, I usually point our members to White Label Noba, Sacha Drake and Moonlight bird … but I've found a new label to add to that go-to list.
Say hello to Montique. Montique offers a ready-to-wear collection of elegant, contemporary event wear for every occasion, from bridesmaids to mother of the bride, formal wear, racewear and cocktail wear … with many styles offering up to size 20.
I fell in love with the below cocktail dress at first sight and now I'm hanging for a suitable occasion to trot her out.
(For my tips on how to plan an event outfits, click HERE)
The model
Montique Monaco one-shoulder, hand-beaded dress
and me
Montique cocktail dress (I'm in XL) | FRANKiE4 Footwear ALANA heels (not current)
I have to say, I was unsure whether this dress would work for me but let us all thank the power of stretch and sequins for making a girl feel a million dollars.
This dress slides on beautifully and feels incredibly comfortable on. It hugs your shape but not in a way where I feel like an over-stuffed sausage. You see just a hint of the shape of the lining, which creates the perfect silhouette. I'm 166cm and the sequinned overlay falls to a perfect spot for me. While the lining is shorter, it doesn't feel too short because of the overlay.
The colour – kind of like a mushroom colour – offset by silver sequins, throws the look of a pewter finish, a combination that feels fabulous on.
A pair of earrings, a clutch and some heels are all you need to complete this outfit and be event ready in a flash.
SPECIAL OFFER: Until midnight, Thursday October 24, 2019, save 25% site-wide at Montique. Enter code SHOPPING25 at checkout.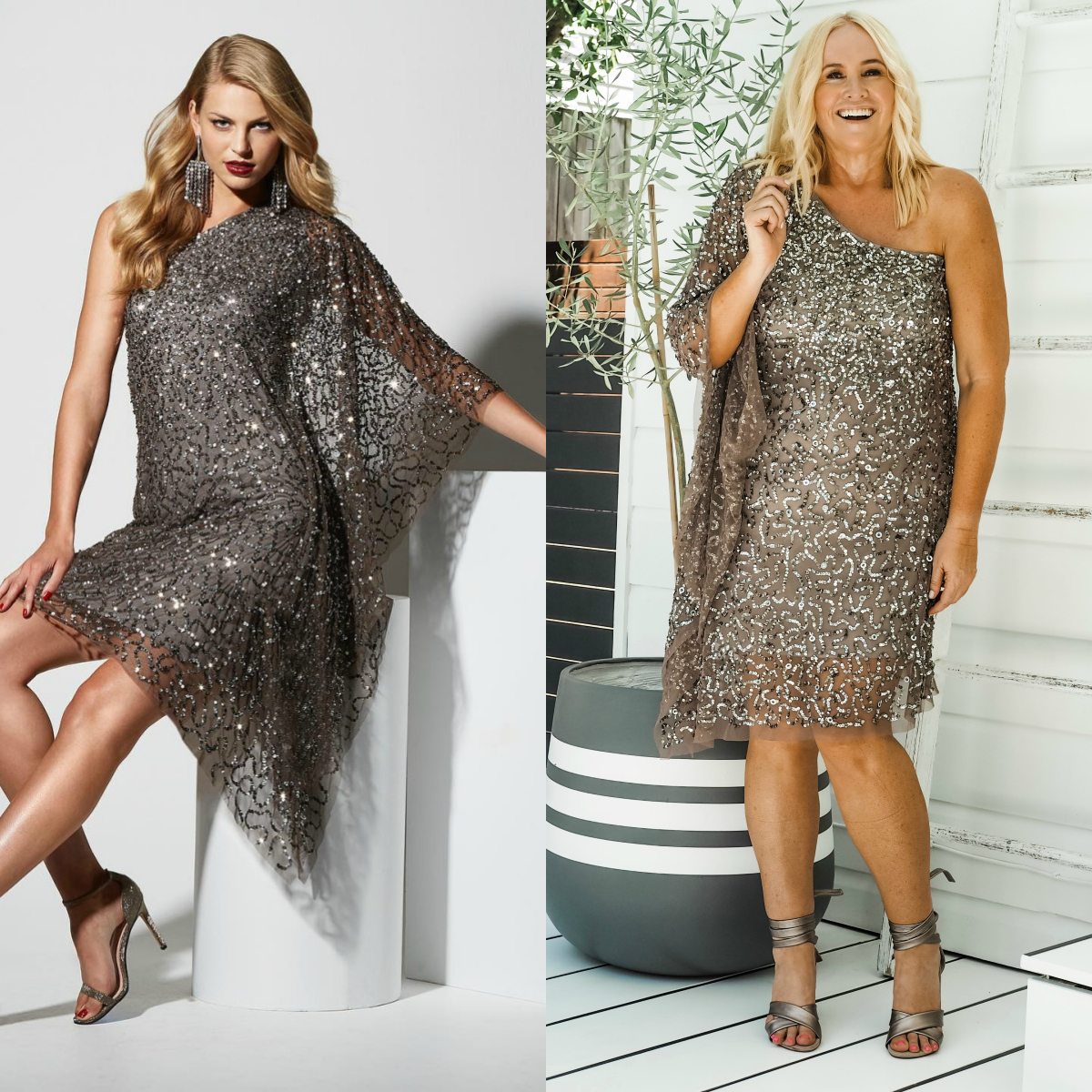 This garment was gifted to me for editorial consideration.
---
Styling You The Label pops up at West Village, West End, Brisbane
Brisbane Stylers, come on down to check out the collection in person at our pop-up this Saturday, October 26, at West Village, West End. We'll be open from 10am-4pm. You'll be able to try on and buy off the rack. All the details HERE.
Next Wednesday, SYTL makes its runway debut as part of the Brisbane Fashion Month resort show finale … we'll be unveiling some new resort pieces of our own. If you can't get along on the night, tune into our Facebook or Instagram pages … we'll be streaming the new looks live.