Styling You X Nicole Fendel! You guys! I'm so incredibly excited to share with you a jewellery collaboration that's been almost a year in the making.
Shop the Styling You X Nicole Fendel HERE
I first connected with the Melbourne-based jewellery designer back in the heyday of all things Nina Proudman and Offspring. For years, for each season that the show aired on TV, I'd create a "how to dress like Nina" blog post based on the outfits from each episode. Maybe that's when you first started reading here?
During that time, I was privileged to talk to so many Australian fashion and accessory designers who hit the jackpot after being selected by the costume designers for inclusion in Nina's wardrobe.
Like me, you went nuts for the Nina look. And in buying featured pieces you made a huge difference to independent Australian labels. There's still a lot of Nina in my wardrobe. It's a timeless boho look that just speaks to a big part of my style personality.
Nina was not a bold jewellery wearer. She wore stunning fine pieces – a mix of current designs and vintage. And in doing so, this TV character showed us that you don't need to go bold to make a statement. This fuelled my own love of a cute metallic earring and a layered necklace.
So, when Nicole (pictured below right) flew to Brisbane late last year, to meet with me with the idea to collaborate on a collection of jewellery together, I did more than a little happy dance.
I have many a Nicole Fendel piece in my collection. And now I have nine pieces that we've created together. Well, when I say together, Nicole brought my ideas of self love and confidence to life in these jewellery pieces.
You see, I believe wearing jewellery can and does have the potential to change how you feel. Accessories are the icing on your outfit cake. The thought you put into what you add to your outfit can affect how you feel each day.
In this Styling You community, I've long championed the notion that we can face each day with more confidence through what we choose to wear.
In the Styling You X Nicole Fendel "Limited Edition" collection, I wanted to go a little deeper. I wanted to include pieces that had added meaning, pieces that made you feel strong and confident when wearing them.
Of course, they had to include my favourite rose quartz crystals and heart symbols.
Rose Quartz is the crystal of unconditional love. It carries a soft feminine energy of compassion and peace, tenderness and healing, nourishment and comfort.
The heart symbol is my favourite symbol. I collect hearts. I look for heart-shaped rocks. I draw hearts more than any other doodle. I helps to remind me that decisions from the heart are as important as those from the head.
And then I wanted to remind you when you're wearing these pieces that you are special, you are unique, you are a limited edition. On our bar necklaces and cuffs, you'll find inscribed the words "limited edition".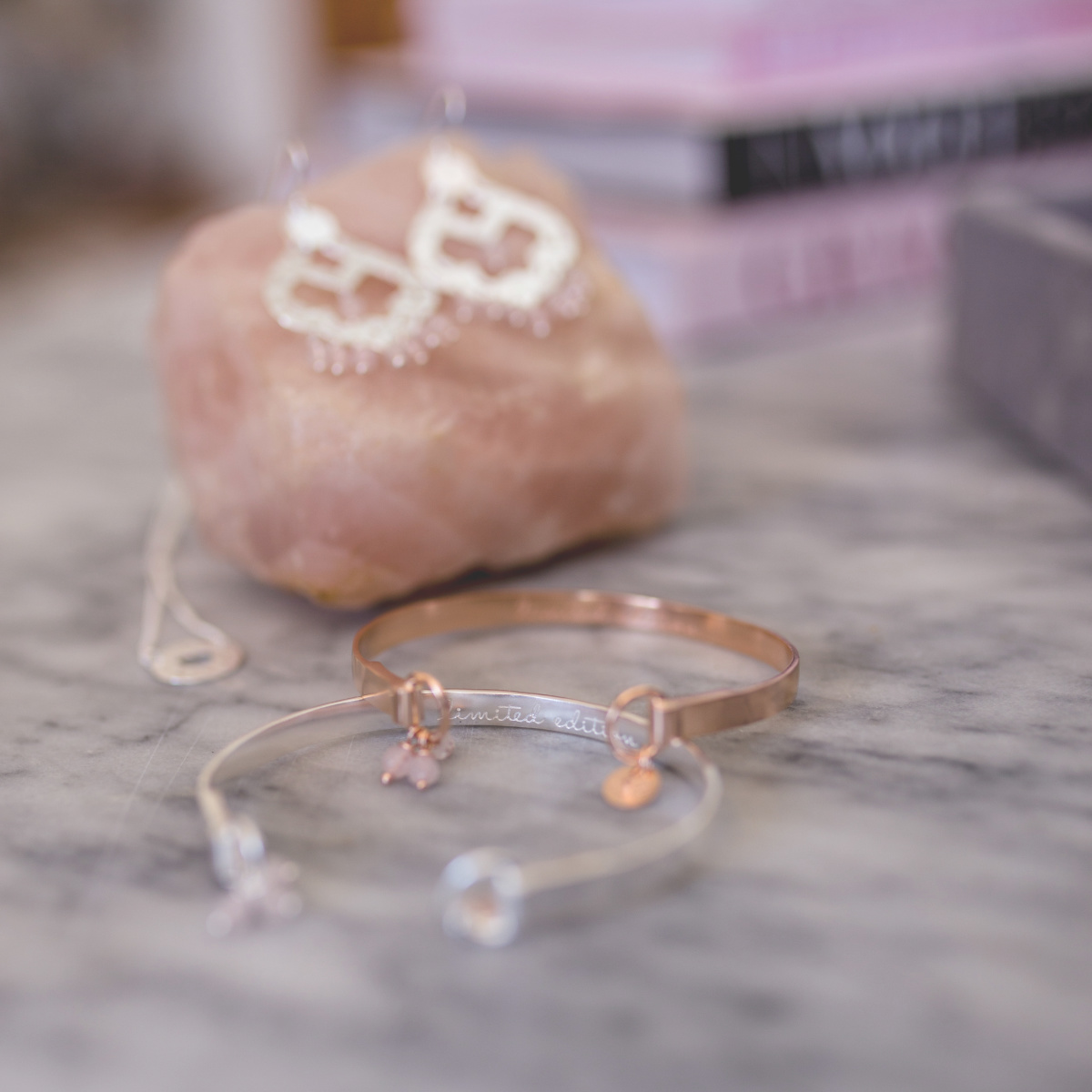 Because, YES, you are a LIMITED EDITION. You are one of a kind. You are worthy of self love and the love of others.
Shop the Styling You X Nicole Fendel HERE.
Jewellery storage options featured are all from Bon Maxie. Photography: Kate Luke. Hair and makeup: Dale Dorning