I'm not ashamed to admit it … the nostalgia for all things Nina Proudman and Offspring usually kicks in about now. And it kicks in hard. It's about this time of year that the preview ads for a new series would kick in.
I loved the relatable yet quirky storylines, I was #TeamPatrick all the way but the excitement around the evolution of Nina's style, thanks to its costume designers was always the number one reason I'd study each episode each season.
I discovered so many Australian labels through Offspring, sharing them with you and, in turn, helping those labels get new fans.
One of those labels was Catherine Murphy. The Catherine Murphy maxi dress Nina wore in the final season had me later that year adding a top to cart and earlier this year I purchased a dress from this Melbourne-based, Australian-made independent.
For this Model and Me post, I'm featuring a stunning shirt from the Catherine Murphy autumn-winter 2019 collection that's epitomises the detail and quality of this label.
The model
Catherine Murphy Tessa shirt in black
and me
Catherine Murphy Tessa shirt in black | Styling You the Label Jude dark-wash denim jeans
Catherine Murphy
This is an exclusive Catherine Murphy print. It's a beautifully busy Indian-inspired floral/botanical print that doesn't overwhelm because of its black base.
The cotton is silk-like on the skin and the detailing of cotton ribbon trim and shell buttons takes this piece next level – such a Catherine Murphy trademark.
The sleeves finish longer than shown on the model but can be pushed up to suit any look. It's a relaxed shape through the mid-section, which works just as well worn out (contrasted with a skinny or slim pant) or tucked in to a high-waist/wide-legged or cropped pant.
Add a loose trench and boots to complete a look that would make Nina proud.
So, tell me, are you still missing Nina? Love a floral "nice top"?
* This piece was kindly gifted to me for editorial consideration.
---
Styling You The Label new pop-up location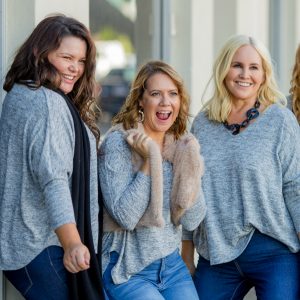 Thank you so much for all your support of our latest collection. The feedback we receive every day has us feeling all the feels. We're all about versatility, comfort + style, dig-free denim and luxe wardrobe "forever" pieces and it seems you are too.
Want to know what all the fuss is about? Subcribe HERE to our Styling You The Label newsletter and get 10% off your first purchase.
Don't forget, if you live in Brisbane (or are planning a visit soon), we're popping up Tuesdays-Sundays at Hummingbird The Shop, Paddington until the end of June. Come in and say hi.