Remember when you went nuts for this dress from then new fashion brand, Zarc Clothing? The design duo Liv and Vanessa are back with a brand new collection that brings more of their flair for creating fashion-forward pieces that suit sizes 8 through to 24.
I've chosen the navy polka jumpsuit from the Zarc Clothing autumn-winter 2019 collection to feature here because it ticks all my jumpsuit boxes and it might just do the same for you.
The model
and me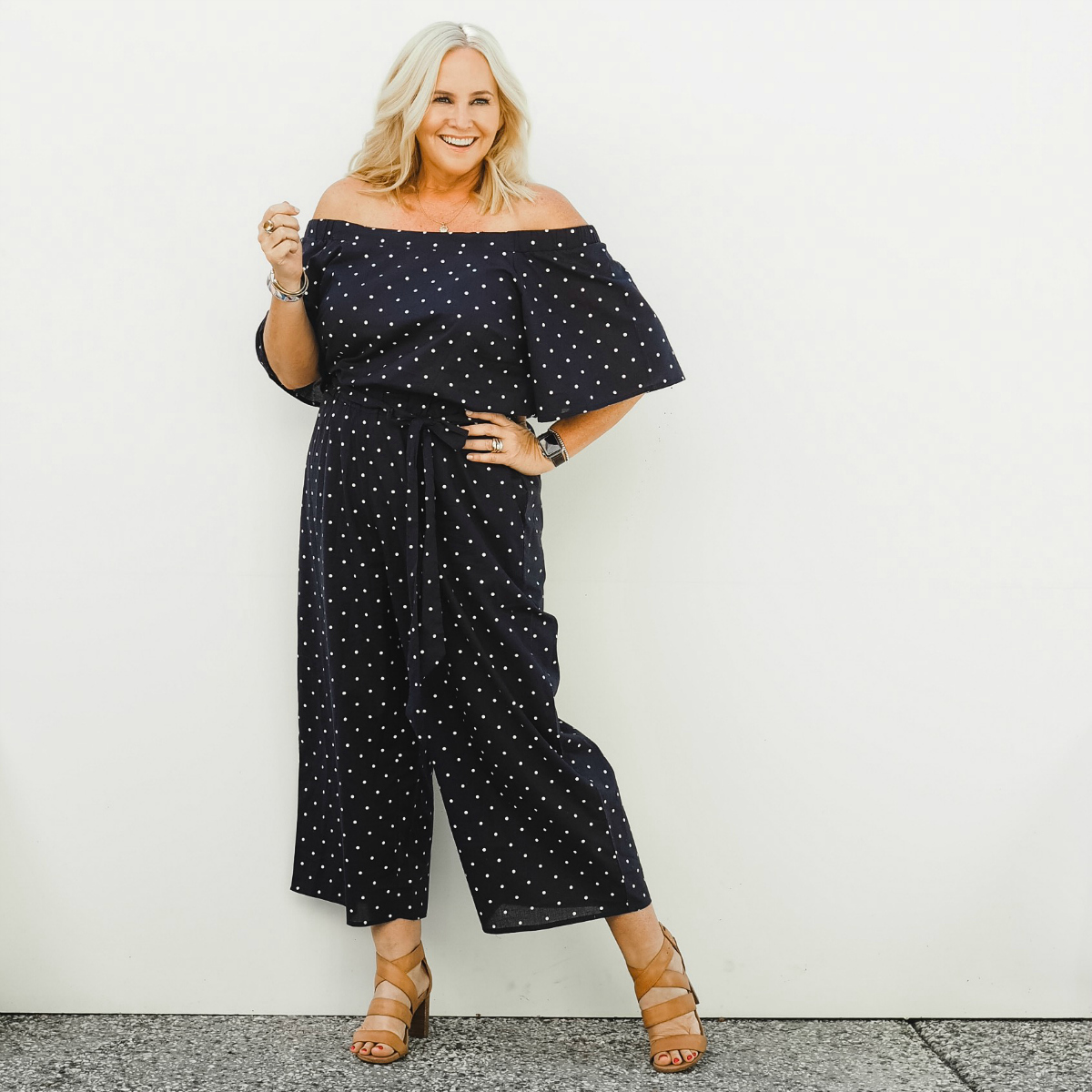 Zarc polka jumpsuit (I'm in size M) | FRANKiE4 Footwear LiSA heels
My love for off-the-shoulder anything runs very deep and I love that this is an optional off-the-shoulder situation. The straps can be tucked away to create a full shoulder look or worn to cover regular bra straps. The straps themselves are fully adjustable.
For a jumpsuit to work on me, it needs to have good length in the torso, draping over the tummy/bottom region and a waistline that can be adjusted to suit. This one ticks those boxes. I can wear the elasticated tie waistband up a bit higher without sacrificing length in the torso. Oh, and there are pockets!
In terms of sizing, I've gone down a size to M. The width across the shoulders is generous and, even in the M, it sits comfortably across my shoulders.
The fabric is 100% cotton in a great autumn weight. As it cools down more, simply swap the heeled sandals for heeled boots (boots with a pointed toe will work best with this cropped style of pant) and add a blazer. For a casual look, swap heels for sneakers and blazer for a long-line cardi.
This garment was gifted to me for editorial consideration.
---
The shirt everyone's talking about
The second re-stock of the shirt everyone's talking about – the Styling You The Label Cate shirt – is selling fast and is already sold out in some colours/sizes. Why is she so popular?
Thanks to its fabrication and shape, it drapes beautifully to create a look that is as much at home at the office as it is for weekends worked back with denim.
And, how you style the Cate is totally up to you. There are so many different combinations possible. Me? I like to roll up the sleeves to balance out proportions and loosely tie the hem to just below my waist. You could leave the shirt completely unbuttoned and wear as a duster jacket. You could wear it tucked into a pant or skirt. You could tie the waist even higher. You could wear fully buttoned, letting it hang longer over the tummy instead of using the tie.
Find out more HERE.