Sponsored by FRANKiE4 Footwear
While the temperature may not have got the autumn memo in most parts of Australia, in my fashion head I've moved on into the next season. The tricky part is most autumn-winter clothes are just too hot to wear right now. The easiest and non-sweat-inducing way to add an autumn-winter element to your outfit is to finish it with ankle boots.
In this post, I'm sharing some of my favourite styles from the FRANKiE4 Footwear autumn-winter 2019 collection plus my tips on how to style ankle boots with jeans and dresses.
I first slipped my feet into a FRANKiE4 Footwear ankle boot five years ago. It was a game-changer in terms of my autumn-winter shoe-robe now having a stylish AND comfortable ankle boot alternative.
Since that first collection, the range of FRANKiE4 Footwear ankle boots has grown and this year you'll find even more styles from which to choose. Just when you thought founder (and podiatrist/physiotherapist) Caroline McCulloch couldn't lift the bar on the design and function of the range, she has. You'll find statement-making boots, colourways for every skin tone, heel heights from 25mm through to 45mm, 70mm and 90mm. You'll find sleek styling and details with a difference.
You'll definitely find more than one pair of ankle boots to suit your lifestyle. Stylers, that's a good wardrobe problem to have!
All FRANKiE4 Footwear autumn-winter 2019 boots come with:
a built-in, podiatrist and physiotherapist-designed functional footbed that offers heel support, cradle and cushioning, arch support and forefoot cushioning
patented Custom Fit Assembly pack (more on that below)
leather upper
leather-lined footbed
leather lined with specifically placed foam lining to alleviate pressure on the skin
durable rubber sole with an additional 4mm of cushioning under the footbed, with a total forefoot cushioning of 7mm
side zip for easy access
How to style ankle boots with jeans and dresses for autumn-winter 2019
My natural default outfit in winter is pairing ankle boots back with jeans. It's an easy look that works every time – and keeps my feet warm.
What hasn't come naturally to me has been the teaming of boots with dresses and skirts but it's something I've pushed myself outside of my style comfort zone to embrace. Why? Because whenever you can stretch your style to encompass something new, the more fresh your look will feel.
In wearing ankle boots with dresses and skirts, I've learned a few things about myself – and my style comfort zone – along the way. I've learned that not all pairings of boots and frocks/skirts work for me. I need the clothing part of the outfit to have a little boho feel to it – think flowing skirt, relaxed styling and embroidery detailing – for me to feel comfortable and confident.
I've also learned that the best colourways in ankle boots (for me) when exposing my legs are the lighter tones – light tan, wheat and gold. Not only does that create more of a leg lengthening illusion on my legs but it also "tops and tails" my boot with my blonde hair. This doesn't mean I avoid a dark boot altogether; it just means I think more about how I work a darker boot back with my clothes. I want that boot to pick up the same tones in what I'm wearing.
My boot-robe (the winter edition of the shoe-robe) always includes everyday/on-the-run boots as well as statement heels, so I've included some of my favourites in both departments below. To check out the full FRANKiE4 Footwear autumn-winter 2019 collection, click HERE.
The high boots
RUTH in gold (also in cognac): When I first laid eyes on RUTH in gold I swear my heart skipped a beat. Her 90mm block heel, pointed toe and modern shape tick all my dressy heeled boot boxes but it was her gold snakeskin finish which had me hyperventilating about all the outfits I'd work RUTH back with. She will definitely turn heads.
EMiLY in black (also in taupe and tan): With a block heel the same width as RUTH but in a 70mm stack and pointed toe, EMiLY dresses up any outfit but allows you to be on the run all day with its shorter height.
iZZY in navy (also in black and cognac): iZZY is everyone's 70mm favourite. This year she's calling all navy fans to embrace her statement colour ways with a bright navy that will get you noticed.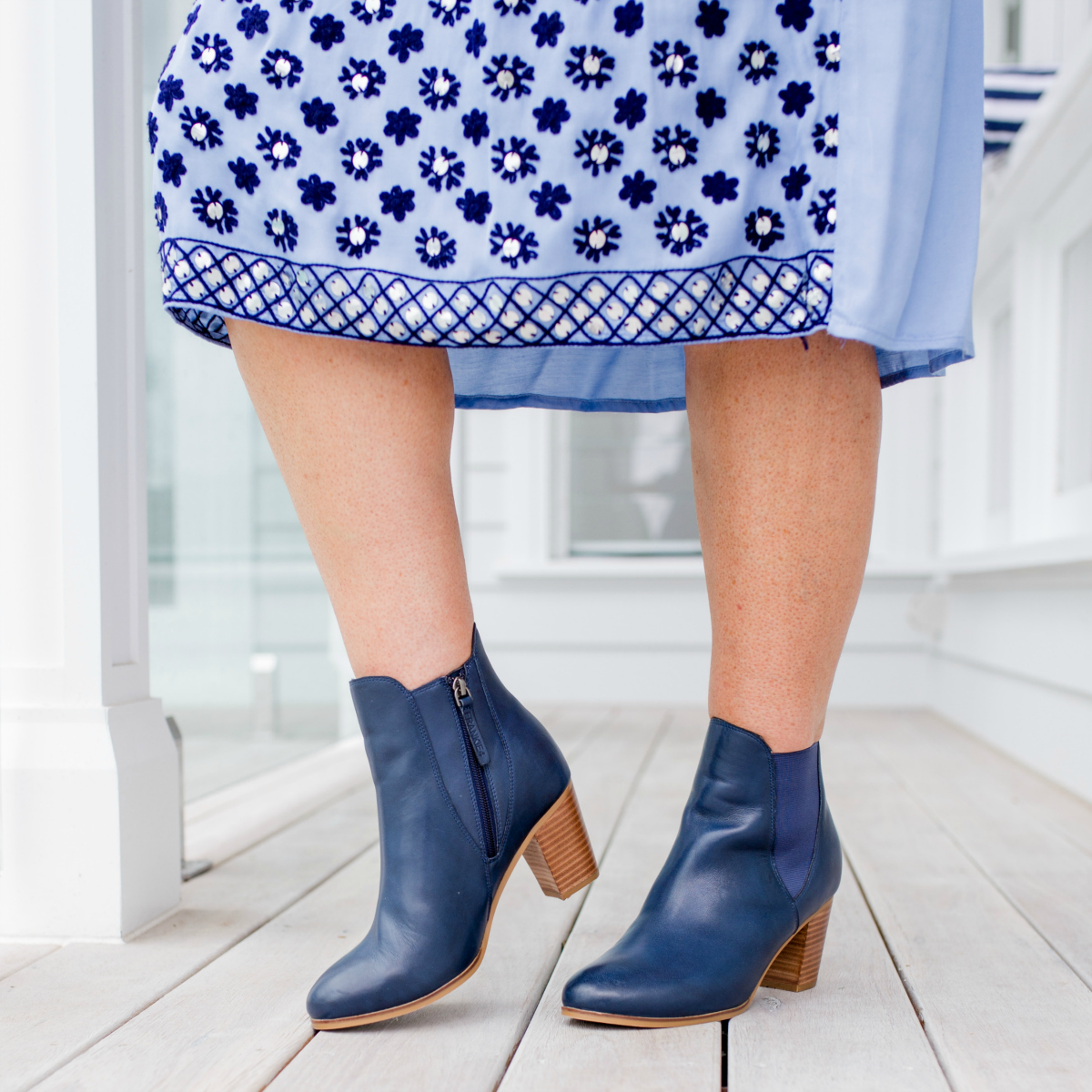 … also check out the NAOMi 90mm heeled boot – a super popular style in black and cognac from 2018 but back with an additional tan colour.
The mid boots
RACH in leopard (also in wheat, grey and pale rose): I walked all over Tokyo in RACH and I can vouch for her ability to go the distance, while also keeping you looking The Business. Her classic styling and 45mm heel mean she's a boot that will work back in your wardrobe for many a winter to come. The leopard spot detailing adds a little something-something but in a way that enables the boot to still be a neutral.
LAURA in wheat (also in black and cognac): Also a 45mm all-day heel, LAURA offer sleek styling – particularly around the ankle. If you have a narrow foot, this is a great boot for you to try.
… also check out the MiA 45mm heed boot in black lea, tan and gunmetal and the popular SALLi in black and tan. SALLi works particularly well if you have a wider ankle.
The flat boots
BELLE in tan (also in black and metallic): When is a flat boot not a flat boot? When it's by FRANKiE4 of course. The BELLE has all the comfort of a flat boot but with a 25mm heel and a lot of inbuilt support and cushioning that most shoe brands simply don't include in a flat shoe. A full flat shoe or boot without this support can be as damaging to your feet as an unsupported heel.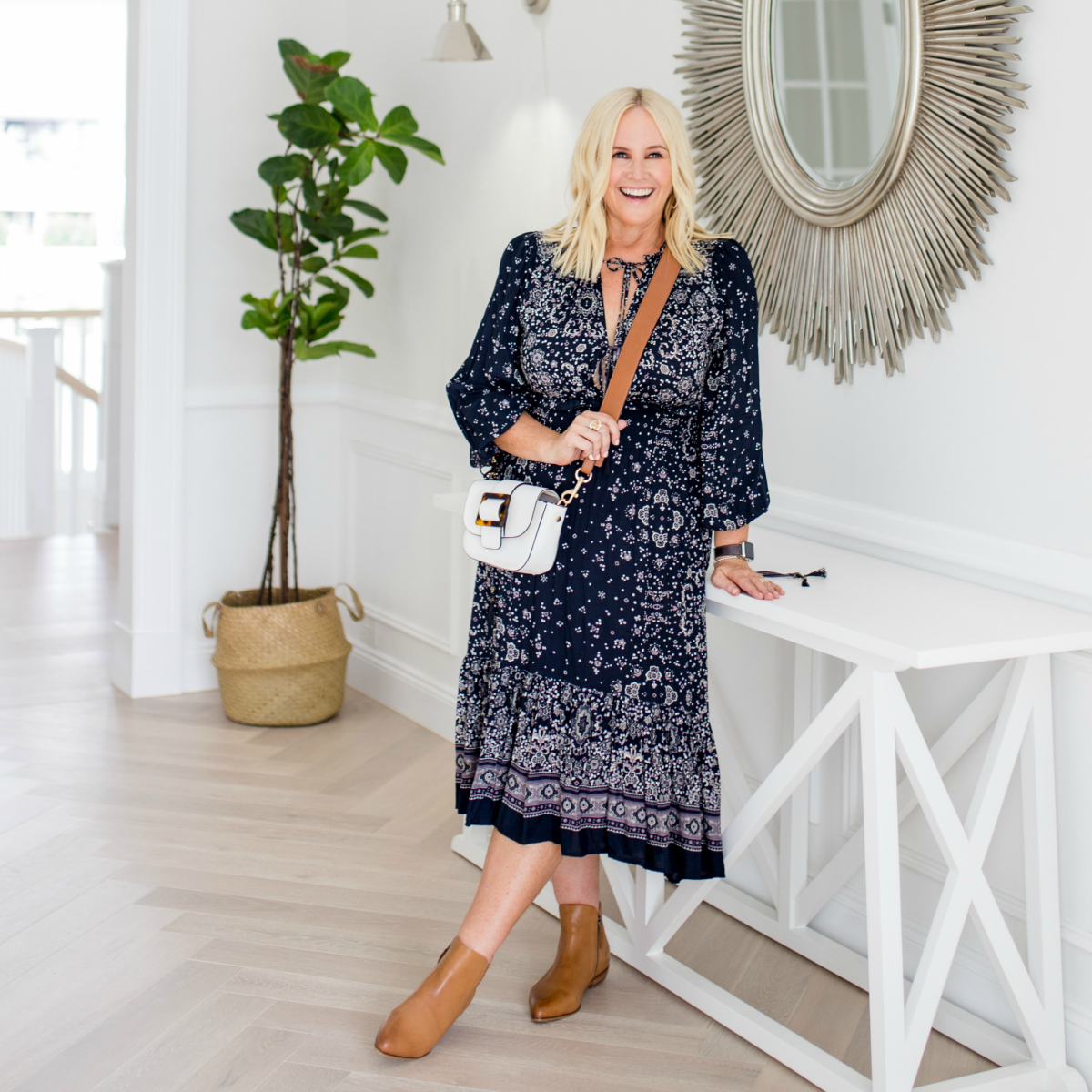 … also check out the JAZZ 25mmm boot for a full black, flat boot option and cognac/navy combination.
FRANKiE4 patented Custom Fit pack
The Custom Fit pack (pictured) comes with most FRANKiE4 enclosed boots, shoes and active flats. It contains a full-length footbed; a half-length footbed; and forefoot cushions. Which footbeds you use comes down to your individual feet.
Standard fit: try the full-length footbed. This footbed has contouring to support your arch, cradle your heel and cushion your feet. If it feels snug but not too tight, you are good to go.
Narrow fit: If your shoes are feeling a little loose, place a forefoot cushion under the full-length footbed towards the front of the shoe. This will secure your shoe and provide a more snug fit.
Wide fit: Try the half-length footbed. It offers the same arch support as the full-length footbed, but extra room in the forefoot.
Extra wide fit: You can wear your shoes without any of the components in the pack. The in-built cushioning and support is very much there for you and your feet will still feel comfortable.
Me? When it comes to boots with even a small heel, I have to play around with a different footbed combination, adjusting this again once the leather has softened up a little (and it always does). My left arch is particularly high and has a vein running right over the high/bony bit, so I'll start off with no footbed in the left boot. The right arch is not as prominent, but my feet like a little more room so I'll start with a half-length footbed on the right. Within a couple of weeks of wearing and the leather softening, I'll switch to a half on the left and full on the right.
For more fitting tips and information, please check out this page. Just like in clothing, the shape of our foot plays a big part in matching our feet with the correct shoes.
If you have any questions at all about fit, please do contact the customer service team at FRANKiE4 – they are trained to help you find the best shoes for your feet.
WIN
FRANKiE4 Footwear has one pair of new-season FRANKiE4 Footwear ankle boots to give away to FOUR Styling You readers who are able and willing to be at the FRANKiE4 Footwear Indooroopilly (Brisbane) concept store for a fitting and video shoot on Friday, April 12 with me and the FRANKiE4 fit team. Check out the full range of new-season ankle boots HERE.
To enter:
1. Follow FRANKiE4 Footwear on Instagram
2. Leave an answer to the following question in the comments below
Which FRANKiE4 Footwear ankle boot is your favourite style from the new range? And why?
Entries open on Thursday, March 14, 2018 at 5.00am (AEST) and close on Thursday, March 28, 2018 at 5pm (AEST). Australian entries only, sorry. The winners of the "answer the question" competition will be judged on originality and creativity. The winners must be willing and able to attend a video photoshoot in Brisbane on Friday 12. The winners will be emailed and their name will be published here. Entrants must include an email address when the filling in the commenting system below to be eligible to enter. Full terms and conditions here.
---
This photoshoot was shot on location at a Brisbane home renovated by Hammer and Heels. Photography: Kate Luke Photography; Hair and Makeup: Dale Dorning; clothing featured is a selection of current and past pieces from my wardrobe and Styling You The Label.