Sponsored by Motto
There are Little Black Dresses and there are Little Black Dresses. This new summer go-to dress from Motto is one that not only feels incredible on; it comes with the ultimate in wearable versatility.
It's fabricated from a black jersey that breathes – and in a style that suits all shapes and sizes from 8-18.
The design of this dress creates all kinds of figure-flattering sorcery. From the slight asymmetrical neckline, to the front waist tie that allows you to create as little or as much shape on the waist as you'd like, through to the short slide split, this is a style that makes you feel a million bucks once you slip it on – no matter what the occasion.
If you need to buy one dress this summer, this is your dress. Love the design and want it in a print? Check out the Boho Harlow HERE and the Tropical Harlow HERE.
Let me talk you through the three different looks I've created using this dress as the base piece.
CASUAL
This would be my default everyday casual look for working from home but it's also a look that would translate for a beach weekend away.
Pop a metallic sandal and sunnies; add a fun basket bag and you're good to go.
WORK
If I know that I'm heading out for a day of meetings, then starting with this dress as my base works a treat.
I simply need to add a lightweight blazer (you'll love this new military-inspired jacket also from Motto – check out the shoulder detail!); heels; a handbag and my compendium.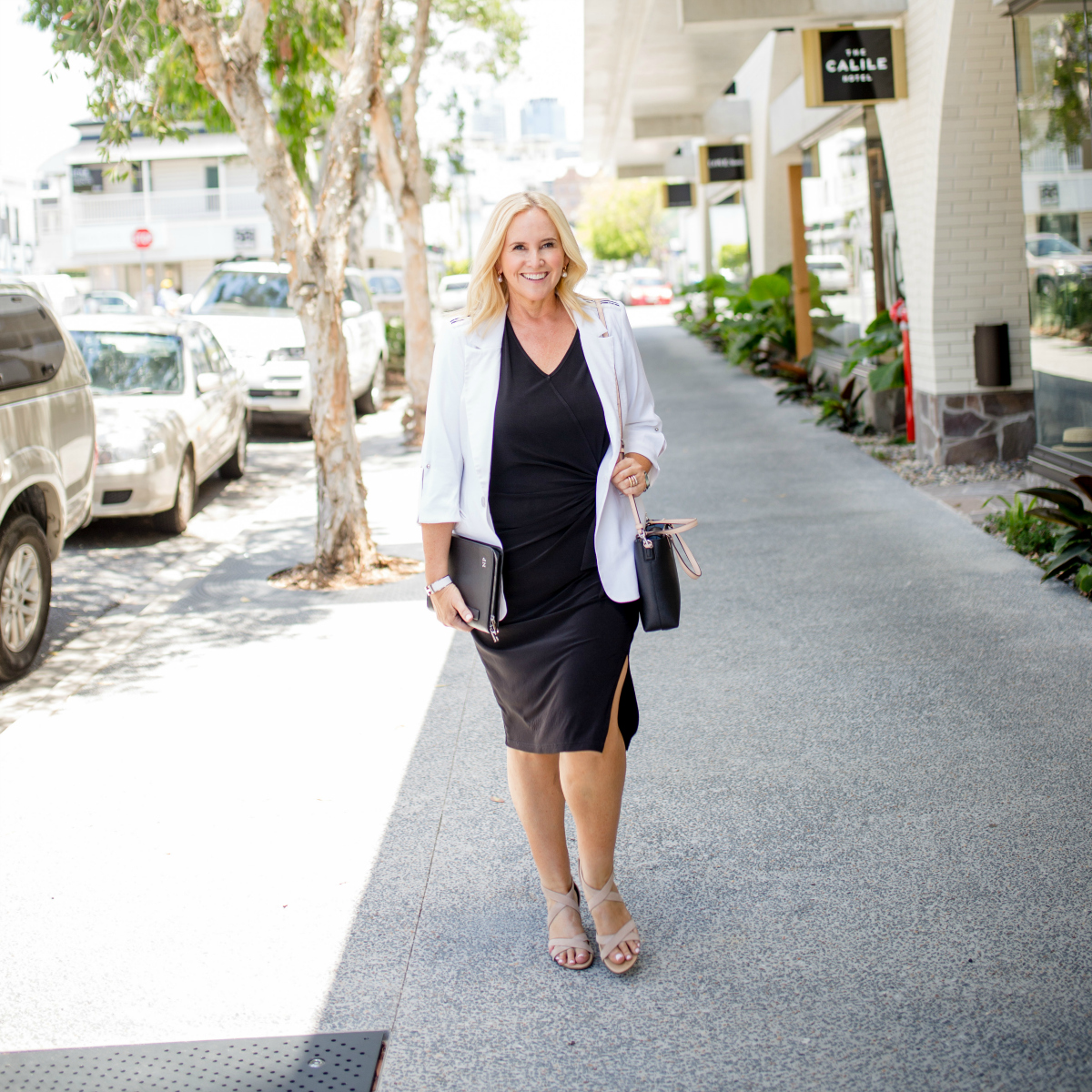 EVENING
Need to go straight from the office to drinks out? No problem. Ditch the jacket; add a statement jewellery piece; swap the work heels for an evening shoe; swap the work bag for a clutch and ta-da! Someone pass a cocktail. STAT.
Wearable versatility
This new summer go-to dress from Motto is all about "wearable versatility". Wearable versatility in clothing comes down to a number of key things.
Said clothing should be easy on the care factor – easy to wash and wear without any ironing required. This has advantages for the every day but especially for travelling.
The design should be all about comfort – with a fit that flatters. Let's face it, you're more likely to reach for a garment that feels comfortable on – than one you need to wrangle yourself into.
You should be able to wear regular underwear with a versatile garment. Don't get me wrong, shapewear has a vital role to play in our wardrobes but you probably don't want to be shimmying yourself into it on a daily basis. Am I right?
A garment in a neutral colour will work back so many existing pieces in your wardrobe. That's versatility, yes? Knowing that you'll get more use out of what's already taking up valuable wardrobe real estate.
A garment with wardrobe versatility is one that will work equally as well for casual, for work and for evening outfits – just by changing up your accessories.
Shop the dress HERE.
Check out all my Motto looks HERE
---
WIN
Get excited. FIVE Styling You readers could win the Motto black jersey Harlow dress . Follow the steps below to enter.
Head over to Motto HERE. Fill in the form.
Once filled in, you'll be directed back here to answer this question in the comments below: Which way would you wear this Motto summer-go-to dress?
Entries open on Friday, November 30, 2018 at 5am (AEST) and close on Friday, December 14 at 5pm (AEST). Australian entries only, sorry. The five winners of the "answer the question" competition will be judged on originality and creativity. Both steps of the competition need to be fulfilled to be judged a winner. The winner will be emailed and their name will be published here. Entrants must include an email address when the filling in the commenting system below to be eligible to enter. Full terms and conditions here.
---
Photography: Kate Luke | Hair and Makeup: Dale Dorning