I've been following the Solito story since its beginnings four years ago. I remember co-designer Liv Mills contacting me to share early designs from her and Mary Zacharia's first collection.
The pair are were – and are – no strangers to the world of fashion. They ran (and continue to run) a successful Queensland fashion agency. It was through that agency that I first met Liv. I first developed the Styling You Model and Me concept because of one of the labels Liv represented at the time.
That was 2010. Fast forward to 2014 and Solito was born. I've worn and featured the label every season since.
If you love a little boho, ethnic prints and hand-detailed finishes, then Solito will very much appeal – or will already be in your wardrobe!
But I'm going to call it. The Solito summer 2018 collection is their best yet. There is a style for every summer occasion; there is a print and colour for every personal taste. And you'll keep your cool in cotton, linen and rayon fabrications.
You can shop the entire Dreams of Paradiso collection HERE. Keep scrolling for a look at some of my fave pieces. I'm wearing size L.
Solito Boyfriend shirt | Solito Paradiso Rara skirt
I'll talk about the rayon shirt first. I wore it with this outfit last weekend. It's fabulously relaxed and so versatile for summer styling. Throw it on over a swimsuit, tuck or half tuck or knot as I've done here with the skirt. This is the white shirt you've been looking for!
Now, down to the skirt. You'll find it impossible not to swirl and twirl when wearing it. Love that it sits higher at the front to balance out proportions that can overwhelm in a maxi skirt.
Doesn't this print just scream summer and Christmas parties? It's available in quite a few pieces including these below.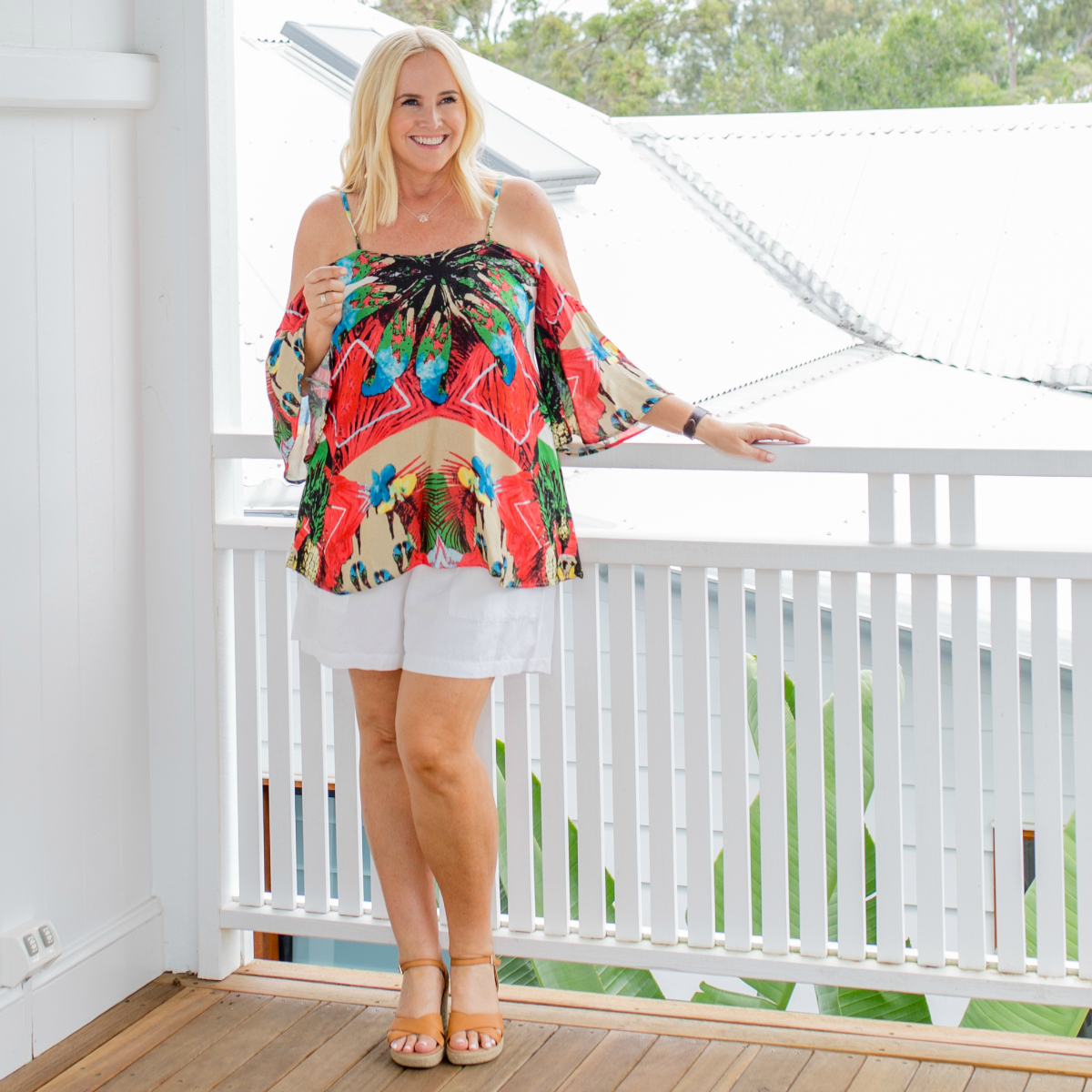 Solito Paradiso cami | Solito Natural Adventures Short
The Paradiso dress is an absolute show-stopper, with the halter/cold-shoulder and tiered skirt combo. The elasticated waist makes it very Christmas Day worthy.
For a more casual Christmas look, the Paradiso cami and white linen shorts above make a great (but still festive) alternative.
I need to sing the praise of these shorts. They are so incredibly comfortable and flattering on. I'm wearing them lower on the hip (because that's how I roll) – that's why they fall longer on me than you'll see on the model online.
Here are two more casual party outfits featuring the shorts. The white keeps things fresh. Panic not my white-fearing friends and just have the stain removal soak on hand.
Solito Selina blouse | Solito Natural Adventures short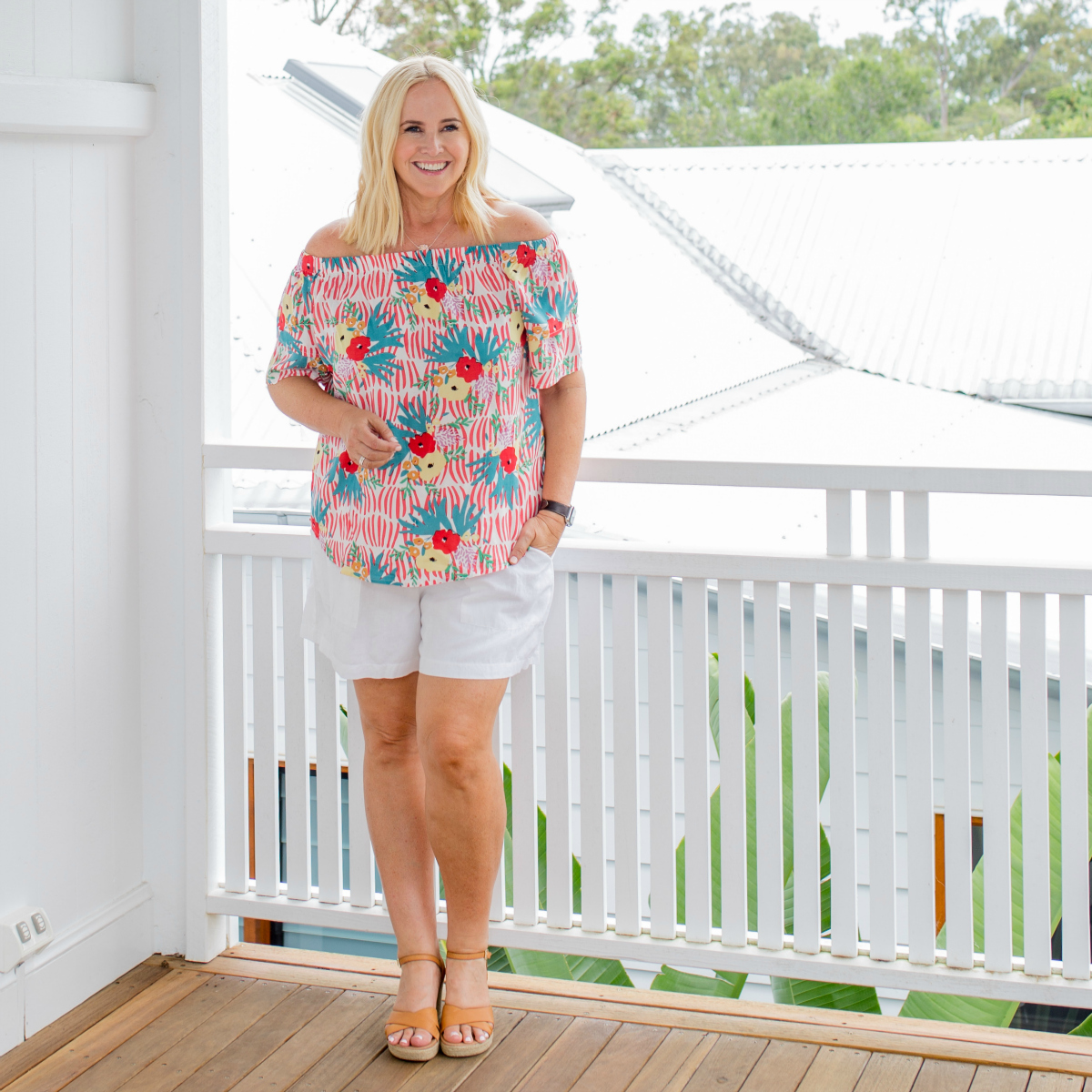 Solito Fiesta OTS top | Solito Natural Adventures short
The same shape in these shorts can be found in the Paradise Found shorts. Team them with the Paradise Found top and you have a the look of a playsuit but without the trickiness of going to the bathroom.
Solito Paradise Found top | Paradise Found short
The top sits snugly on my hips, so I've folded it up to blouse over, as seen above. This Paradise Found print also says Christmas to me. Maybe you'd like it in a dress? Below is one of the three available in this print. I love the flow of the design but my 16D bust needs a little more room in bodice. It's perfect if you're smaller busted.
Solito Paradise Found one-shouldered dress
An OTS style that was perfect for my bust – and unbuttons from the top, which is great if you're breastfeeding over summer – is this vibrant, resort dress below. It unbuttons all the way through so you can show as much leg as you feel comfortable with. The soft tie creates shape. I fell hard for this style and print. It'll take you everywhere from parties to the beach this summer.
Love the print but want your shoulders covered? This style below is for you.
If block colours are more your thing, the new linen styles from Solito will very much appeal. I'm in love with this navy cotton/linen. It's a lighter navy, sitting on the colour spectrum somewhere between navy and cobalt.
Solito Natural Adventures v dress
Solito Natural Adventures tiered maxi
Praise be the cotton wide-legged pant as a stylish, yet cool, alternative to shorts and frocks for summer parties and beach getaways. Team with a matching top and you've nailed the non-jumpsuit jumpsuit look.
Solito Walk the Line poncho top | Solito Walk the Line pant
So, tell me, which are your favourites from above? Have they got you thinking about your festive and beach holiday wardrobes?
---
WIN
Get excited. One Styling You reader could each win a $500 Solito wardrobe.
Here's how to enter.
1. Subscribe to the Solito mailing list. Click HERE.
2. Like the competition post on Facebook or Instagram.
3. Tag two friends in the comments.
To qualify, the entrant must complete all three steps. The competition opens on November 16, 2018 and closes at midnight December 13, 2018. The winner will be announced by Solito on Friday, December 14. The prize will be in the form of a $500 online voucher to be used exclusively online at www.solitoclothing.com.au
---
Shot on location at an incredible location currently for sale in Paddington, Brisbane. Check it out HERE. | Photography: Kate Luke | Hair and makeup: Dale Dorning via Arc Creative