The jumpsuit trend is not going away any time soon. It's a fun and fresh alternative to wearing a dress – for casual or for an occasion.
But what if the struggle is very real and jumpsuits just don't suit your body shape? What if you could achieve the jumpsuit look without wearing a jumpsuit?
Wonder about that "what if" no more. The jumpsuit trend has spawned a new trend that involves wearing matching tops and bottoms and I'm fully on board.
Think about it? You can get the sizing you need for your top and bottom (for most of us this can be different), you can go to the toilet a whole lot easier AND you can create more outfits by wearing the top or bottoms with different items from your wardrobe.
So, when I spotted this leopard print combination in the Hunt + Kelly spring-summer 2018 collection, I new I'd found my next "not a jumpsuit jumpsuit".
The model
Hunt + Kelly Phoebe cami leopard | Hunt + Kelly Alicia pant leopard (photo on right is by John Pryke from the catwalk at Brisbane Fashion Month's finale show)
and me
Hunt + Kelly cami (I'm in size 1) and pant (I'm in size 2) | Miss Monogram pouch | Jimena Alejandra earrings | FRANKiE4 Footwear LiSA heels
You know my love of leopard print in any form and this one is a great summer take on this classic print. It's printed on a gorgeously light rayon chiffon.
I've worked a bit of a tuck but this look would work doing a half tuck or no tuck at all. If you can do a little bit of a tuck, it does help to create shape or an illusion of shape around the waist – as a jumpsuit would do.
I've gone for a look here that would work for a lunch or evening out. You could definitely add a lightweight blazer to complete this dressed up look.
The catwalk model shows beautifully how the pieces can be worked for casual. That's the beauty of this pant style. It works well with feels and flats. The cotton plait trim that runs down each side of the pant adds a sporty on-trend element to this style.
I love the shape of the cami and its adjustable straps. I've worn it with a strapless bra but has you can see on the model, wearing with a regular black bra will work just as well.
So, tell me, are you on board with this matchy-matchy way to achieve a jumpsuit look?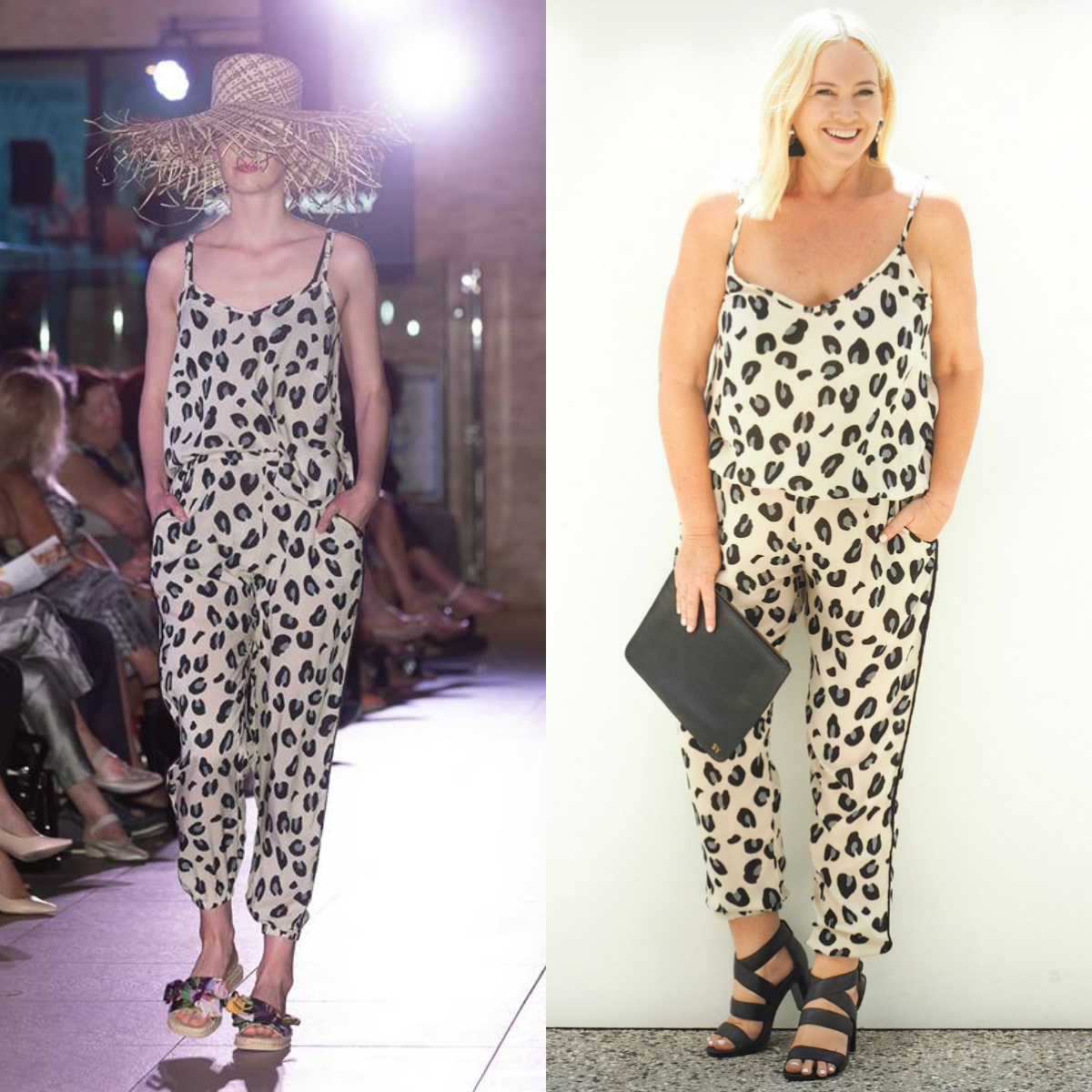 These pieces were gifted to me for editorial consideration. Full disclosure policy here.
---
As seen on Instagram
There's a new place to check out all the outfits I'm wearing each week – and it's right here on the blog. Head to THIS PAGE for all the details, including sizing and links to buy. The most recent outfits are shown at the top. I'm 166cm tall and usually wear a size 14. I'm ambassador for FRANKiE4, birdsnest and Motto, so I love sharing what's new from these brands.
---
The Styling You Shop
The Styling You shop offers a carefully chosen edit of clothing and accessory pieces to enable the busy woman to update her wardrobe quickly and without stress. Our spring-summer 2018 edit has been so well received that we've only got limited stock remaining in all styles. If there was something you had your eye on, now's the time to add to cart. Most of the pieces for sale are proudly made in Australia.
---
#shopitforward for drought-affected areas
Thank you to each and every one of you who has shared this post that now contains more than 60 online businesses located in drought-affected areas of Australia. An even bigger thank-you if you've shopped at any of the businesses.
I'd love you to keep this list of businesses front of mind should you be doing any gift shopping over the months leading up to Christmas. The dollars go direct into affected communities, creating a ripple effect that will have lasting benefits for so many.
I won't stop talking about and sharing these amazing businesses. We really are helping to make a difference.
Check out the list HERE.