It's quite amusing that natural fibres has been deemed a "trend" for spring-summer 2018. Amusing because, HELLO, it's summer. It's hot. Natural fibres in clothing are a no brainer. And it's not as if they're NOT to be found every summer.
What's happened this summer is that the spotlight has been shined on linen, cotton and silk, so a bit like when we think about buying a new car and suddenly see that make and model everywhere, we're now seeing natural fibres everywhere. That's a big yay from me.
One Queensland label that's had natural fibres at the core of its collections since launching 2015 is Ella and Sunday and the Ella and Sunday spring-summer 2018 collection is no exception.
Below I'm featuring a fave dress style that I think you're going to love too.
The model
Ella and Sunday Angelica Dress
and me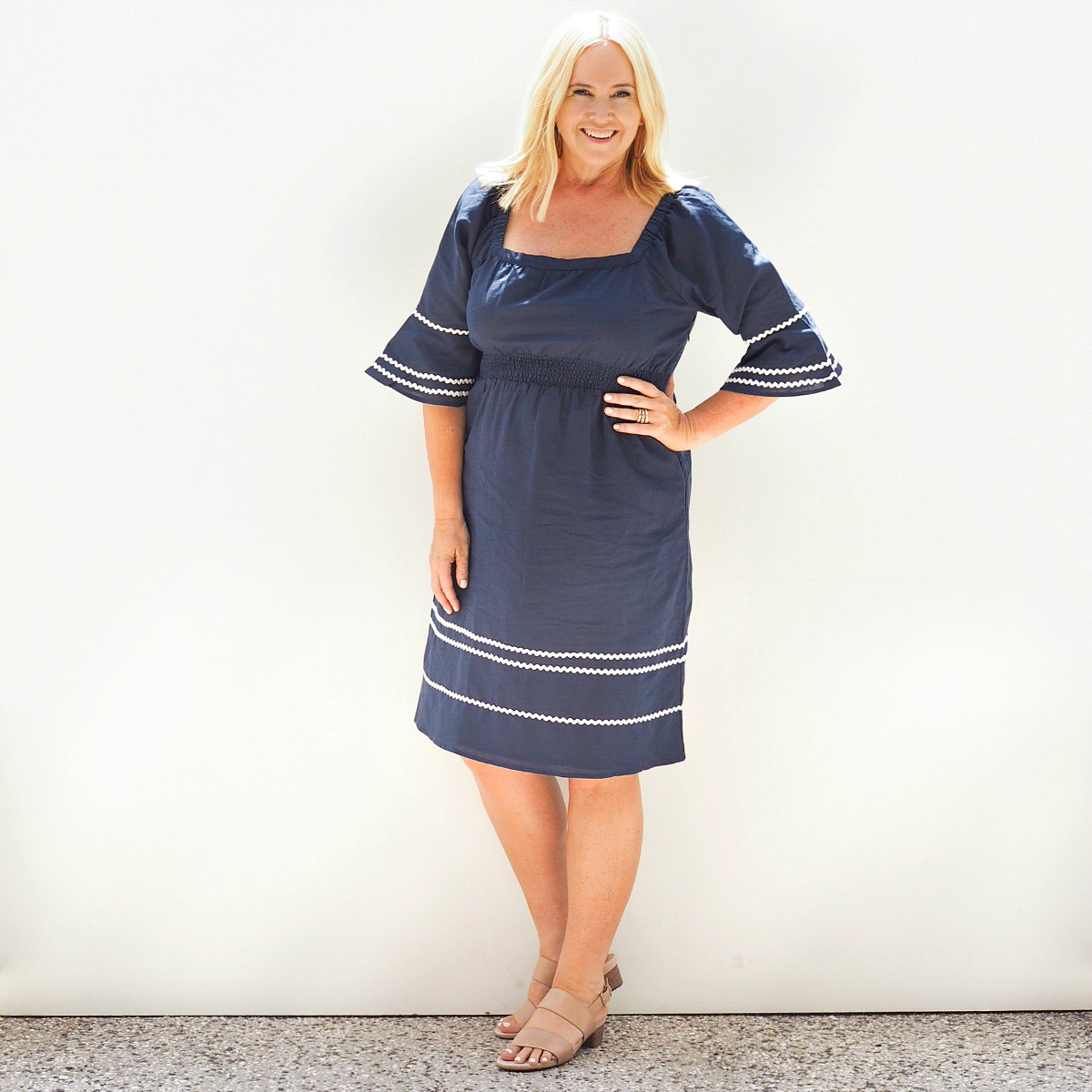 Ella and Sunday dress (I've sized up from 14-16 for room around the bust) | FRANKiE4 Footwear KYRA heels in wheat
The Angelica dress, pictured on me in navy and Kirsten below in pale pink, is a new shape for Ella and Sunday and I'm loving it. It's a cotton-linen fabric, lined with lightweight cotton, that packs a summer statement thanks to a gathered high waist, square neckline, bell sleeves and retro ric rac ribbon trim.
I love the mix of relaxed and soft structure in the way this dress drapes. It's the type of dress that works for a lunch event/occasion at this time of year, working equally as well with a low heel as a high heel or even a wedge. The length is perfect for my 166cm, hitting at the top of the knee.
I love both colours in this style. The navy and white is striking in its contrast; the pale pink and white stunning in its soft simplicity.
Kirsten from @kirstenandco wearing Ella and Sunday Angelica dress in pale pink (Kirsten sized up from 12 to 14 for a better fit on her arms)
So, tell me, is this a dress style that you can see yourself wearing? Love natural fibres in your clothing for summer?
These pieces were gifted to me for editorial consideration. Full disclosure policy here.
---
As seen on Instagram
There's a new place to check out all the outfits I'm wearing each week – and it's right here on the blog. Head to THIS PAGE for all the details, including sizing and links to buy. The most recent outfits are shown at the top. I'm 166cm tall and usually wear a size 14. I'm ambassador for FRANKiE4, birdsnest and Motto, so I love sharing what's new from these brands.
---
The Styling You Shop (ON SALE)
Save 20% on remaining stock in our a carefully chosen edit of clothing and accessory pieces that enable the busy woman to update her wardrobe quickly and without stress. Our spring-summer 2018 edit has been so well received that we've only got limited stock remaining in all styles. If there was something you had your eye on, now's the time to add to cart. Most of the pieces for sale are proudly made in Australia.
---
#shopitforward for drought-affected areas
Thank you to each and every one of you who has shared this post that now contains more than 60 online businesses located in drought-affected areas of Australia. An even bigger thank-you if you've shopped at any of the businesses.
I'd love you to keep this list of businesses front of mind should you be doing any gift shopping over the months leading up to Christmas. The dollars go direct into affected communities, creating a ripple effect that will have lasting benefits for so many.
I won't stop talking about and sharing these amazing businesses. We really are helping to make a difference.
Check out the list HERE.