Spring may be taking its sweet time to properly arrive (yes, even in Queensland!) but when it does, I am ready. I love the simplicity of popping on a cotton frock when the heat is on.
Lola Australia knows its way around a perfect summer frock. I first discovered this label via the fabulous Offspring costume designers who dressed Nina Proudman in the label. Remember this finale number in 2014?
This season, when I first saw this print in the dress below, it was love at first sight. I think you'll understand why.
The model
Lola Australia swing cotton dress in Balthazar print
and me
Lola Australia dress (I'm in L) | FRANKiE4 Footwear KYRA heels
I love the loose and lovely shape of this dress. It's a style I seek out as the temperature rises. I love a longer sleeve for sun protection (it's still cool to wear as it's cotton). I I love the detailing, from the pom-pom hem fringe to the addition of the ladder embroidery feature. And I love the pockets!
The pink, peach, navy and cornflower blue tones of the boho print are something else. You'll also find this print in a tiered maxi dress; tiered midi dress; in a capped sleeve short dress; a shirt dress; and a waisted cotton dress.
I've worn the dress back with the new low heel from FRANKiE4 Footwear, KYRA. Even the smallest heel comes with dress up power. I'd also wear this with wedges. For super casual, I'd pop on slides.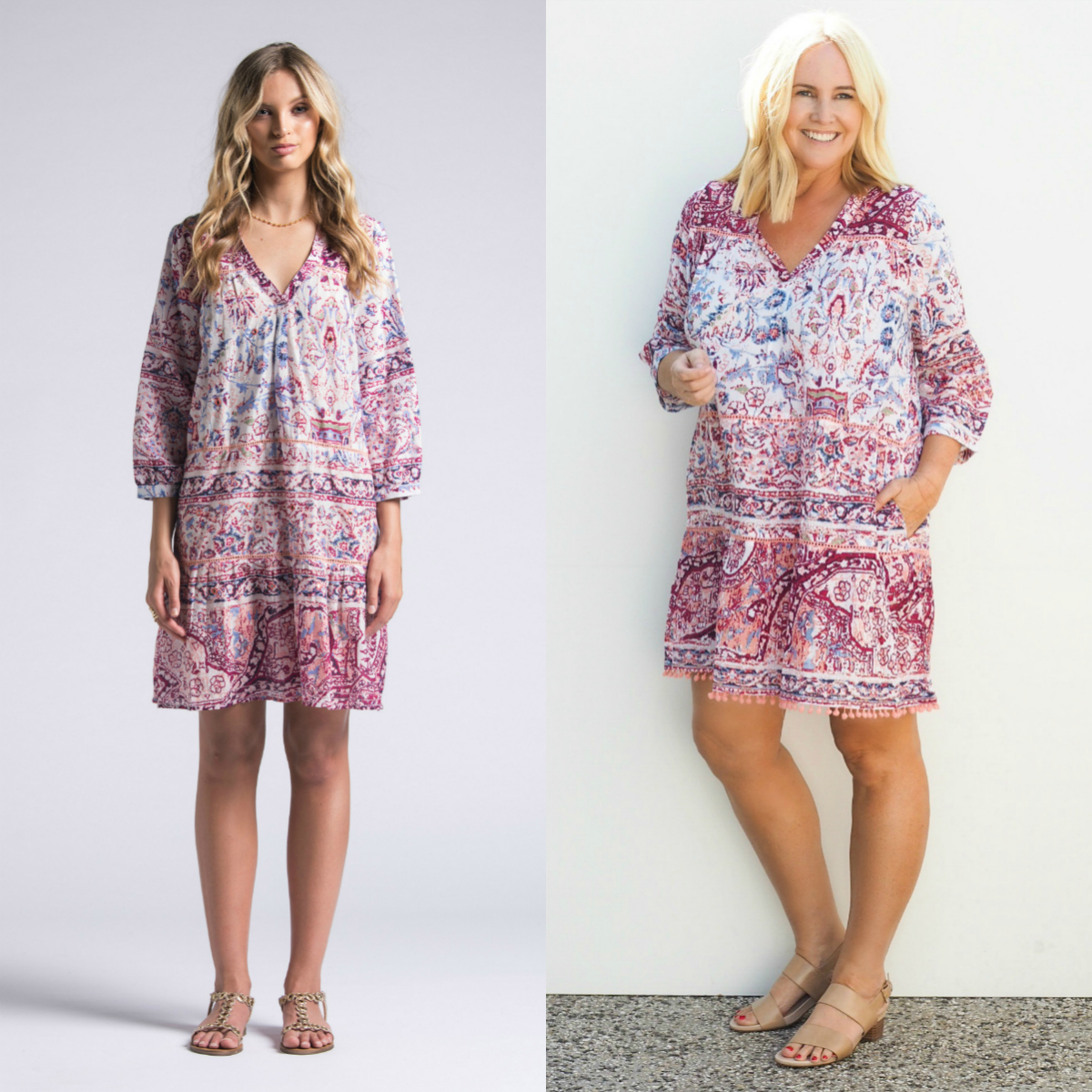 These pieces were gifted to me for editorial consideration. Full disclosure policy here.
---
The Ultimate Capsule Wardrobe spring-summer 2018
A capsule wardrobe is all about filling your wardrobe with MORE pieces that mix and match with each other. It's about having MORE pieces that are versatile – that can be dressed up or down depending on the occasion.
It's not about having a full-to-overflowing wardrobe, it's about consciously and mindfully filling your wardrobe with pieces that work with each other. Get this idea of less is more and you'll always have something to wear.
Mindfully creating a seasonal wardrobe is something we talk a lot about in my Ultimate Capsule Wardrobe online style program. Registrations for the next round close Sunday, October 21.
Click HERE for more details.
---
As seen on Instagram
There's a new place to check out all the outfits I'm wearing each week – and it's right here on the blog.
Head to THIS PAGE for all the details, including sizing and links to buy. The most recent outfits are shown at the top.
I'm 166cm tall and usually wear a size 14.
I'm ambassador for FRANKiE4, birdsnest and Motto, so I love sharing what's new from these brands.
---
#shopitforward for drought-affected areas
Thank you to each and every one of you who has shared this post that now contains more than 60 online businesses located in drought-affected areas of Australia. An even bigger thank-you if you've shopped at any of the businesses.
I'd love you to keep this list of businesses front of mind should you be doing any gift shopping over the months leading up to Christmas. The dollars go direct into affected communities, creating a ripple effect that will have lasting benefits for so many.
I won't stop talking about and sharing these amazing businesses. We really are helping to make a difference.
Check out the list HERE.