Sponsored by FRANKiE4 Footwear
I love wearing heels, oh I do. I feel a little more dressed up whenever a heel is involved in finishing an outfit.
Sure, for the every day, you'll mostly find me in a sandal, slide or active flat, but if I'm stepping out for a meeting, an event or occasion, it just has to be a heel.
I love the extra height a heel brings but, up until a few years ago, I did silently suffer in the name of fashion, putting my feet through all sorts of torture just to take an outfit from zero to hero.
For occasions where I knew I'd be on my feet for hours, I'd take with me a large clutch and a pair of fold-up flats to swap into once on my way home.
Not any more. Three years ago, when FRANKiE4 Footwear launched its first heel, the NiKKi, (yes, that NiKKi was me and yes, NiKKi fans, she'll back this season … stay tuned), I threw out those fold-up flats because I no longer needed to take my shoes off at the end of the evening or afternoon.
Turns out, with a tonne of FRANKiE4 magic in the form of in-built heel, arch and forefoot support and cushioning, I CAN wear heels and go the distance.
Fast-forward to spring-summer 2018 and FRANKiE4 has begun delivering us the best heel-lovers' season to date. There is a heel style and height for every woman. Whether you like them high, mid or low, there is a shoe for you.
Designer Caroline McCulloch (a podiatrist and physiotherapist) says that if you have existing or niggling foot health issues, then see a podiatrist before opting for a heel. Me? I have neuroma bursitis and planter plate damage between my second and third toes on my left foot. It's a condition I have to manage by making sure I spend quality time with my foot supported by orthotics in sneakers or brogues … in between trotting out a heel.
Let's take a look at some of the new heel offerings from FRANKiE4. Some you've already seen me share on Instagram but others are just out this week. And psst … if you love the low heel, there is more coming in that height.
EDDiE
EDDiE is the heel the perfect trans-seasonal heel that will take your feet from winter boots to strappy sandals in style. She's a shoe-boot style crafted from the most amazing butter-soft leather, with colour options of pewter, black and light tan (my personal fave – I just love this shade for me as it just makes the shoe look like an extension of my feet).
She's an 80mm heel with a built-in, dual-density footbed, offering heel support, cradle and cushioning, arch support and forefoot cushioning. The ankle strap is adjustable and the heel is super stable.
I like wearing EDDiE with jeans, tapered and wide-legged pants. Check out more about EDDiE in this video that my friend Beth from BabyMac created about this heel.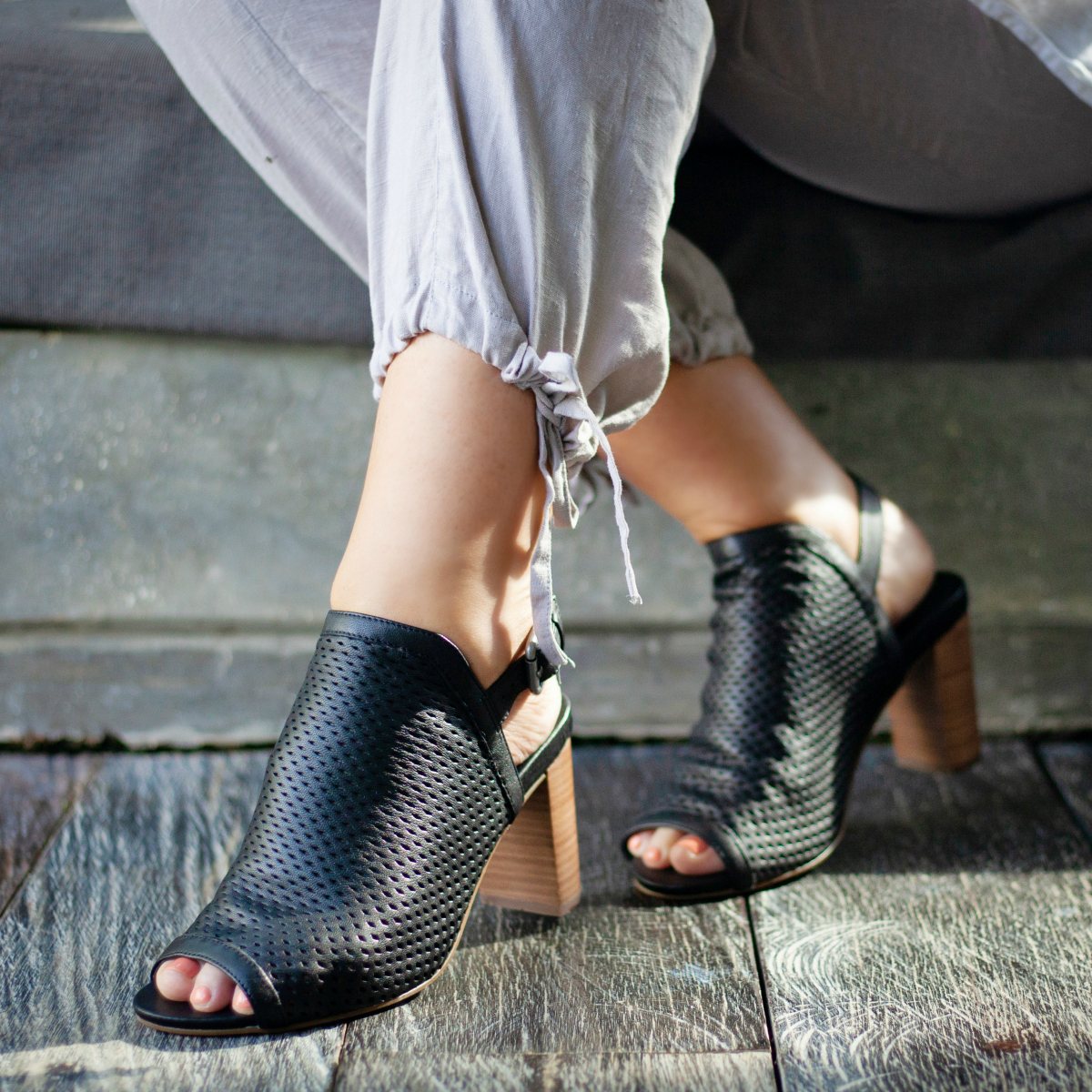 LiSA
LiSA has been in high rotation on my feet the past month or so since her debut at Mercedes-Benz Brisbane Fashion Festival. I took LiSA in tan and LiSA in black out for nights of FASHUN fun. And I felt super smug when others started complaining about sore feet. Not one complaint from me, no Siree.
LiSA's cross-over ankle strap not only means that she is super stable on your foot, she also offers a very flattering line on the leg. I've worn LiSA with dresses (here, here and here) as well as a jumpsuit and pants (swipe to second image). She is such a go-to versatile high heel you'll wonder how your wardrobe ever survived without her.
Like, EDDiE, she's an 80mm heel with benefits – built-in, dual-density footbed, offering heel support, cradle and cushioning, arch support and forefoot cushioning. The ankle strap is adjustable.



AMiE
I LOVE a high heel but do know my limits. For me, I can wear an 80mm for an afternoon or an evening but slip my foot into a slightly lower – 65mm – heel and I can go ALL day.
If you're like me, give AMiE a big, warm welcome to your shoe-robe. AMiE is pictured below in Sand Shell and Leopard (all the HEART eyes! Online from October 13) but she also comes in Black and Blush Gold (online from October 13). If this heel has your name all over it, then you will want every colour.
Like her other well-heeled sisters, AMiE has a built-in, dual-density footbed, offering heel support, cradle and cushioning, arch support and forefoot cushioning. The stable heel, adjustable ankle strap and cross-over ankle and forefoot strap not only look flattering on the foot, they secure your foot for comfort.
I'll be wearing AMiE with tapered and wide-legged pants, jumpsuits, midi and knee-length skirts, short and long frocks. In the lighter colourways, she will work with just about any smart casual to evening-style outfit.
KYRA
If you're not a heel wearer at all, listen up because FRANKiE4 has you covered. You'll still feel like you're in a heel – and dressed up – but with the stability that comes with a 35mm heel.
KYRA is the first (stay tuned for more!) of the 35mm FRANKiE4 styles to be released this spring-summer and she comes in Black, Metallic and Wheat (these two colours will be online this weekend!). Her styling is similar to the NiKKi but in an all-day winner that still makes you feel a bit fancy. I always love a nude/latte/light tan for my colouring and a bit of leg lengthening when on the foot.
I'll wear KYRA with a skirt (as I've done below), shorts, jeans, wide or narrow-legged pants and frocks.
Like her higher-heeled sisters, she comes with all the built-in benefits that are standard with FRANKiE4 Footwear heels – a dual-density footbed, offering heel support, cradle and cushioning, arch support and forefoot cushioning, plus a stable heel, and adjustable ankle strap.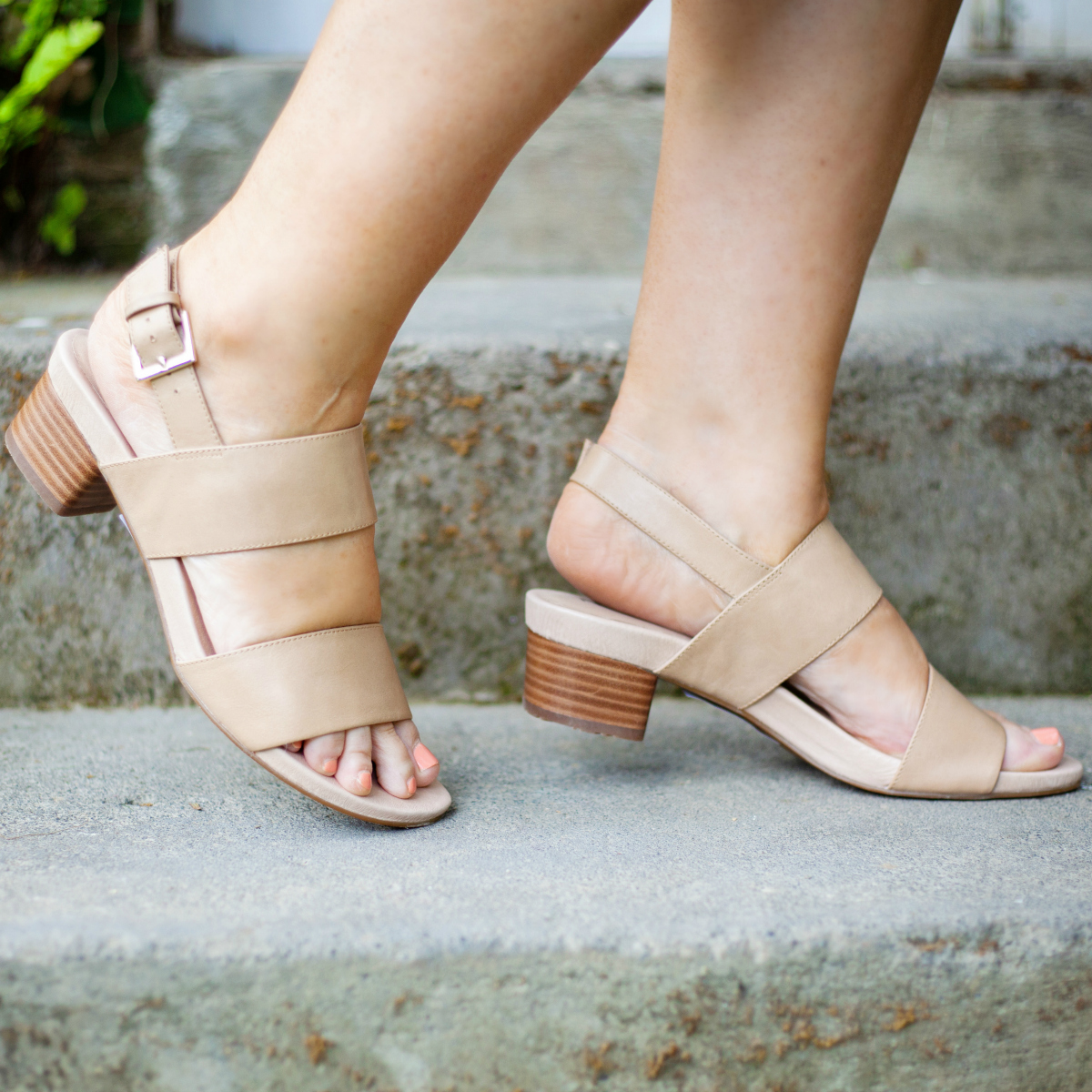 So there you have it, a little taste of more from the FRANKiE4 Footwear spring-summer 2018 collection. There is still more to come! This is my fave shoe brand's biggest season yet and you will be blown away by the styles on offer. If you haven't experienced the FRANKiE4 Footwear difference, do your feet a favour.
---
The FRANKiE4 customer service experience
FRANKiE4 Footwear has two beautiful concept stores in Brisbane – at Indooroopilly and Windsor. If you live in south-east Queensland, a visit to either of these stores is a must. They are gorgeous spaces and home to the full range of FRANKiE4 shoes but you also get access to the most experienced fitters in the business.
Don't live nearby? Do not panic. You can buy online with confidence. The customer service team is beyond amazing. They are there to help you make a decision that works for your feet and your lifestyle. Call them first if you're unsure about what styles might work for you. Phone 1300 721 898 or email [email protected]. When buying, Australian standard shipping is free, you have 30 days from the date of purchase to exchange or return shoes provided they are in as-new condition and FRANKiE4 Footwear also covers return shipping. This applies to non-sale items only.
Making a difference
FRANKiE4 Footwear believes in giving back to its community. The net proceeds from the sale of three packs of "hidden" sockettes (these really do stay in place on your feet while wearing sneakers) go to support Brainchild Foundation, which aims to help children who are affected by brain and spinal cord tumours, and their families. Shop the sockettes HERE.
Plus, through the entire spring-summer 2018 season, FRANKiE4 is donating all proceeds from its 7-free nail polish range to Buy a Bale – helping Aussie farmers in need.
SHOP the full FRANKiE4 Footwear range HERE.
---
WIN
FRANKiE4 Footwear has one pair of new-season FRANKiE4 Footwear heels to give away to TWO Styling You readers. Win a pair of FRANKiE4 Footwear shoes of your choice by checking out the full range of new-arrivals HERE and then leave an answer to the following question in the comments below:
Which FRANKiE4 Footwear spring-summer 2018 has your name all over it? And why?
Entries open on Thursday, October 4, 2018 at 5am (AEST) and close on Thursday, October 18, 2018 at 5pm (AEST). Australian entries only, sorry. The winners of the "answer the question" competition will be judged on originality and creativity. The winners will be emailed and their name will be published here. Entrants must include an email address when the filling in the commenting system below to be eligible to enter. Full terms and conditions here.
---
This photoshoot was shot on location at Fella Villas, Canggu, Bali; clothing featured is by frockk; my toenail colour is FRANKiE4 7-free nail colour in THRiVE