It's the last (official) week of winter. Hip. Hip. Hooray. I'm not one for loving super hot and humid temperatures but I do love the in-betweenie time when you can still wear jeans and a nice top without melting.
Or in the case of this week's Model and Me post, jeans, a cami and a VERY nice jacket. With sparkles.
The jacket is from the Rubyyaya spring-summer 2018 collection available at Kabana Shop. Rubyyaya is an Australian-based bohemian luxe label that's loved around the world, from the US to Europe, Dubai and Brazil.
Let's take a look, shall we?
The model
Rubyyaya Conchita jacket @ Kabana Shop (available in size XS-3XL)
and me
Rubyyaya jacket @ Kabana Shop (I'm in L – true to size) | Motto jeans (I'm in size 14 – true to size) | Jan Logan necklace
If you love a sequin or 600, you will love this jacket. The sequinned embroidery detail is, as the young kids say – EXTRA – giving a beautiful trans-seasonal weight to the viscose fabric. It's the type of shape and design that is timeless, making it a piece that you can bring out time after time to take a jeans and tee/cami outfit to the next level or to elevate a little black dress.
There is just one button at the front, which you could leave open. I've done it up to create more of a shirt-like look but still offering a peep at the lace top of the cami and letting the cami show through at the hemline for extra length.
I'll pop up a full-length photo of the jeans very soon but these are my new faves from Motto. They are comfort-plus and the fringe hem makes for a fun, spring-like detailing.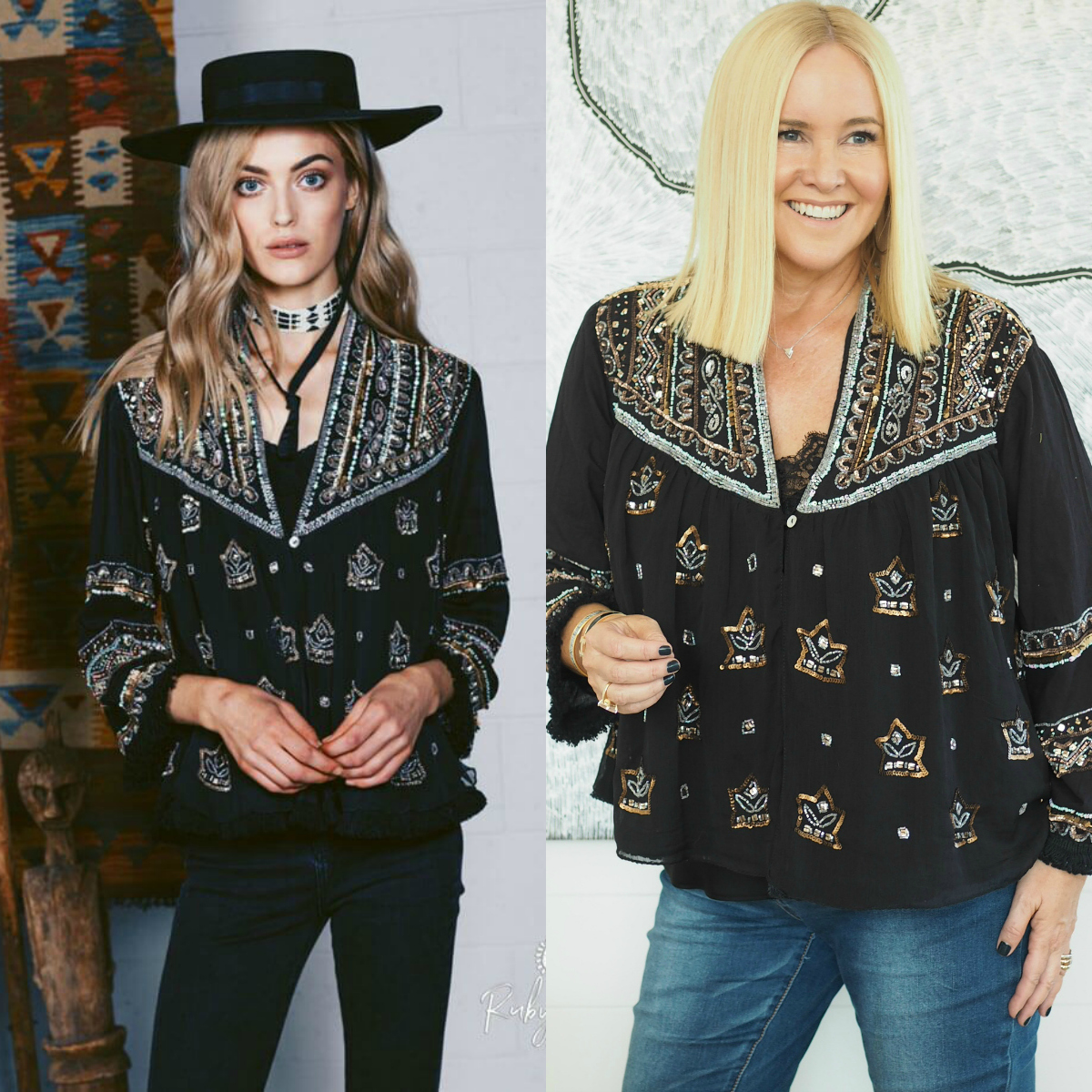 * These pieces were gifted to me for editorial consideration. This post contains affiliate commission links. Full disclosure policy here.
---
#shopitforward for drought-affected areas
Thank you to each and every one of you who has shared this post that now contains more than 60 online businesses located in drought-affected areas of Australia. An even bigger thank-you if you've shopped at any of the businesses.
My own shopping has all arrived, including the Poppy Lane earrings (pictured left), that arrived in time for my appearance on The Today Show's drought aid telethon last Monday.
I'd love you to keep this list of businesses front of mind should you be doing any gift shopping over the months leading up to Christmas. The dollars go direct into affected communities, creating a ripple effect that will have lasting benefits for so many.
This week I'm doing more media interviews about the #shopitforward movement. I won't stop talking about and sharing these amazing businesses. We really are helping to make a difference.