We're entering a time of year when it's even more important to have versatile pieces in your wardrobe. You want pieces that can be layered up or de-layered, depending on the day – or in the case of where I live, the hour!
Seriously, at the moment I'm getting up and it's 4 degrees; by lunch time it's 24. If only there a way where 6am was actually 9am (daylight saving on steroids!) and we could all stay tucked under our doonas until the temperature gauge reached at least 20 degrees.
And if you live down south, you don't need me telling you that you still very much need ALL the layers.
What I love about Melbourne-based label Motto is that they get that. The early drops in the Motto spring-summer 2018 collection reflect that while we may be looking to change up our looks as winter comes to a close, we still might need layers to stay warm.
The dress I'm featuring in this week's Model and Me post very much fits that brief.
The model
Motto Teal Drift Harlow dress | Chambray fringe hemmed jean
Motto Black Drift Harlow dress
Motto Orange Drift Harlow dress
and me
Motto dress (I'm in size 14) | Piece by Piece clutch | FRANKiE4 Footwear NAOMi boots
Piece by Piece clutch designed by Elizabeth Pilkington
This is a new cotton blend fabric for Motto and I do love it's easy-care (no ironing) and breathable ways. The texture of the fabric adds interest and depth but it's the shape and silhouette of this style that works all kinds of magic on the body.
The self fabric tie at the side can be tied tighter or looser to suit your shape and preference. I've gone a bit looser as I prefer a skim of the tummy. No matter how tight you tie it, it will create a great ruching effect that is super flattering and creates shape. The side split is a great feature. It's not too high when wearing as is but should you layer with jeans or long pants, the split helps balance out the proportions of the outfit.
This dress is not only versatile in its layering potential, it's the kind of wardrobe piece that works for the office, for weekend or dressing up for a night out. Wardrobe. Winner.
I need to talk about the clutch too. This gorgeous one-of-a-kind piece was sent to me by its creator Elizabeth Pilkington. Do check out her website to see what's available right now. Each piece is crafted from vintage and modern textiles and hardware to create something special.
So, tell me
PS. If you missed out on the Motto shaper pants that went viral after I published this post, they're back in stock!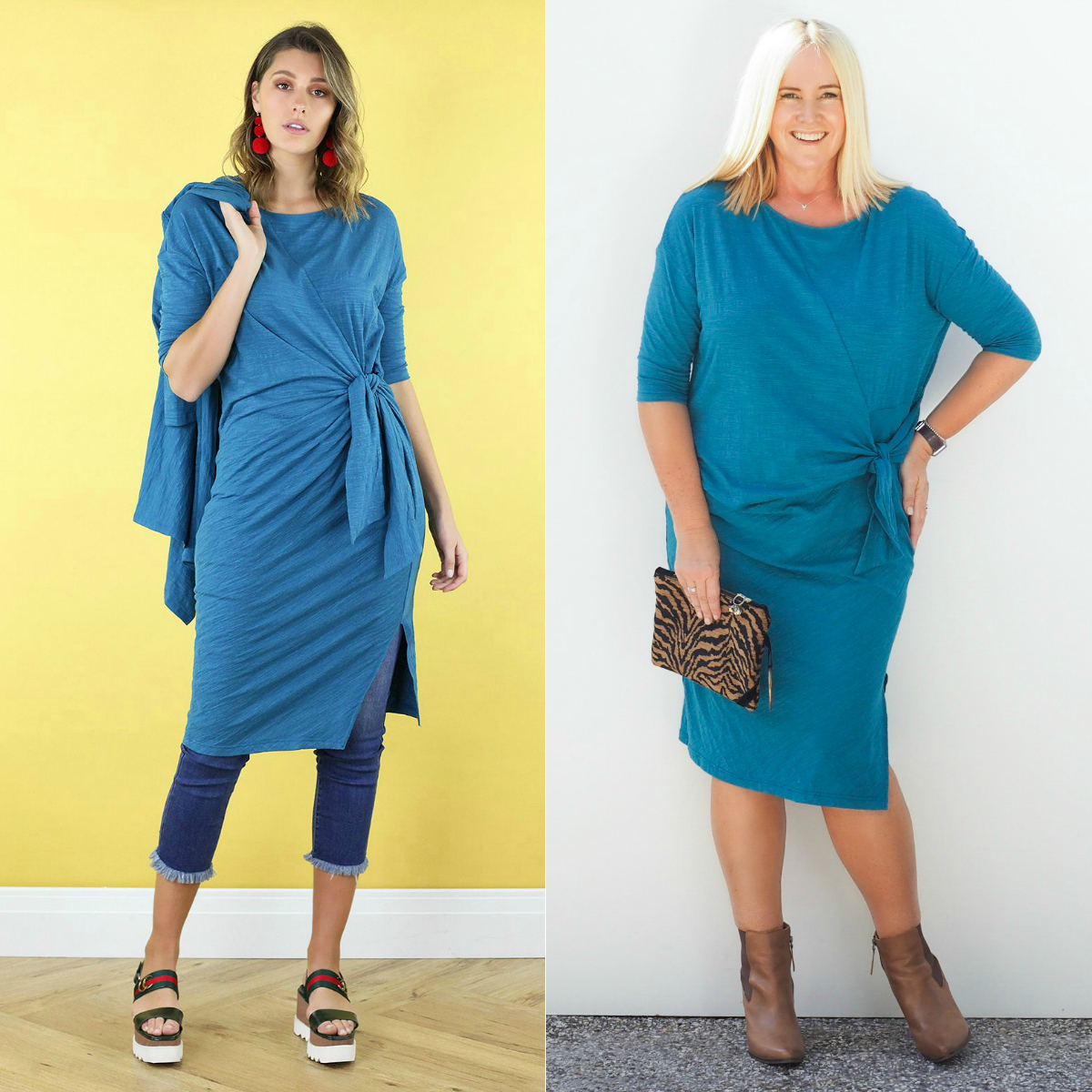 * These pieces were gifted to me for editorial consideration. I'm ambassador for the Motto brand. Full disclosure policy here.