So, I have a little gathering happening next Saturday. Hip hip hooray, Styling You is turning 10. There has been A LOT of chat about what to wear to the high tea fashion event.
The gorgeous @stace_mcgregs (also one of the models on the day) piped up in a recent Facebook Live video, declaring: "There ain't no party like an Instagram party! Let's all go extra!"
So EXTRA it is.
Unsure about exactly what "extra" means in relation to outfits? Extra means next level. It's a daytime event, so dress to impress in an outfit that shows your style personality. And it's a room full of fashion-loving women, so if there was ever an excuse to frock up and have a bit of fun, this is it.
Now, not everyone reading this has a ticket to this event but for those playing at home, my tips below will help you for any daytime, frock-up event.
I've also included some #everydaystyle inspiration from the six Instagram stars who are modelling for me on the day of the event. Make sure you follow them along.
10 tips for what to wear to a high-tea fashion event
1. Think about creating an outfit similar to what you'd wear if invited to a daytime wedding or a races outfit without the hat/head pieces. If it's a winter event (even in Queensland) consider brining an outer layer, particularly if you'll be heading out somewhere else afterwards.
2. If you're a frock kind of girl then go to town. High tea events are fabulously girly and a whole lot of fun, so indulge in your feminine fashion side. Go for a neutral or minimalist block colour or frock up in florals or graphic prints.
3. If you're more of a jeans and a nice top kind of girl, then bring your nice top game but switch out the jeans for a pant. The Duchess of Sussex's Wimbeldon outfit ticks all the boxes as an alternative to a frock.
4. The midi skirt (full or pencil) trend is perfect for a high tea event. It's super feminine with an emphasis on the waist.
5. Don't rule out a jumpsuit as a fabulous outfit option, either. Whether it's a neutral black or navy or a print that screams fun, this fashion piece always makes a statement.
6. Keep your heels on the wearable side. FRANKiE4s are your friend every day but they are very much my sole savours for events. You will probably be sitting down for a fair proportion of the time but there will be time before and after where you'll be on your feet. You want to go the distance.
https://www.instagram.com/p/BlJUqYmArSh/?taken-by=katy_potaty
7. Accessorise with intent. You'll be hanging out with old friends and making new ones, wearing accessories that are conversation starters will help break the ice. If you're wearing something neutral, allow your jewellery to take your outfit into EXTRA territory.
https://www.instagram.com/p/BjGRhi7h_gn/?taken-by=slowdownstyle
8. Wear something you already have in your wardrobe. Do you have an occasion outfit hanging in your wardrobe that's itching to come out and party again with you? Do it. It's not necessary to buy something new. I get a thrill out of wearing something from "the vault". Try it!
9. If you are buying something new, make sure you buy something you know you'll wear again in the next couple of months.
10. Have fun with it. Try not to stress to much about what you're wearing to an event such as this. Dress in an outfit that makes YOU (not me, nor the person sitting next to you or across the table) feel comfortable and confident. It's about honouring YOUR style and showing up on the day feeling fabulous.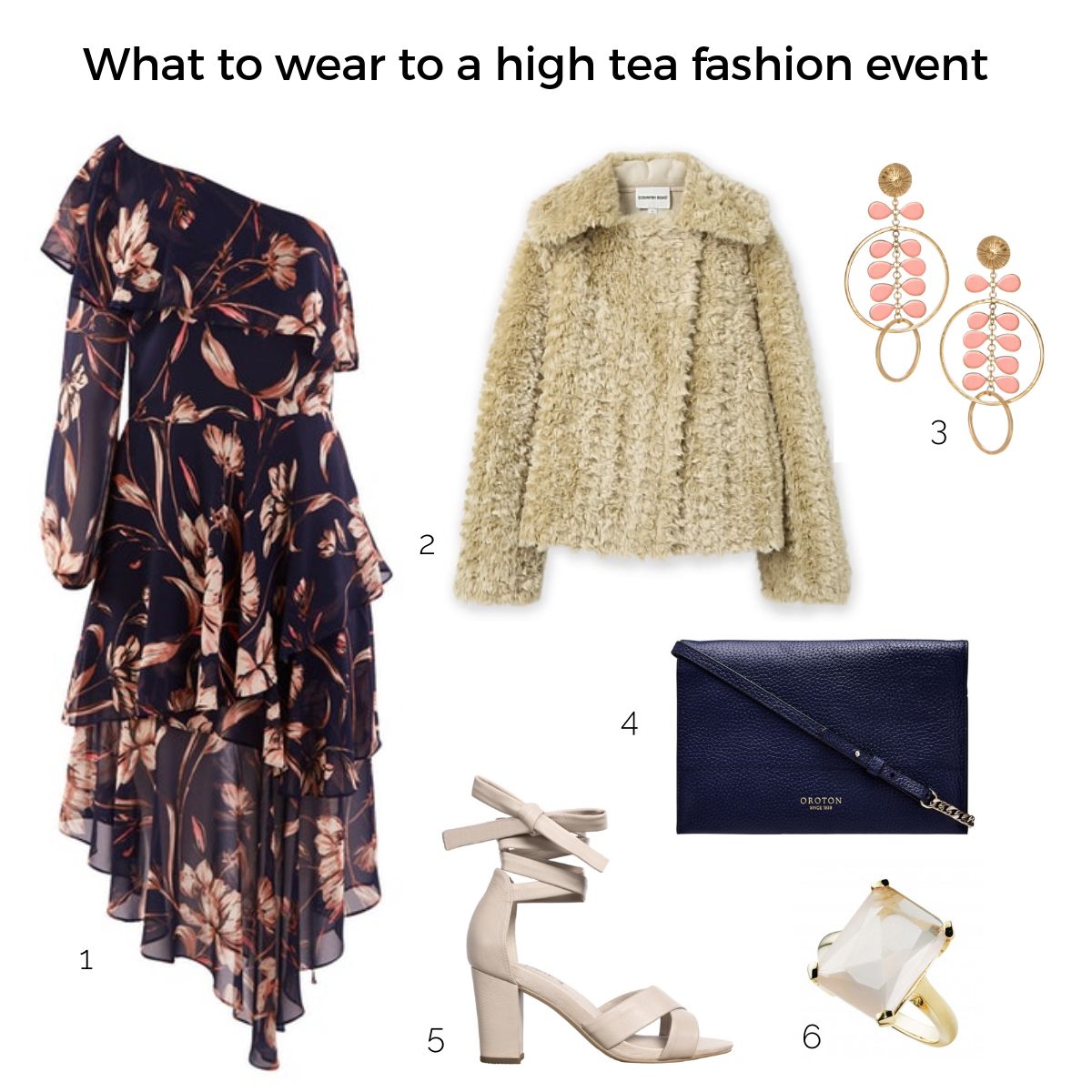 1. Wish dress $189.95 @ birdsnest
2. Country Road jacket $399
3. Jimena Alejandra earrings $249
4. Oroton bag $236 (on sale)
5. FRANKiE4 Footwear ALANA heels in blush $219.95
6. Jan Logan ring $965
So, tell me, do you have a high tea event coming up soon? What are you planning to wear?