If you're new around here you may not know that we run an online store in conjunction with this blog. The Styling You Shop is home twice a year to my seasonal fashion edit but, in between these capsules, we offer some of my favourite fashion, beauty and lifestyle products.
To make the Nikki's faves list, they have to be things I love so much, I want you to fall in love with them too. Some products on my fave list stay there and are re-stocked regularly because you DO fall in love with them. Others are just on the list for a short time because they're only available from my suppliers for a limited time.
Want to see some of the new stuff?
Oh good, I was hoping you'd say so.
Everyday Cashmere shrug
This one-size-fits-all cashmere shrug is a Styling You Shop fave. In previous shop edits we've offered the camel and grey marle shrugs, so I thought it would be fun to bring back the shrug in my fave winter colour (HAH!) – black. Stock is super limited.
Why I love this piece is that it's pure CASHMERE, plus it's versatile cashmere. I can fold it up in my handbag ready for a cool night. I can throw it on as an extra layer over a tee or long-sleeve top for extra warmth. Taking it on a plane is like taking a personal, wearable blanket.
You can also wear it five different ways (video here) … me, I just throw it on and don't really think about how it falls.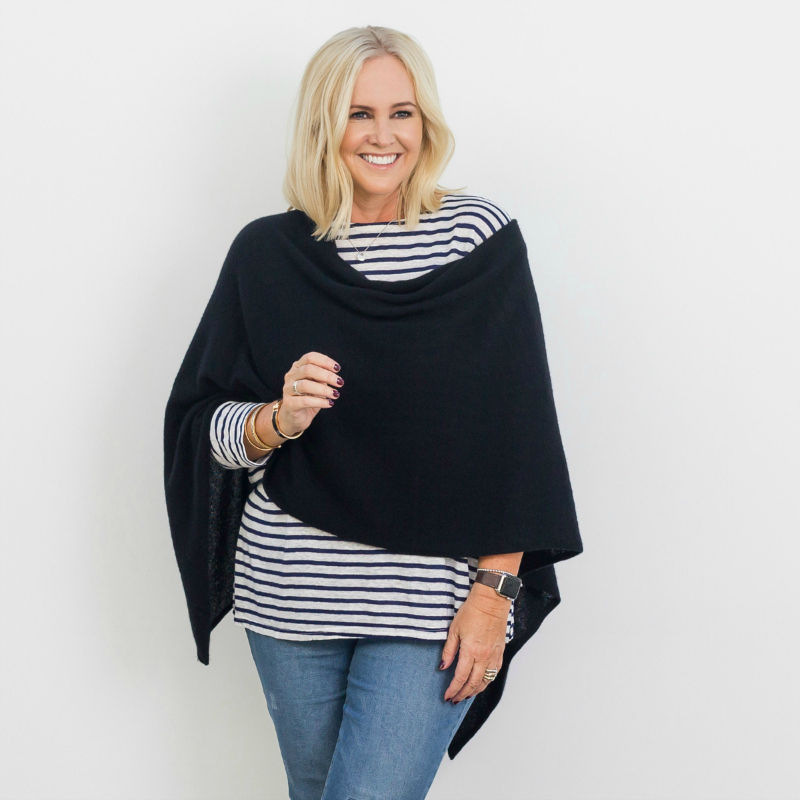 Hunt + Kelly black tee
The search for the wardrobe sister to your favourite white t-shirt (and Styling You Shop bestseller) stops here. The design of and the fabric in this tee mean that it will quickly become your equal wardrobe bestie. I love its v-neck and extended sleeve. I also love the way that it drapes, doesn't cling, yet fits and flatters.
Active Truth smart pocket tights
These are hands-down my favourite activewear tights. I've long talked about my love of Active Truth tights, so I'm excited to now be stocking my favourite-ist of my faves, the smart pocket tights.
For my winter faves collection, I've chosen the 7/8 and full-length in black. For many of us, the 7/8 length is full length (or close to).
The reason I love these tights is because of the fabric and how it feels on. I also LOVE the shape, the high-waist panel holds and supports like no other.
As for the pockets? Well, I NEED them for my running. My iPhone 7 Plus goes in one pocket; car key in the other. My phone is secure and snug.
Active Truth Smart Pocket tights 7/8 length – black
Active Truth Smart Pocket tights full length – black
Adorne travel and organisational cases
I'm always on the hunt for travel and everyday accessories that help us keep our lives organised. When I came across these fabulous cases from Adorne, I knew I had to share them with you.
In this collection, you'll find a toiletries case, makeup case, large pouch and small pouch. All are clear – so you can see what's inside at a glance – and finished with rose gold-plated metal detailing.
Adorne pouch – large – this is an awesome handbag organiser. You can stash – and see at a glance all the bits that can often float around a tote handbag
Adorne pouch – small – this is great as a smaller handbag organiser or for use when flying internationally and needing to keep your onboard liquids in a clear case
Adorne makeup case – this is such a great size for carrying your makeup brushes as well as all the essentials when travelling. I love that you can see where everything is at a glance. Love also that there is a second zipped section for separating product.
Adorne toiletries bag – this has all the "clear" advantages of its organisational sisters and has great height for fitting in bigger/taller items.
Empire of Bees handbag
This handbag has become my go-to weekend bag. It's just the right size for carrying my essentials as well as stashing my keep cup after finishing a coffee and watching my son on the sporting sidelines. Plus, it looks great for heading out to lunch or brunch with friends.
Don't miss out on our re-stocked bestsellers
These products are firm faves in our shop because you love them as much as we do.
Sip Bubbles and Sip Vino now come with an optional extra carry tote. I love the tote because it fits a set of each for taking away on holidays or for the weekend.
Looking for the comfiest of soft pant? Our Philosophy Joggy pants have been re-stocked. They are great for travelling or the every day.
Heading somewhere warm sometime soon, give yourself a faux glow with my fave gradual tanning moisturiser.
Be like Oprah and protect your hair blowdries and styling between washes with this shower turban.
Update your makeup kit with my fave mascara, cheek colour, lip gloss and makeup brushes.
Get prepped for the July 1 plastic-bag free zone with Project 10 insulated and shopping totes. These are way more durable than those sold in store. I find them great for packing for car trips too.
Thanks so very much for shopping with our online store. We do do a little happy dance when every order comes in – and so do our independent suppliers. Shopping with us helps so many small businesses – not just my own.
PS. See anything you like?