When the big department stores jump the gun and go early with their end-of-season sales, you know there are likely to be some real bargains to be had in retail land.
With winter only officially starting today, that means that you could put together your entire cold-weather wardrobe from sale items.
BUT.
What tends to happen in end-of-season sales, is that we can get caught up in the frenzy of what we're "saving" without putting mindfulness into the shopping equation.
There is no denying the thrill of the chase when it comes nabbing a bargain but remember: It's not a bargain unless you LOVE it! I mean REALLY love.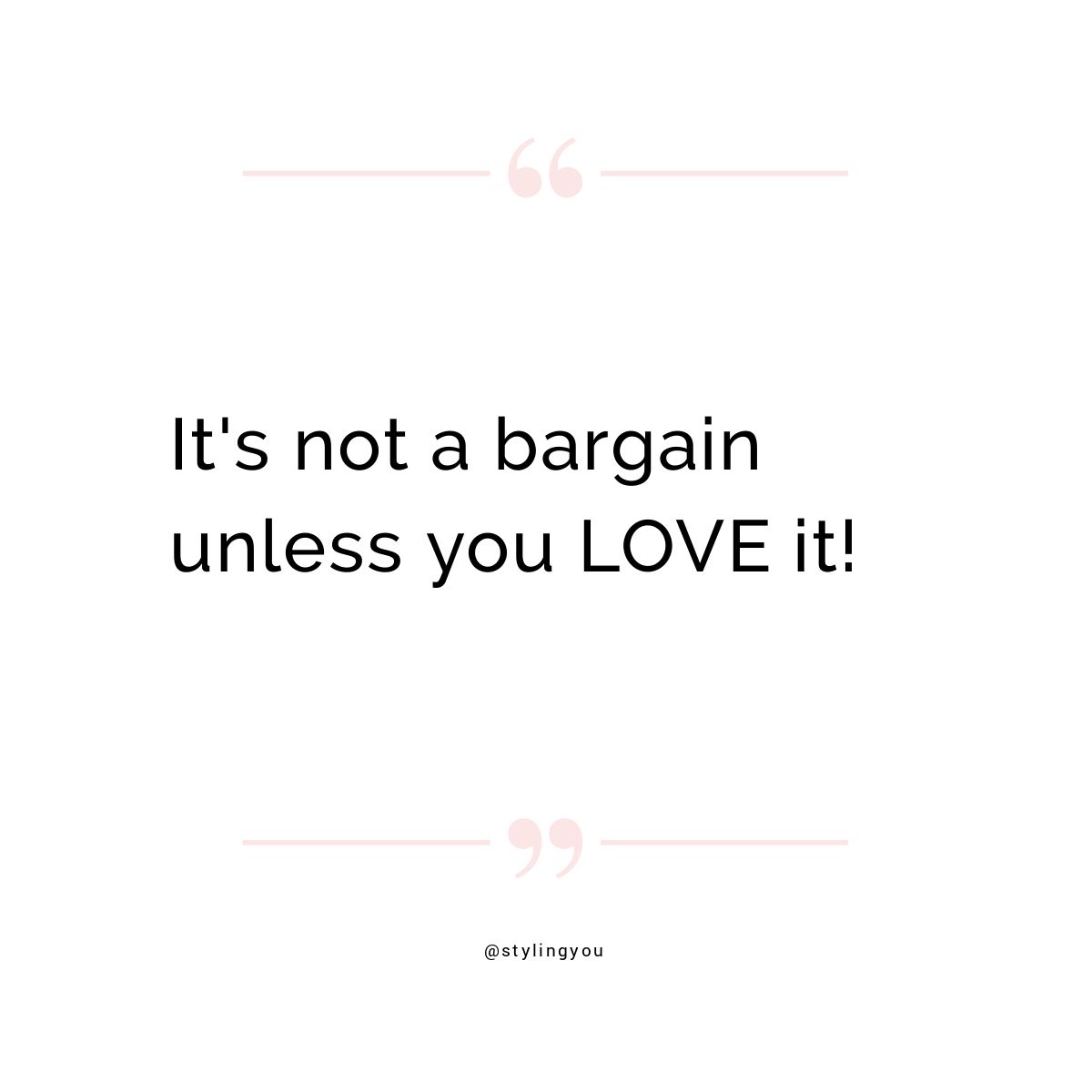 How to shop end-of-season sales for clothes and accessories
1. Know what's in your wardrobe before adding to cart. I KNOW, you're thinking when will that woman stop banging on about that? The short answer is never. EVER. Knowing exactly what is in your wardrobe is key to always having something to wear. It's also key to knowing what you need to add to it. (Need tips on how to edit your wardrobe? Head on over to this post)
2. Make a list. I use my phone for this – either the Notes app or Wunderlist – or go old-school and use a piece of paper and pen. I don't care how you do the list, just do it. This list helps you to not only shop for the gaps in your wardrobe, it helps you stay focussed on the task at hand and not get seduced by the types of clothes you already have – or the heavily sequinned ones (oops, maybe that's just me?).
3. Allocate more of your shopping budget to buying wardrobe basics. Maybe you need a pair of jeans? A blazer? A knit?Maybe it's finding a great pair of work shoes? Whatever those essentials are – spend most of them first before buying the show ponies.
4. If shopping in physical stores, start your shopping day at opening time. Not only will the racks and shelves be neat and tidy, you won't have to fight so many people for the change rooms. It will be just less stressful all round. Work it well with your list and you'll be home or out to lunch before everyone else has even made a start.
5. Wear comfortable clothes that are easy to take on and off. You MUST try on everything you're potentially buying. No time to try? Walk away. In summer, I wear a loose dress, no zips and shoes I can easily slip off. I always opt for nude underwear as well – that way if you're trying on a sheer garment you have a better idea of how it will look than if you've headed out in your black lace undies.
6. If you're shopping the sales online, take your measurements BEFORE you start your clicking frenzy. Having your bust, waist and hip measurements on hand will help you better match up with your potential purchase. If you're an online pro, you've already signed up to all your favourite stores' email alerts. If you're still getting the hang of this online shopping thing, these emails are key to staying in the know as to when sales or special offers are happening.
7. Make sure you take note of the shopping terms and conditions for orders made during sales time. Most stores do not offer a refund or exchanged on reduced items.
8. Stay focussed. Keep to your list. Tick off your needs first. Be conscious and mindful about what you're buying.
9. Do not buy a new piece of clothing JUST BECAUSE it's on SALE. As mentioned above … just because something is a bargain, doesn't mean it should come home with you. Justify the purchase because it fits with your current wardrobe, your lifestyle and your wardrobe personality. If it ticks all those boxes and you save a few dollars, then that, my friends, is what we call WINNING.
So, tell me, have you already hit up the sales? What did you nab? What's still on your hit list?
---
Shameless plug alert: save 50% off the autumn-winter edit in the Styling You Shop
Don't miss out … we've got very limited sizes left in some of our most popular pieces; others have sold out. What's left has been marked down 50%. When you support my store, the ripple effect is a wide one. We do a little happy dance and so do our wonderful suppliers. Sale ends Monday.