I do love wearing black at any time of year but especially in the autumn-winter months. I know this is polarising.
Some will try and tell me and my fellow lovers of this classic neutral that wearing black ages us. You know my thoughts on on such ideas or rules, yes?
I say poo-poo to that.
Wear what you like because you like it. Same goes for colour. Wear it because you like to wear it. Not because someone told you you should.
I may not embrace colour every day but I do like to go "peacock" from time to time as part of my multiple style personalities.
One colour that I'm loving this season is a mustard/turmeric shade of yellow. I don't get away with wearing all shades of yellow but this one does work for me and provides a fun pop for my autumn-winter wardrobe.
So, when I first saw the Solito autumn-winter 2018 collection, it was the tunic below that stood out among what is a fabulous new range from this Brisbane-based label.
The model
and me
Solito tunic (I'm 166cm tall and I'm in L – my regular size)| FRANKiE4 Footwear NAOMi boots
I just love the shape of this tunic as it's all about the high waist, falling from the bust. This is the best style for me as regular waist drops or ties don't generally work on my short waist.
The bell sleeves and v-neckline also add a flattering line that complements the high waist. Embroidered features on the neckline, sleeves and hemline add interest and contrast to this fabulous shade of yellow.
I'll happily wear this tunic with legs out for now while it's still warm but, as it cools down, I'll add black tights and black boots or skinny jeans and tan boots for a different look.
The length is ideal for my 166cm height but for anyone taller you might wear this just as a longer top/tunic. The effect is still a stunning one.
SPECIAL OFFER: Enter STYLINGYOU at checkout for 10% off orders until Tuesday, April 10.
So, tell me, do you have a pop of mustard/turmeric in your wardrobe? Love a tunic for autumn-winter versatility?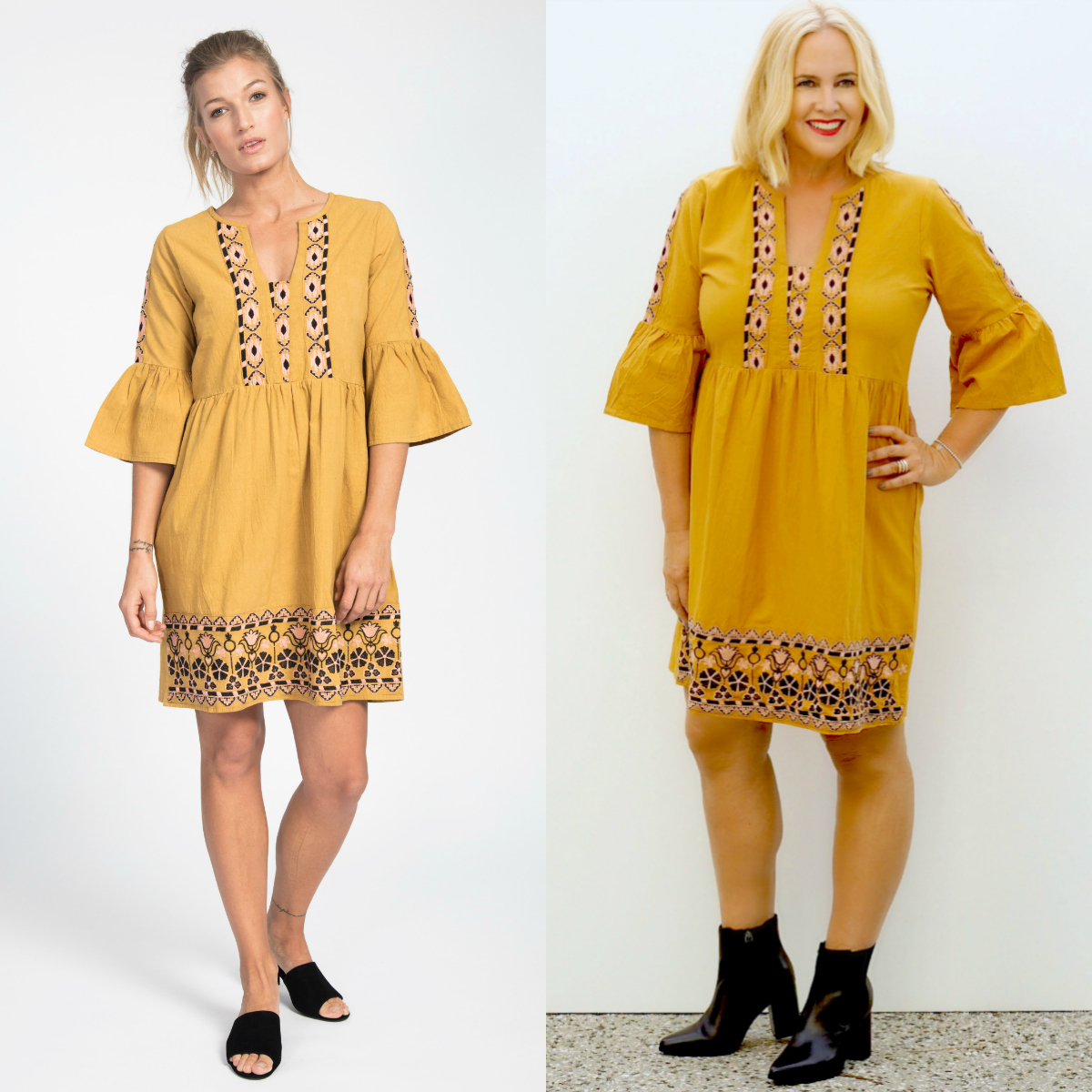 * These pieces were gifted to me for editorial consideration. Full disclosure policy here.
---
Let me help you create an autumn-winter 2018 wardrobe that works for you
Do you look at the new-season clothes in store and online and wonder what to buy and how to make any purchases work with your existing wardrobe?
My Ultimate Capsule Wardrobe program will help. We'll give you a clear road map for planning your outfits for the season ahead.
For some, clothes might seem a superficial path to confidence but for the women in the Styling You community, we understand what we wear can affect us on a deeper level. Sometimes clothes might be an armour or a motivational pick-me-up. I know they can be for me.
I work from home – ducking out for meetings during the day – so, in theory, I don't need to dress up for my job. I learned, however, that the days I did make a bit of an effort were the days that I was more productive. It's like pulling on a "confidence" uniform to get sh&*t done. Does that work for you too?
So, now I plan out my outfits in advance and I show the women in the Styling You community through my Ultimate Capsule Wardrobe online style programs how to do that too. I show my "Capsulers" how to create a wardrobe that works for them and how to shop mindfully for any new additions. It's not about me setting strict rules, it's about providing guidelines for you to create looks that work for your personality and lifestyle. You know my thoughts on style rules, don't you? Forget them and make your own. It would be very boring if we all dressed the same.
I get to really know more about the women in this fantastic community through these programs and they get to know and support each other in a way that is rarely seen on the Internet these days. Amen to the sisterhood, I say.
Our autumn-winter 2018 Ultimate Capsule Wardrobe opens on Wednesday, April 18. Make sure you're on our email list to be first in the know. Capsulers get priority access to the seasonal Styling You Shop edit, which will publicly launch on Thursday, April 19.