I do love a monochrome wardrobe palette. I do.
But I do like to surprise even myself with a pop of colour among that sea of black and white. This summer that pop has come in the form of pink. Lots of pink.
Exhibit A HERE. Exhibit B HERE.
It's funny, I wouldn't necessarily say I'm a girly girl and in need of surrounding myself with pink but it's definitely a colour I'm drawn to.
For me, pink is not about being "pretty in pink", it's more about "pink power". There is SO much power in a strong pop of pink.
The latest pink addition to my wardrobe is this shift dress from the Sassy Sister high summer 2018 collection, featured below on the model … and me.
The model
Sassy Sister The Poppy dress in perfect pink (on sale $49)
and me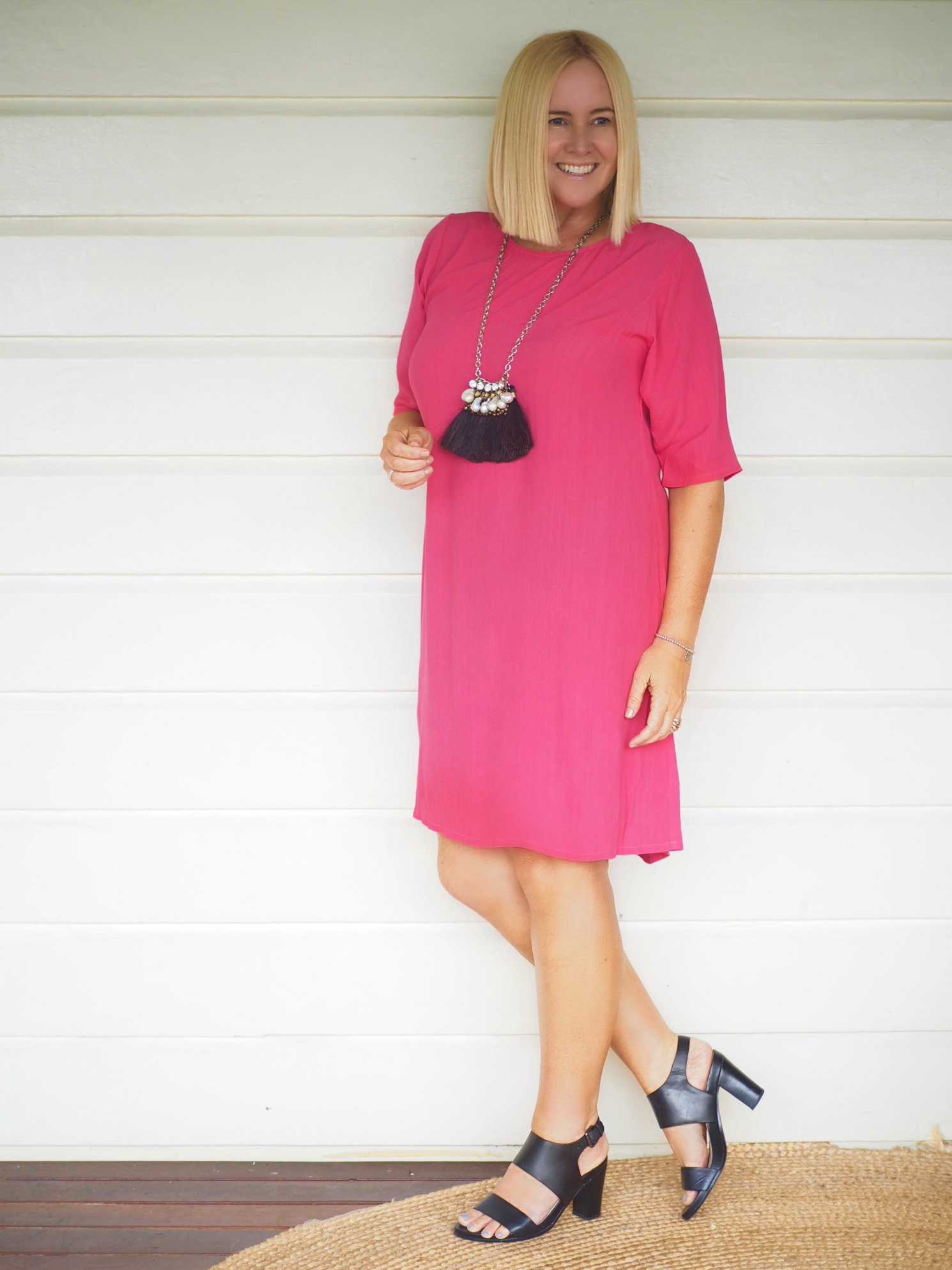 Sassy Sister dress (I'm in M and my regular size is 14; height 166cm) | Salita Matthews necklace (Mine is from a few years ago now) | FRANKiE4 Footwear NiKKi heels
There may be wardrobe power in pink but there is also power in the simplicity of a relaxed-fit shift dress. This is a style of dress that can take you just about anywhere.
Wear with flats or slides for a casual look; add heels or wedges for a lunch date out; add a closed-toe pump and blazer for a summer office look.
The fabric is rayon fujiette crepe. This is a fabric you need to look after a little so that it doesn't shrink or lose its shape. It's a cold hand-wash situation, then I like to pull at fabric when it's wet before letting it line dry. I find a steamer works really well to bring it back to its original shape. It's worth the effort as this fabric is great for wearing in summer. Even with the sleeve, it's cool on.
The style itself is semi fitted around the bust, slightly tapered at the waist but flows out to a slight a-line in the skirt. It's falling just above the knee on me, which is my ideal length. I'm 166cm, so visually imagine up or down for how it would sit on you.
Colour-wise, in real life the pink is more like the pink in the photo of me. I'd call it a lolly pink. Just delicious.
So tell me, do you do a pop of pink from time to time? Love a go-to shift dress?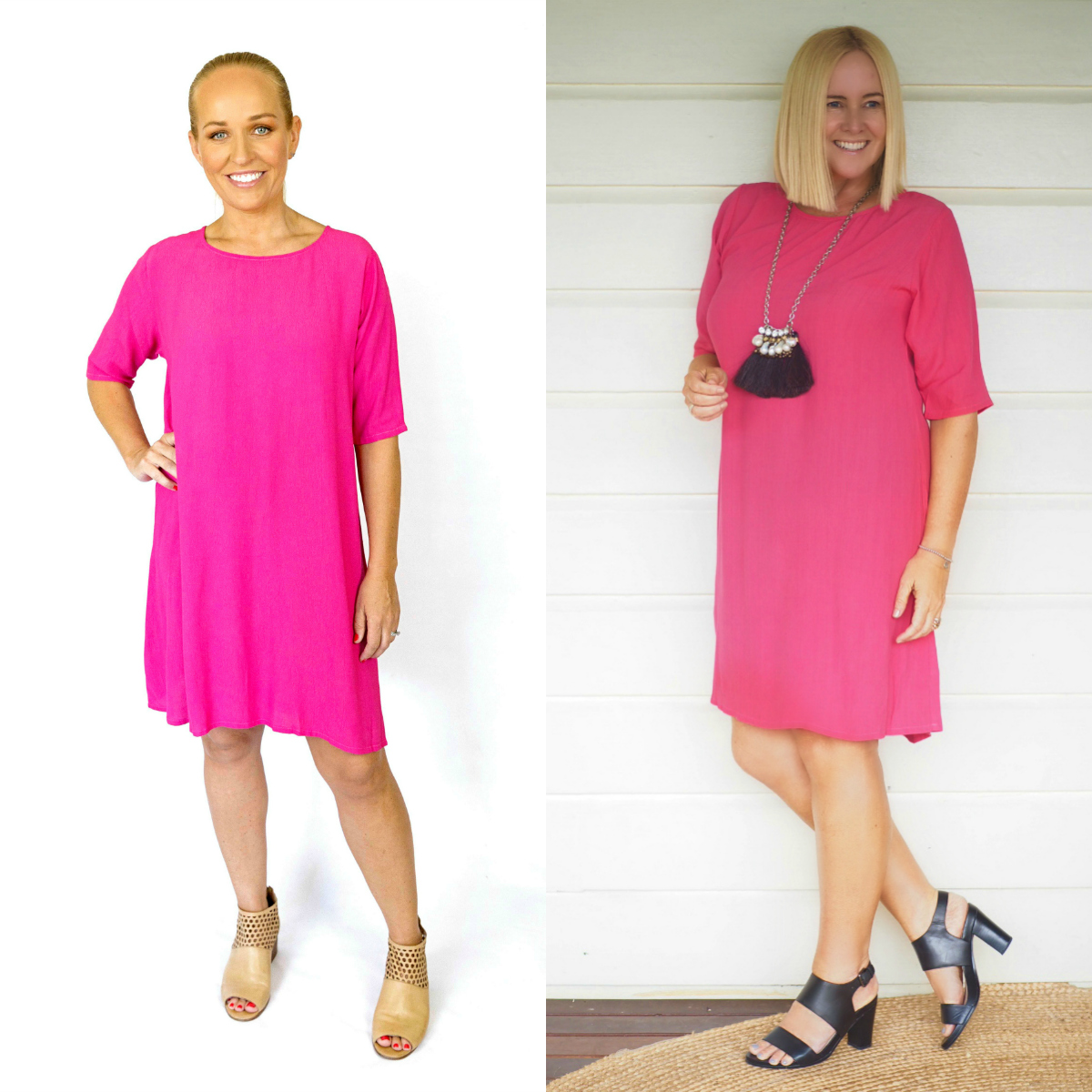 * These pieces were gifted to me for editorial consideration. Full disclosure policy here.
---
Get your wardrobe sorted for 2018
This Wednesday (February 7) we're launching a two-week online program designed to help you get your wardrobe mojo back for 2018.
Maybe you work in an office, maybe you work from home, maybe you're a stay-at-home mum or grannie? If you want to get your wardrobe organised for the year ahead so that you feel comfortable, confident and appropriately dressed for whatever your day dishes up, then my upcoming back-to-work mini capsule online style program is for you.
The start of the school year usually marks a line in the sand for me in terms of back-to-work and back to a regular routine. In my head – and in my wardrobe – I'm still at the beach or playing resorts at home. But there is business to be done. It's time to get my wardrobe working again for a new year.
I know I'm not alone.
Our program is a mini version of our seasonal Ultimate Capsule Wardrobe programs. There will be two capsules offered as inspiration – a casual and a corporate capsule. You'll create your own capsule based on these suggestions and my prompts and we'll share two weeks' of outfits together in our dedicated Facebook group.
There is absolutely no need to buy any new clothing pieces – you may find all you need for your capsule sitting in your wardrobe. We'll just help you get clear on that.
Cost is $49.95. Check your inbox, here on the blog or on Facebook for you link to sign up from Wednesday.