I love wearing white. LOVE it. But I know my love of white is not something that everyone shares – especially when it comes to wearing white pants.
I'm not afraid of wearing white pants, so when the fabulous people at Motto challenged me to showcase six (mostly) all-white looks, featuring three different pairs of white pants, I said, "challenge very much accepted".
Now before you click away, stomping your feet and shaking your head at me, convinced that there will never be a spot for white in your wardrobe, stick with me. I understand your fears and I want to share with you my tips and myth busters about wearing white – particularly wearing white pants.
If you can embrace white pants in your wardrobe, it will give you so many fresh options and combinations when it comes to creating outfits for the warmer months when wearing black or even denim pants or jeans might feel to heavy.
Read on to find out why I think white is ALL RIGHT, how to launder white, six white-inspired outfits and how you could win one of five $200 gift cards to spend at Motto.
White pant style myths that need busting (or at least work-arounds)
Most women's fear of white can be broken into two categories – that we think it's not a flattering colour and we worry about how we're going to keep it clean. I've broken those categories down a little bit further to (hopefully) address those fears for you.
1. White makes me look bigger. Ladies, it's not the colour that makes us look bigger, it's the style of pant and what we choose to wear with them. A black pair of pants in the wrong cut for you can make you look bigger and "block" your shape with too much of a heavy colour happening all at one time. So let's all move on from this myth, shall we?
Instead of dismissing white, look for a quality pant with a decent weight of fabric. Look for a style of pant or jean that suits your leg, butt and tummy shape. And work those pants/jeans back with tops that skim and float past any bits we want them to skim and float past.
2. The colour white doesn't suit my skin tone. When it comes to wearing a white pant, this doesn't matter as it will be away from your face. When wearing a white colour (with no other colour breaking it up) near your face, then take notice in the mirror whether your eyes light up when you have a pure (or close to pure) white near your skin. Try the same test with a cream or ivory fabric. Whichever shade of white gives you that spark, that's your white family. If you don't have that spark and really want to wear the white near your face, add a scarf or coloured earrings/necklace to break up the white.
3. You can see my underwear when I wear white pants. Well, yes, we will see your knickers, unless they are a shade of nude suited to your skin. Do not wear white under white. We will definitely see that. Good fabrics, longer tops and even square pockets on the bottoms will help disguise any sneaky, visible underwear situations.
4. If I wear white I'll spill something on it. Yes, if you're clumsy like me, you probably will. Just ask my family and friends. BUT. Nine times out of 10, I will defy said family and friends and I won't end up with red wine or spag bog on my white clothes because I'll be WAY more careful with what I drink and eat while I'm wearing white. And … shhh … I've also recently discovered StainGo – a handy product to have on hand and spray on should accidents occur.
5. I can't wear white pants, I have – or work with – small children. The first time I embraced wearing white in all its glory was back when my now-adult children were babies. The reason? I discovered the magical powers of a stain removal soak. Where had it been all my life? Well, I can tell you, it's been in my life ever since. Most white pants and jeans can be soaked, no problems. Now, having shared a laundry tip that is probably far from new to you, I do also remember the days when small hands LOVED reaching up to you to be picked up or wrapped around your legs to be hugged. No, I wouldn't wear white pants to the playground during those years but I did (defiantly) wear them when out without the kids.
The (fashion) story of three white pants
The three pairs of white pants from Motto I've featured in outfits in this post are below. Each is a good weight for coverage without being too hot for summer. Each is an ankle-length pant but, as you can see on me, they are almost full length and come to exactly where I like my jeans and pants to fall. I'm 166cm and wearing size 12 in each of these pants.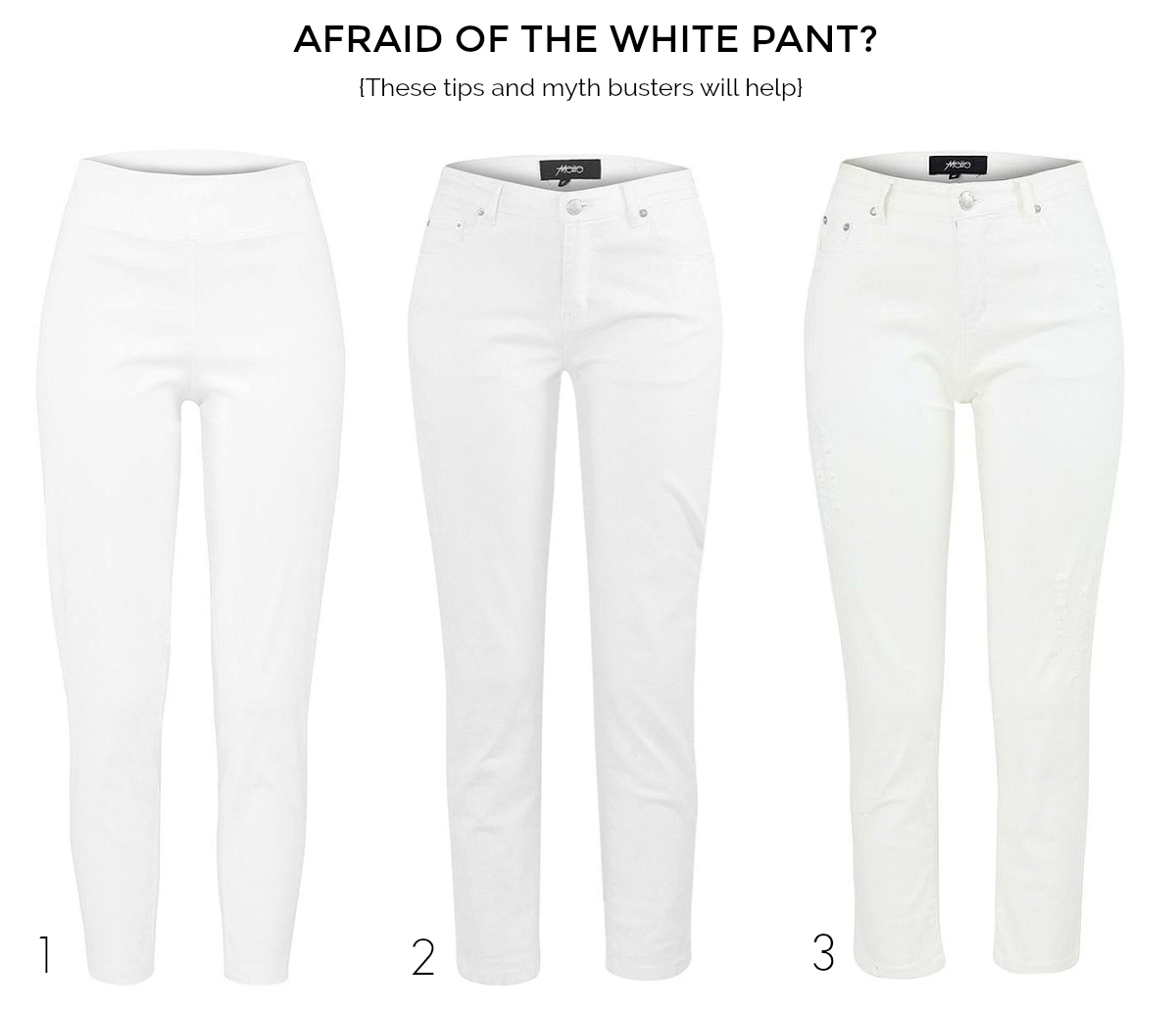 1. White Bennie pants $89.95 | 2. Sophie white denim ankle jean $99.95 | 3. Sophie white distress denim ankle jean $99.95
The white bengaline pant
Anyone who's ever embraced the pull-on bengaline pant, needs no convincing on these. The comfort level is supreme. The fabric is cool to touch and, without any buckle or zip, it creates a smooth line under any top. This is typically not a pant that you would tuck a top into, more it's a pant suited to longer tops and tunics. Me? I like to cover my front and back bottoms when wearing a pull-on pant like this. Because of the amount of stretch in this fabric, do buy firm as they will easily give through wear.
Top | Duster jacket | White Bennie pants
Top | Duster jacket | necklace | White Bennie pants
The white ankle jean
There is something so classic about the white denim jean. It always looks dressed up, no matter whether the pairing is for a casual or dressy occasion. While you don't have the smooth tummy line of the bengaline, you do have the ability to do a full or half tuck of your top or tunic to create a different shape or proportion to your outfit. The mid-high waist of these jeans is universally flattering. The fabric contains stretch but is designed to keep its shape with wear and I love that the waistband offers a relaxed fit – no cutting in!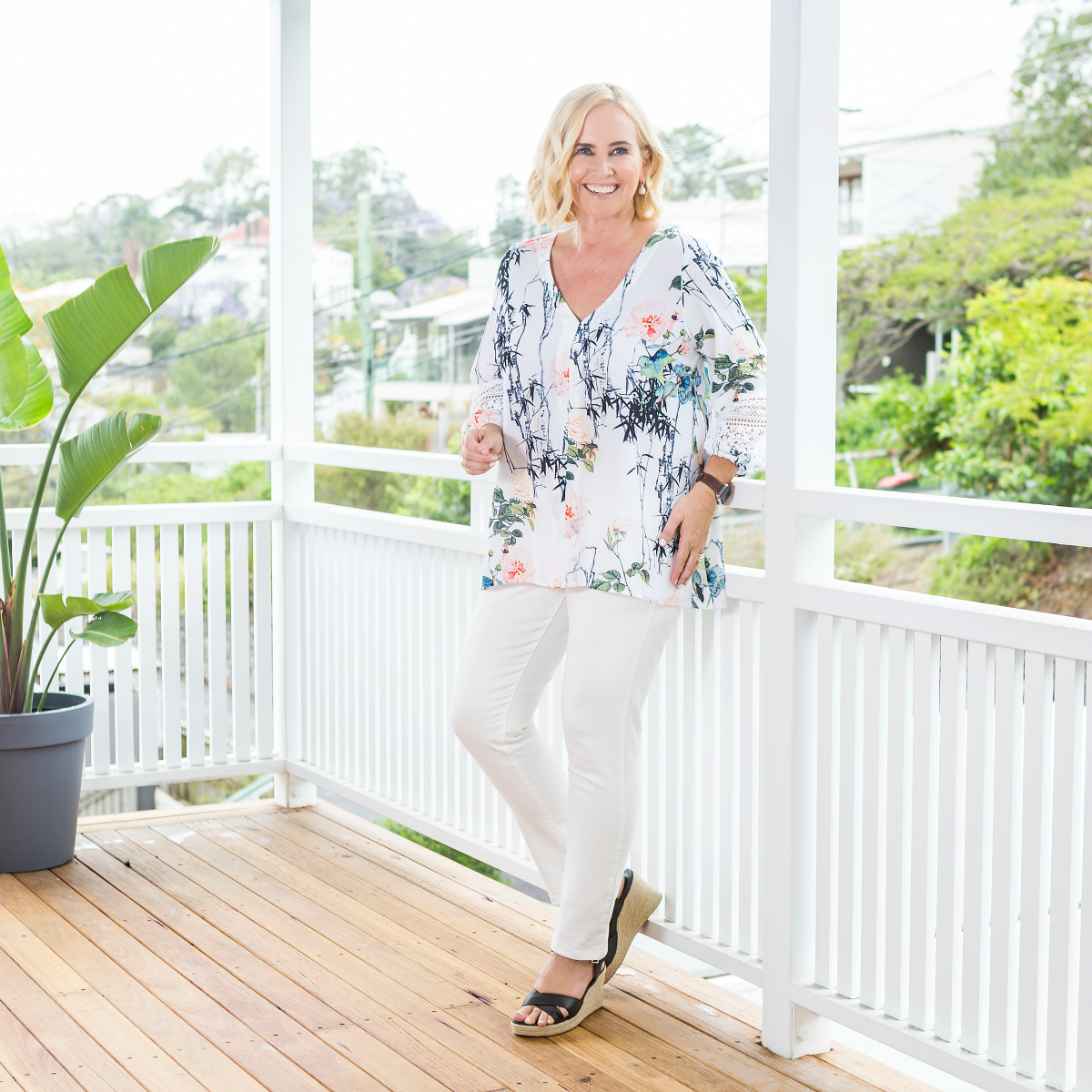 Top (this particular one is sold out but check it out in Ivory and Tangello | Sophie white denim ankle jean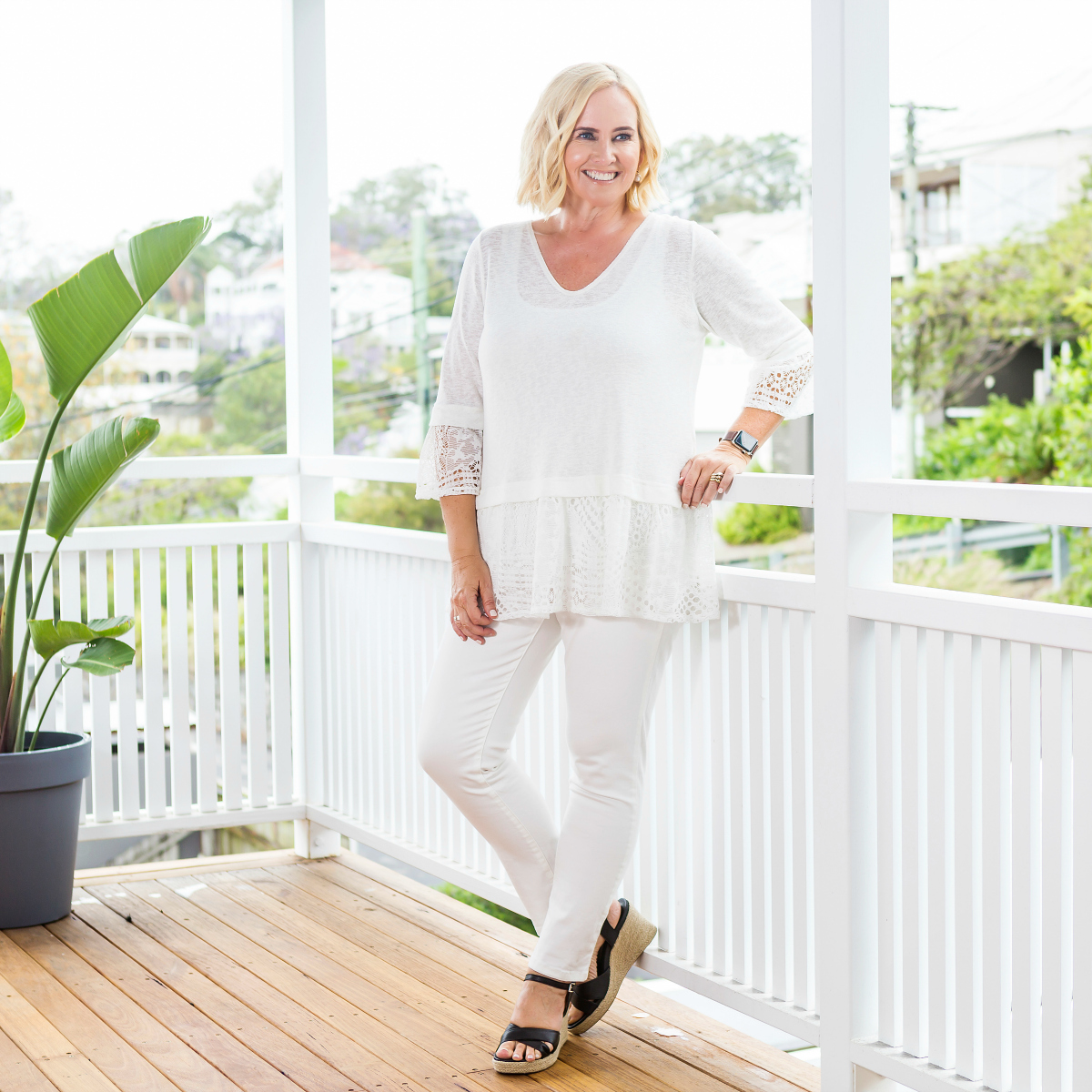 Top | Cami | Sophie white denim ankle jean
The distressed white ankle jean
This jean offers all the benefits of its classically style sister but with the edge of a distressed finished. If you've been on the fence in regards to distressed denim, then this is the style for you to dip your legs into. It's a soft distress – no skin will show! (So soft, it's difficult to detect in these photos!) I love a distressed look for offering a tough-pretty contrast of pieces within the same outfit.
Top | Sophie white distress denim ankle jean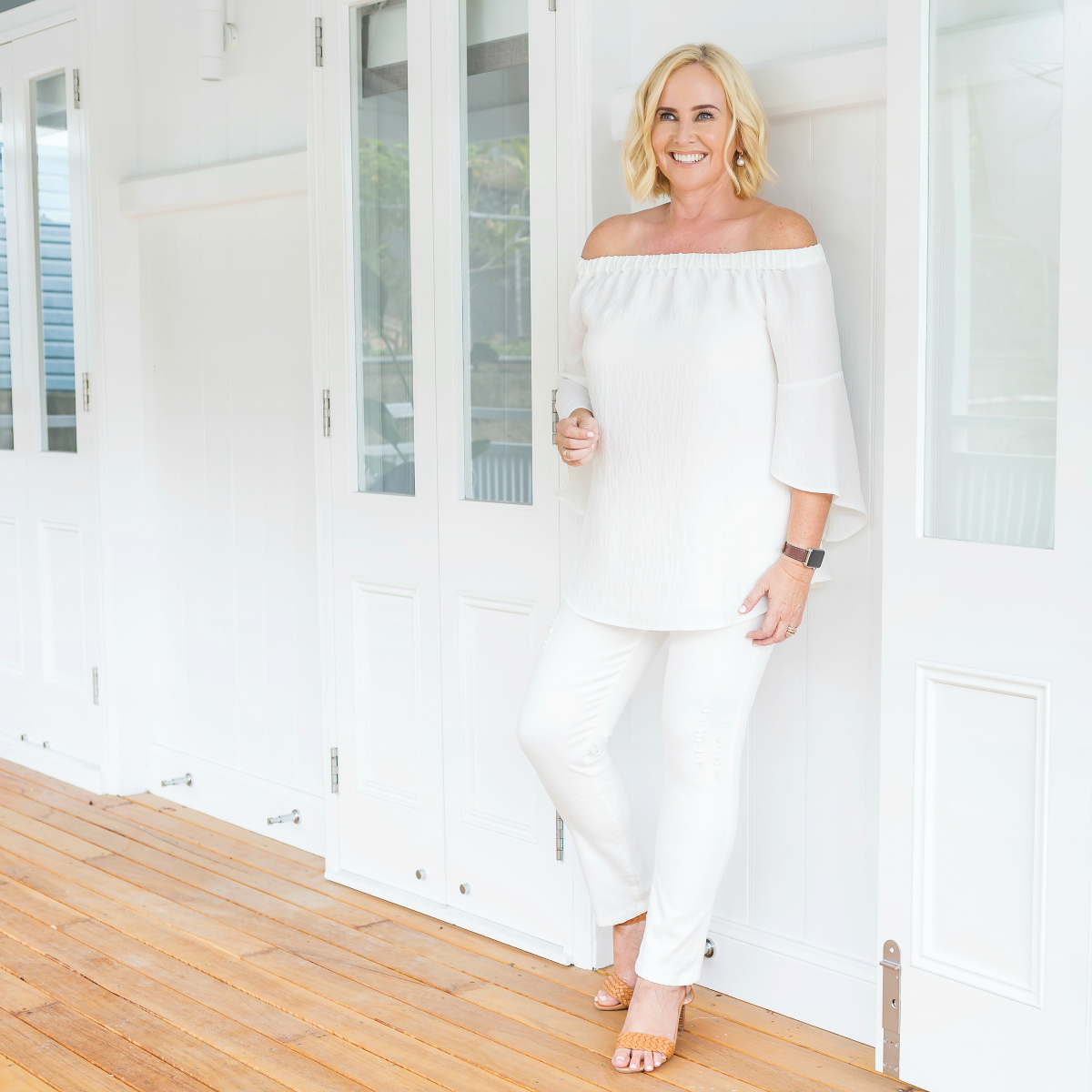 Top | Sophie white distress denim ankle jean
SHOP all my Motto looks HERE
---
WIN
Get excited. Motto has a $200 gift card to give away to five Styling You readers. Each winner will get to shop for pieces from this fabulous, quality Australian label – pieces that will see you through summer and beyond. Follow the steps below to enter.
Head over to Motto HERE. Fill in the form.
Once filled in, you'll be directed back here to answer this question in the comments below: Which pair of Motto white pants can you see yourself wearing this summer and how would you style them?
Entries open on Wednesday, November 1, 2017 at 5am (AEST) and close on Wednesday, November 15, 2017 at 5pm (AEST). Australian entries only, sorry. The five winners of the "answer the question" competition will be judged on originality and creativity. Both steps of the competition need to be fulfilled to be judged a winner. The winner will be emailed and their name will be published here. Entrants must include an email address when the filling in the commenting system below to be eligible to enter. Full terms and conditions here.
---
This photoshoot was shot on location at a private home in Paddington, Brisbane. Photography: The Photo Pitch; Hair and Makeup: Dale Dorning/Arc Creative