Sponsored by Lilly & Lime Swimwear
Over the next few weeks, I'll be featuring a number of posts aimed at getting your body beach-ready. Now before you click away, I'm not turning into a trashy supermarket magazine, insisting that you have to "drop two dress sizes by Saturday" before you can get yourself within cocktail distance of a beach or pool.
NO. Most definitely not. We all have a body. It's already ready for the beach. We just need to stop our silly internal, negative chatter and go out and enjoy summer.
It also helps to have in our beach-robe arsenal, swimsuits, cover-ups, hats and sunglasses that we feel comfortable and confident in.
In this post, I'm putting my beach-ready body on the line and hoiking my D-cups into swimwear from Lilly & Lime Swimwear. I first introduced you to this brand last year in the Styling You 2016 Swimsuit Edition (stay tuned for the 2017 edition). You LOVED that bikini.
This year, the range at Lilly & Lime has expanded, with beautiful new, exclusive prints and a size range that runs from 28D-40HH. That's size 6 through to size 18. Pant sizes range from 8-22. It is a genius swimsuit solution for women with a D-cup and up. Typically plus-size swimwear ranges will cater for bigger busts. Our smaller-sized, big-busted sisters also need that support. That's where Lilly & Lime nails it.
The two women behind the brand – Emma-Jane Hughes (Bermuda) and Ashleigh Hill (Brisbane) – are friends who met while working in London. They're proud owners of 30G and 30DD boobs and on a mission to help women who are bigger busted wear well-fitted swimwear
We (used to) dread the beginning of summer as we LOVE shopping for new bikinis but can never find anything that's both fashionable and a great fit in our sizes. Our smaller-busted friends seem to have a much broader selection of swimwear, all in gorgeous prints and styles. So, one hens night after a few champagnes, Lilly & Lime was born.
Me? I'm a D-cup and my bust is far from perky. Left to their own devices, my boobs head WAAAAYYY south. Support for my "girls" is key to my swimsuit confidence. This is also what Emma-Jane and Ashleigh believes is key. If it's also key to your swimsuit confidence, then these 10 tips for finding the best support for your bust are for you.
10 tips for finding the best swimsuit support for D-cup and up bust
1. Think of the swimsuit purchase the same as a bra purchase. This makes complete sense when you realise that if you need a supportive bra for under clothes, you're going to need a supportive swimsuit top when you take said clothes off. This is where you may have fallen down (or out!) in the swimsuit-buying department before. Just buying a size 12 or 14 to suit your back size is not going to work if your cup size has not been catered for.
2. Like a bra purchase, you need to know your number (back size) and letter (cup size). Ideally, have a bra fitter do this for you on a regular basis as our size can change dramatically, particularly in the baby-baking-and-making years. Once armed with your correct bra size, shop away. In lieu of a recent professional bra fitting, Lilly & Lime offer a size check service HERE and have a 95% success rate in matching women with their measurements to the correct swimsuit size. To measure your back size, take a tape measure around your back just under your bust. To measure your cup size, take a tape measure around your back and across the centre of your bust.
Lilly & Lime Sorbet Palm bandeau top (I'm in 36DD) | Sorbet Palm full brief (I'm in 14)
3. It's not necessarily just about your bust size – your bust shape will also determine which styles suit you best. This is a big thing for me – in bras and swimsuits. Not only do my breasts have south-facing tendencies, they also venture sideways. They're not full in the top of the breast either. With this shape of bust, I'm better suited to a balconette or supported bandeau-style swimsuit. Conversely, if your boobs are full, top to bottom, then a full-cup style will work best for you.
4. A supportive swimsuit top will feel comfortable on. Just like wearing a bra, it shouldn't feel like it's digging in to you. If the underband/wire is cutting in to you, then the back size is too small. If the underwire isn't sitting flat on your chest, then you probably need to go up a cup size.
Lilly & Lime Stripe balconette one-piece (I'm in 36DD – this is available exclusively on pre-order to Styling You readers)
5. Your swimsuit top should contain ALL your boob-age – side AND front. When trying on a swimsuit that supports your bust, put it on as you would a bra. Once on, reach in and lift those girls into place. Only then will you be able to see if the cup size is fitting correctly for you. If you find that your cup does spill over, then it's best to try up a cup size – or a different style better suited to your bust shape. Conversely, if you find that your bust isn't filling the swimsuit, then try down a cup size. You don't want any gaps. Bust shape plays a big part in this – this is why you can be in different sizes in the same range. I can be down a back size and up a cup size (36DD) for a better fit – as above.
6. If you have broad shoulders, balance them out with a halter top style. This extra fabric across your chest front will give the illusion of making your shoulders seem smaller. Conversely, if you have narrow shoulders, removing all the straps from a bandeau or balconette style will make your shoulders seem broader.
7. Buying separates – a bikini or tankini – is the way to go if you have very different top and bottom sizes. I have a flat bottom so, to get a firm fit, I need a smaller size in a pant than I do in a top. If you have a short torso, then a bikini is one way to give the illusion of lengthening that – particularly when worked back with a shorter-style brief. Longer torso? A higher pant will balance that out. A one-piece is a great option if you have the same sizing between your top and bottom, for example you're a size 14 top and size 14 bottom.
8. Patterns are your friends. Too often (and I know I'm guilty of this), we reach for black because we've had it drummed into us that it's a more slimming colour in EVERYTHING. Black is classic and always a stunning swimsuit option but prints and patterns can not only breathe life into your beach or pool time, they can also disguise lumps and bumps.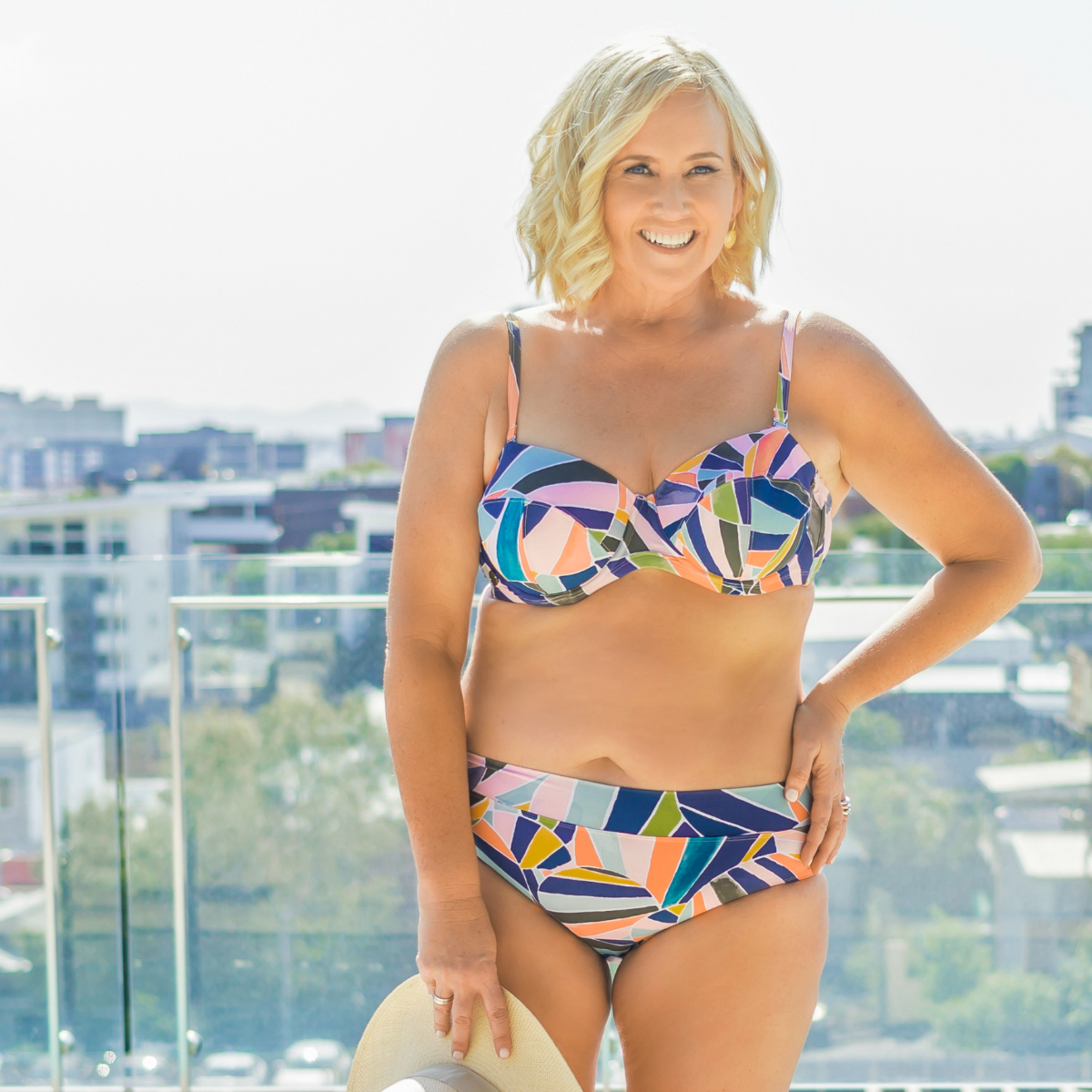 Lilly & Lime Sunset Shell Balconette top (I'm in 38D) | Sunset Shell full brief (I'm in 14)
9. Do not fear the bikini. I know that this is a big one for so many women. I'm not going to ever force you to go there but, at the same time, I don't want your own negative self-talk holding you back either. There is no such thing as being too big or old to wear a bikini. A well-fitted top plus a pant bottom to suit your shape can be more flattering than covering up. Give it a go – it's quite liberating – especially when it comes to going to the toilet while at the beach.
10. Embrace shopping for swimwear online. I know it's not a natural thing for so many but, honestly, over the years, I've gotten to prefer it. You can try on in the comfort of your own home without any harsh change-room lighting. If you shop online with a store that offers great pre-purchase customer service and easy returns/exchanges, then you can do so with confidence.
Lilly & Lime offers supported bikini tops in four different shapes; a tankini top; full-piece styles; and five different bottom styles. Shop HERE. If you'd like to see other women embracing the support of Lilly & Lime, check out this page.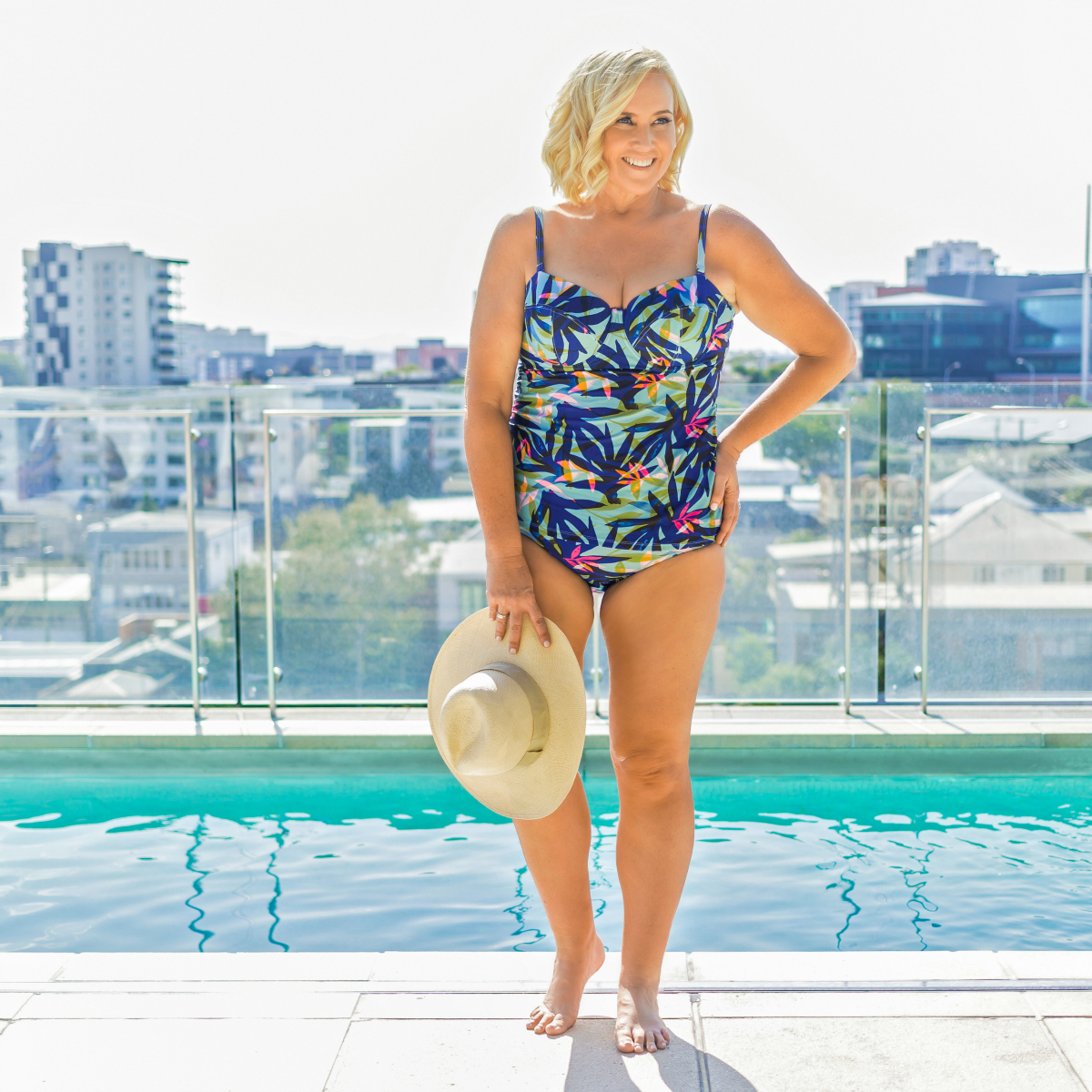 Lilly & Lime Azure Palm tankini top (I'm in 38D); Azure Palm full brief (I'm in size 14)
WIN
Lilly & Lime has one swimsuit to give away to one Styling You reader. Total value of this prize is $110-$150.
To enter, answer the following questions in the comments below:
Why do your boobs need supporting at the beach this summer? Which Lilly & Lime swimsuit would be up for the job to do it?
Entries open on Thursday, October 5, 2017 at 5am (AEST) and close on Thursday, October 19, 2017 at 5pm (AEST). Australian entries only, sorry. The winner of the "answer the question" competition will be judged on originality and creativity. Photos can be uploaded in the comments section. The winner will be emailed and their name will be published here. Entrants must include an email address when the filling in the commenting system below to be eligible to enter. Full terms and conditions here.
---
This photoshoot was shot on location at the Emporium Hotel, Brisbane. Photography: The Photo Pitch; Hair and Makeup: Erin Bigg/Arc Creative