Whenever anyone says to me that they feel they need to wear more colour, I say, by all means embrace the rainbow, but do it because it makes you feel good, not because you think you should.
In my books, it's OK to enjoy wearing classic neutrals if that's what makes you feel confident and comfortable. I get it because that's largely my wardrobe. I do love wearing a black, white and otherwise neutral colour palette.
BUT. There's always a but, isn't there? In the words of my friend Saskia, I'm not afraid to "go peacock" on occasion. Especially in summer.
This week's Model and Me outfit is from a Queensland store – Blue Bungalow – a store that knows how to "peacock".
Here at Blue Bungalow, we're mothers, young professionals and domestic goddesses. We can't be defined by age, but we can be recognised by style. We're relaxed and effortless, fuss-free but fabulous and we ooze colour to keep the spirit of summer alive.
The model
Anannasa Cuban Striped off-the-shoulder dress at Blue Bungalow
and me
Anannasa Cuban Striped off-the-shoulder dress at Blue Bungalow | Blue Bungalow earrings | FRANKiE4 Footwear NiKKi heels in tan punched
This show-stopping colour combination just screams summer. This one-size, off-the-shoulder dress is by Queensland label Anannasa. Blue Bungalow has this cuban striped print available in a number of different designs. You can check them out HERE.
The shoulders are elasticised and the front tie can also be used to tighten across the shoulders. Or, as in the model image above, you might prefer this one worn ON the shoulder. Wearing it on the shoulder will make the length of the dress fall shorter.
I love the on-trend ruffle hem and sleeves. The angle of the stripes helps give shape to this voluminous piece. It will fit up to a size 18.
The fabric is a modal. It feels incredible on. The shine to the fabric gives it a dressed-up feeling. This is a dress that you could wear for an end-of-year party with heels and then pack to take away for a beach holiday, wearing back with flat sandals or slides.
So tell me do you embrace colour most days or just every so often? What makes you feel most confident? Colour or neutrals?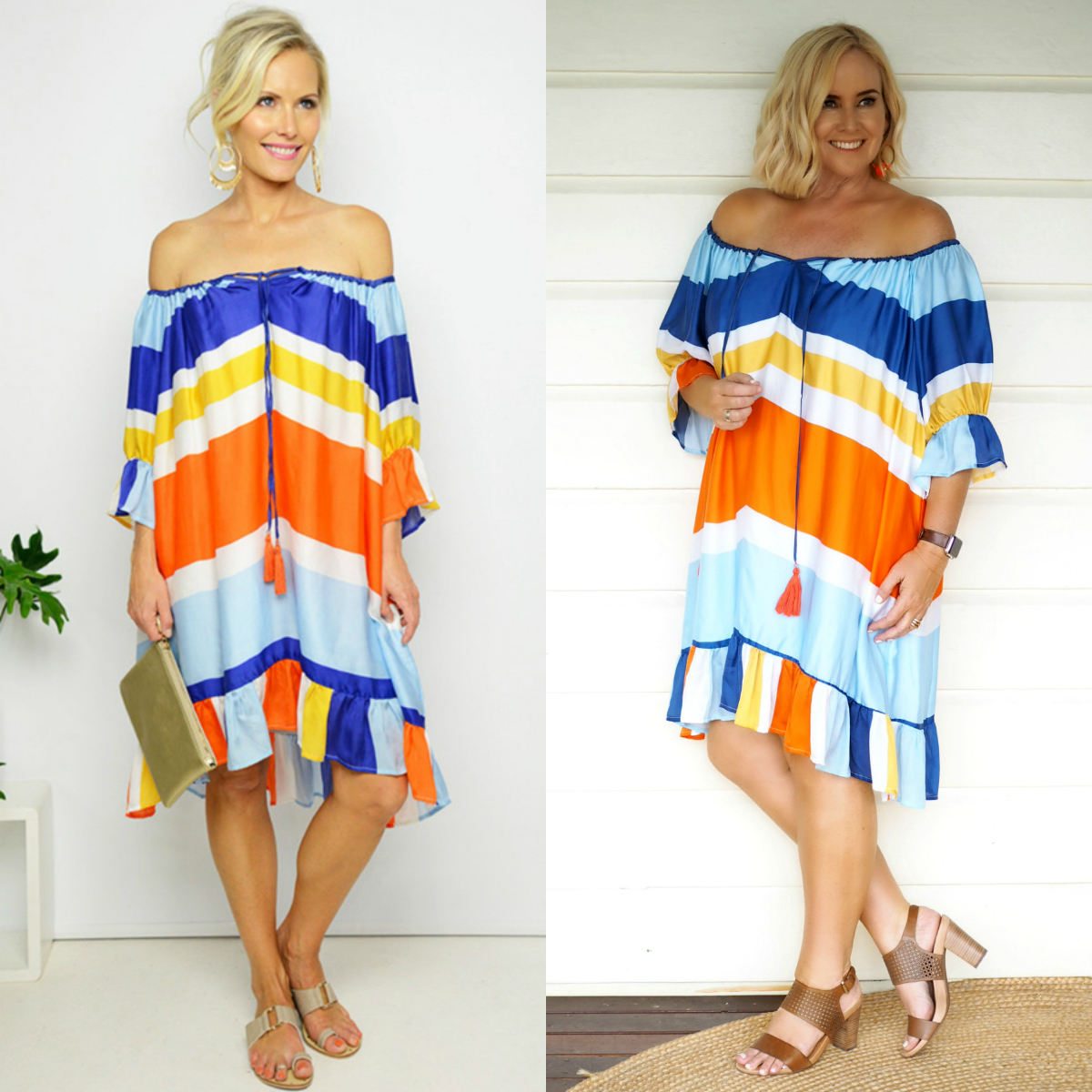 * These pieces were gifted to me for editorial consideration. Full disclosure policy here.
---
Join Share The Dignity's It's In The Bag campaign
In a nutshell, the It's In The Bag campaign is about filling a handbag with pads, tampons and personal hygiene products so that this bag can be passed on to a woman or girl experiencing poverty and/or having fled violent situations this Christmas.
Look in your wardrobe. There may be a bag there that is in great condition but one you don't use any more. If you don't have a spare bag, consider buying a Handbag with Heart bag from Share The Dignity.
Then when you do your weekly grocery shop, add one or two items each week to fill your bag.
This year you can also buy a Handbag With Heart bag protector to store all the products in. This not only keeps all the products from spilling out of the bag but also gives the recipient an extra bag as a gift.
Bags can be left at collection points from November 18-December 2. This year's collection points will be announced in November. If you'd like to volunteer to be a collection point, details are HERE (registration is open until October 31).