Spring has officially sprung but the weather in your region may not have got the memo.
Meanwhile, the stores (our own included) are filling with new-season pieces designed to entice us out of our winter fashion hibernation.
So, how to dress for spring when it's still cold outside? That's a question that I'm being asked a lot at the moment in our online style program – the Ultimate Capsule Wardrobe. We have women from all around Australia and New Zealand signed up (registration closes this weekend), which means there are lots who are facing that dilemma right now. In the program, we have daily suggestions on how to adapt each of our 42 featured outfits for whatever weather your region dishes up.
The simple answer to the question might seem to be: just keep wearing winter clothes. And that's totally fine by me. But what can happen when a season drags on is that we can get mighty bored with the clothes that we're wearing (seemingly) every day.
It happens to me when summer drags on and on, way into autumn. I need motivation to keep things fresh so I don't fall into the wardrobe rut I spend most weeks trying to keep out of.
If you're tired of your winter wardrobe and wanting to freshen things up ahead of it actually warming up, then the below tips are for you.
15 tips for dressing in spring when it's still cold outside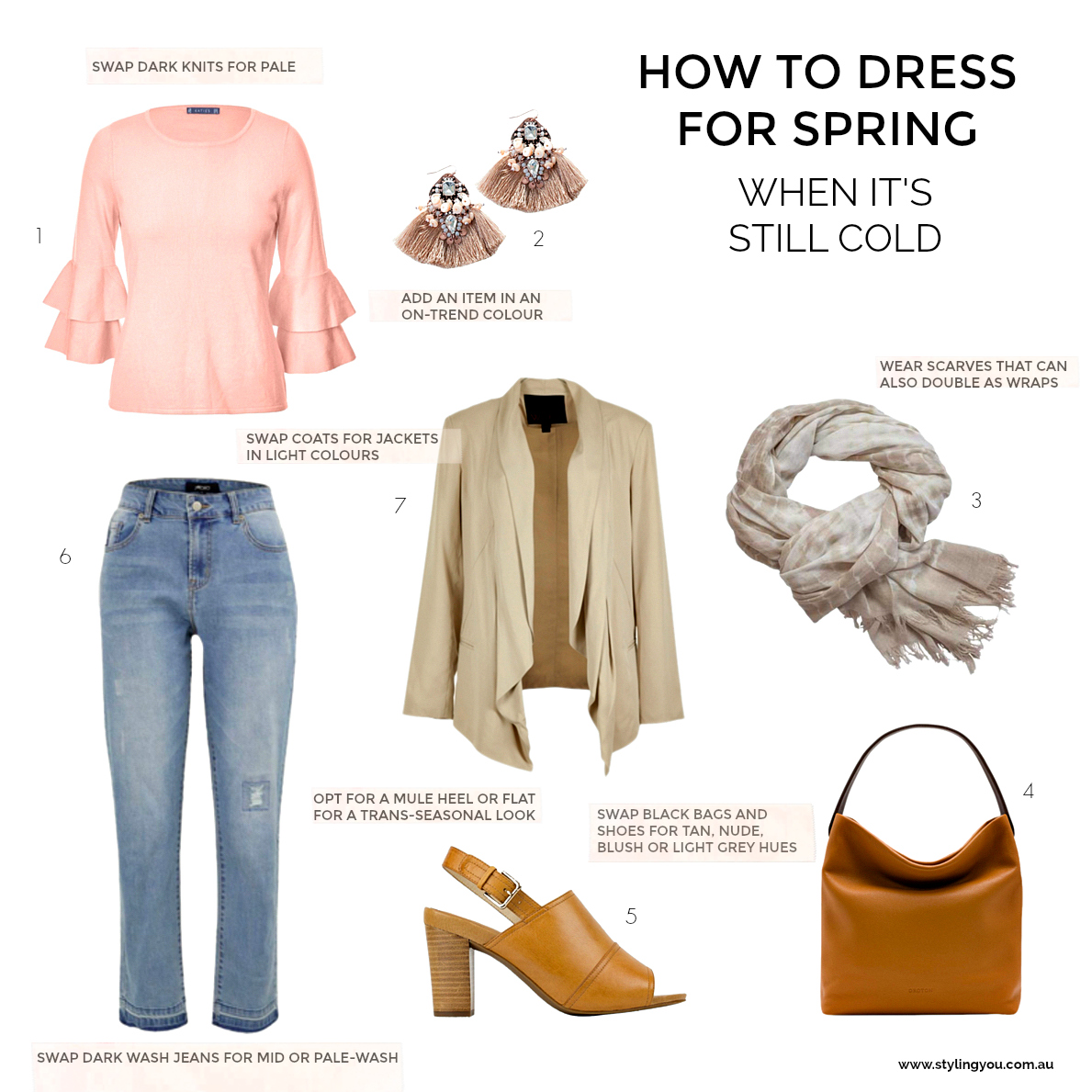 1. Katies knit $39.95 | 2. Lovisa earrings $29.99 | 3. Hunt + Kelly scarf $55 @ The Styling You Shop | 4. Oroton bag $247.50 (on sale) | 5. FRANKiE4 mules $219.95 | 6. Motto jeans $110 | 7. Wish jacket $149.95 @ Birdsnest
1. Add one spring item to your outfit. This might seem like a no brainer but just once piece (either brand, spanking new or rediscovered from your wardrobe) incorporated into an otherwise winter outfit will propel your outfit into the new season.
2. Swap dark-wash denim jeans for a lighter wash. Jean may be needed for warmth but choose a mid or light wash as a spring alternative.
3. Light layers. Get your warmth from layers of cashmere or merino. Drop the bulk knits of winter.
4. Swap black or dark knitwear for paler colours. Think blush, stone, pale blue, pale grey … all these will lighten up an otherwise winter-looking outfit.
5. Add floral, gingham or stripe prints to your outfit. You'll have a spring in your step and a spring in your outfit with the addition of an on-trend print.
6. Monochrome is always a good idea. If you're ever stuck between seasons (and this applies to the end of summer as well), a classic combination of black and white will see you through. Add plenty of white for a more spring combination.
7. Swap black pants for white, stone or pastel shades. You will still have a neutral palette but one that is light-filled and spring ready.
8. Embrace the mule shoe. The mule, whether in a heel or a slide, is the perfect trans-seasonal heel. Feet are half covered so this style works with a long pant without going to a full open sandal.
9. Keep rocking your boots. If cold feet is not an option for you, keep on wearing your boots. Opt for a lighter tan, blush or light grey colour over black.
10. Embrace a maxi skirt. A maxi skirt is just as at home in spring as it is in winter. If it's super cold, add tights underneath and no-one will be wiser.
11. Swap coats for jackets. If your last layer is a blazer, biker or bomber jacket, it will have more of a fresh season feel to it than a long coat. The only exception would be a lighter coloured trench coat.
12. A denim jacket is your spring frock friend. If you don't have a denim jacket in your wardrobe, change that quick smart. They are your best friend on a day that can start cool and warm up during the middle of the day. Pop them over an otherwise spring outfit.
13. Do wear scarves – for outfit interest and for extra warmth. Ditch the bulky knit scarves and swap for fine merino or cashmere if you need super warmth; otherwise a cotton, rayon or bamboo scarf will work. Have scarves that can double as wraps if shoulders need covering when the sun goes down of an afternoon.
14. Use accessories as a way to "pop" a little spring colour. Nothing says new season than a fresh colour palette. Blush, khaki, red, citrus … these are all colours that are super strong for spring. Pop colour in a statement earring or necklace.
15. For occasion wear, dress for spring but have a coat/wrap for outside the venue. Most event venues are warmed so plan your event outfits based on this so you don't roast once inside. A coat or wrap for venturing to and from the event will keep you warm.
So tell me, do you employ any of these early spring wardrobe tactics?
---
Join our Ultimate Capsule Wardrobe online style program
Registrations close Saturday, September 16
It's not too late to join the fabulous group of women who have already signed up to get clear on their wardrobe for the season ahead.
The concept of my Ultimate Capsule Wardrobe online style challenge is a simple one. I've chosen 30 spring-summer clothing and accessories pieces and I will show you 42 different ways to wear those 30 pieces. That's right – six weeks' worth of outfits sorted for you to make getting dressed each day a no-brainer.
The idea behind this concept is that I help you get organised so that you make the most of what's already in your wardrobe. You may choose to buy new items but I know you have great substitutes sitting there ready and waiting in your wardrobe right now.
Find out more and join HERE.
PS. The Styling You Shop's spring-summer 2017 edit is now online and selling super fast. Get in quick if you want to grab one of these 20 pieces. Shop HERE.