My connection with the Brisbane-based label, Solito, goes way back. Way back before the label was even an idea.
I met one of the gorgeous women behind Solito through one of the labels that she was representing, as part of her fashion agent business.
That label – Metalicus – became the first ever Model and Me post here on Styling You. Fast forward a few years from that meeting and designers Liv and Mary created Solito, a label filled with everyday pieces heavily influenced by travel and culture.
I always get excited by their season launches as there are always pieces to covet, pieces that will turn heads but be incredibly easy to wear.
This featured outfit includes a top and skirt from the Solito spring-summer 2017 collection.
The model
and me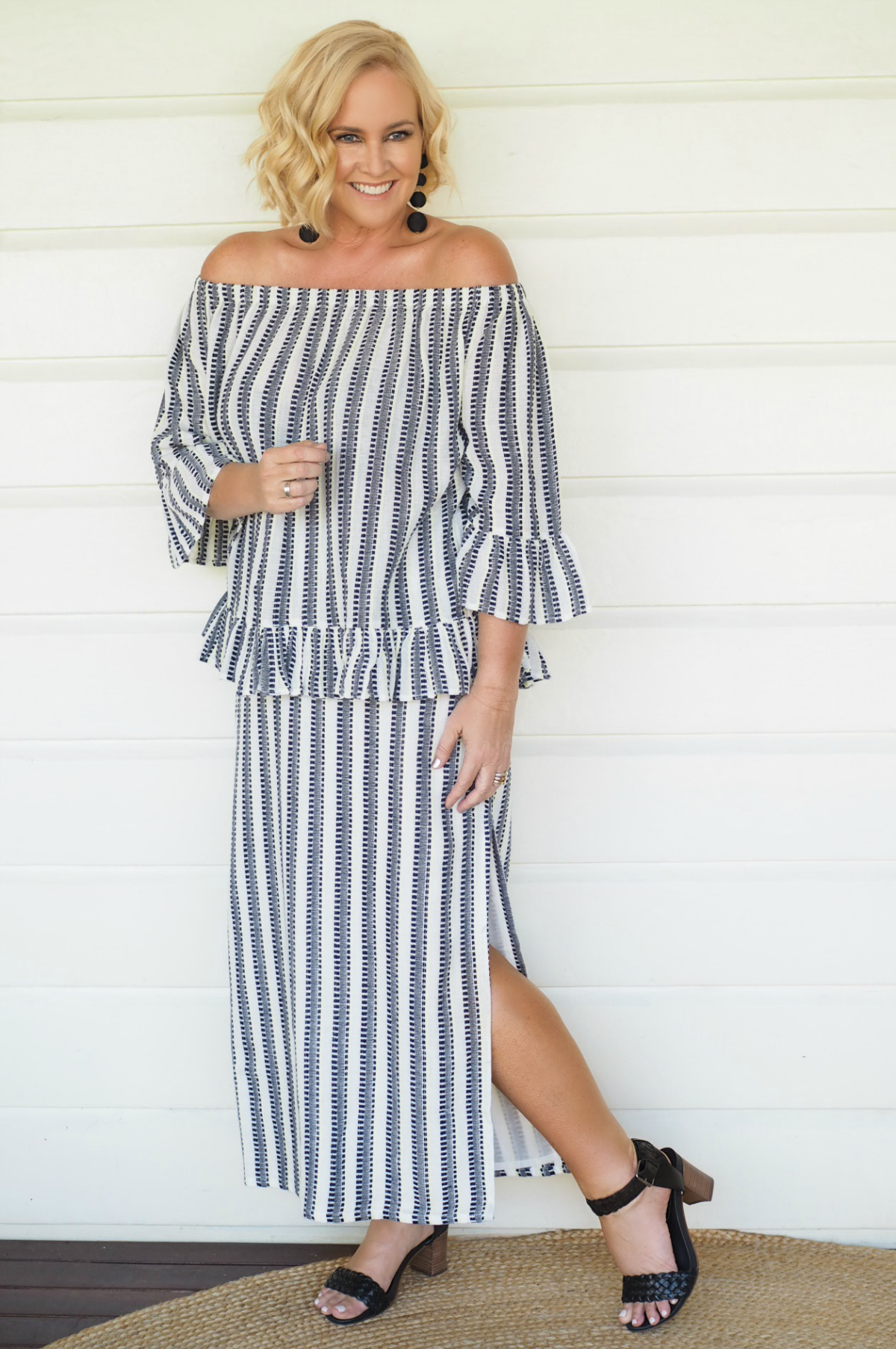 Solito top and skirt (I'm in XL in both) | Ruby Olive earrings (currently sold out) | FRANKiE4 Footwear SARA heels
My love for the OTS dress or top runs deep. VERY DEEP. But you knew that didn't you? If you're still on the fence, hop on over to this post from the archives.
What I LOVE about this OTS outfit is that it's offering up a fresh way for me to enjoy this trend. Separately these pieces are all kinds of fabulous but put them together and the WOW factor is immediate.
Separately, I'd wear the top with jeans or shorts. I'd wear the skirt with a black cami and a blazer or denim jacket. That, dear Stylers, is versatility right there.
What you can't see clearly in these photos is that there is a faint yellow stripe running against the black stripe. In the flesh, this adds another dimension to an already incredible print.
The shape of the skirt is SO flattering. I'm typically a 14 these days but have sized up in this streamlined style. I could have gone a L in the top but the XL works just fine as well. The non-stretch, textured woven cotton/rayon mix sits well on the body and is breathable.
This is the type of outfit that I'd wear out to lunch with my girlfriends. It's fun, has interest and makes you feel just a little dressed up without being over the top.
So tell me, is this an outfit that would fit right into your wardrobe? Still in love with the OTS?
---
FRANKiE4 Sydney pop-up store event
Sydney Stylers, listen up. I'll be in town with Beth from BabyMac for a fabulous FRANKiE4 Footwear event on Thursday, October 5, and I'd love to meet you.
We'll be mingling and answering all your questions about fashion and footwear from 5:30pm. To celebrate, we also have a two-on-two, personalised styling session/meet and greet with us to give away, for one lucky winner and a pal. You'll also win a pair of FRANKiE4 Footwear shoes of your choice.
Entering is easy peasy:
1. Tag the friend you'd bring along – on this post or on the FRANKiE4 Instagram post about this event or Facebook event listing about this event.
2. Follow FRANKiE4 on Instagram
The winner will be announced on Thursday September 28, via Facebook and Instagram.
If you can't make the Thursday night but want to get your feet into a pair of FRANKiE4 shoes, the pop-up store is open until Sunday, October 8. Shop with a 20% discount.
More info HERE.
{Proudly ambassador for FRANKiE4}