I've said it before and I'll say it again. Over and over again. In my life as a blogger – and before that as a fashion writer and editor – I get to meet inspiring women who are treading their own paths in the world of fashion.
I love that I get to share some of those women – and the stories behind those women – here on Styling You.
For some, the women I'm introducing you to today may not need my introduction. If you follow along the #everydaystyle hashtag on Instagram or are a member of the SY Everyday Style Facebook group, then these two women will be familiar to you.
They are the mother and daughter team behind Australian-designed-and-(mostly)-made label, Motto.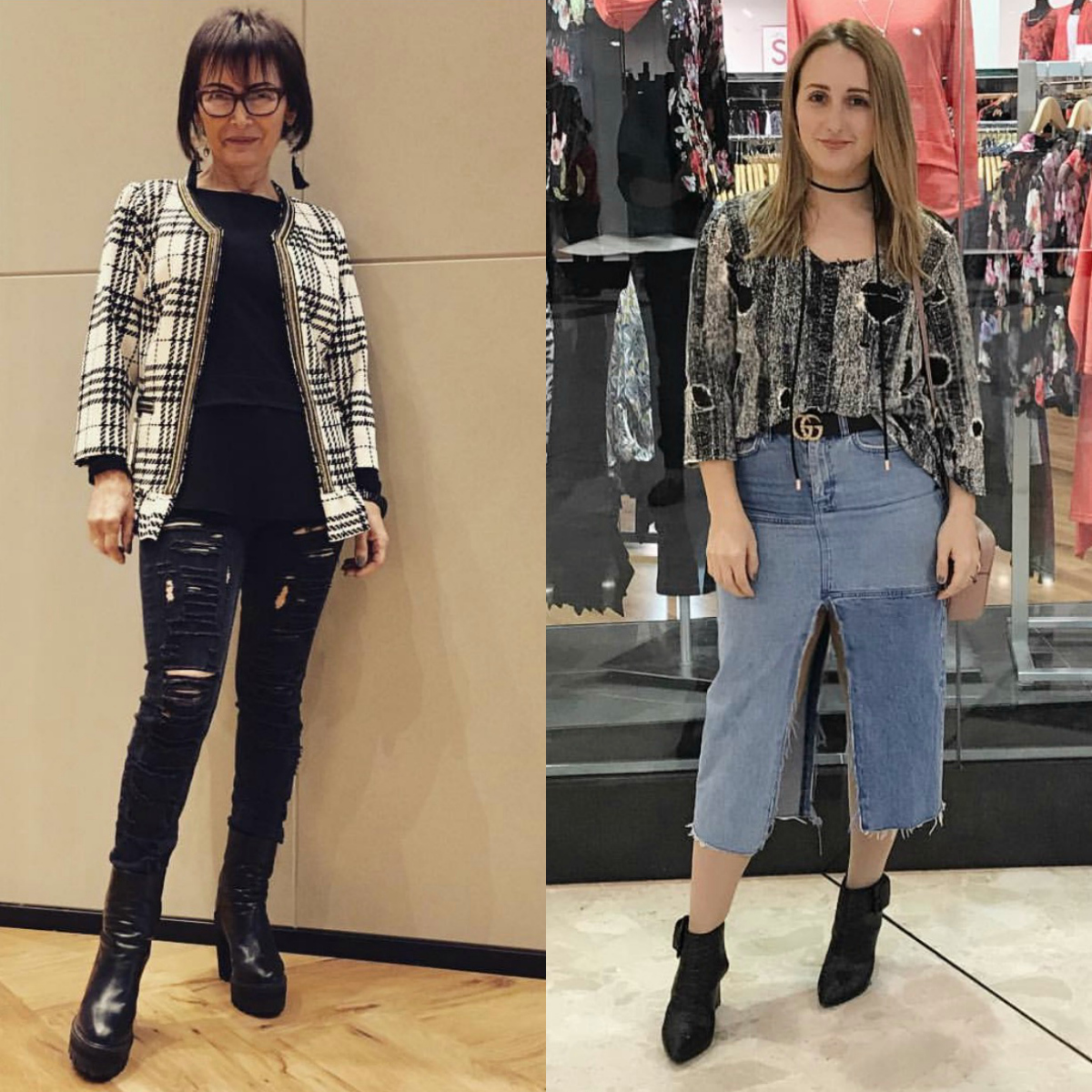 Faye Browne (on the left) is in her 60s and Lauren Browne in her 30s. They each own their style and it's gobsmackingly fun to watch as they share that with us. Each woman is a study in embracing fashion as a way to show who you are to the outside world.
The pair could not represent ageless-style ethos of their label any better. Their ability to dress and make an outfit their own is only matched by their ability to design and produce clothes that also make their customers feel incredible.
That's what fashion should be about, yes? Feeling great in what we wear – from a comfort but also a style perspective?
Motto Ivory Floral Chiffon Boho jacket | Ivory Ladder tunic | Sophie Chambray Denim Raw Hem jean

The Motto story
If you live in Melbourne or Canberra, you may have stepped into a Motto boutique. You may even be an unashamed "Motto-holic". See, the thing is, once you DO step into a Motto boutique, resistance is futile. For those of us who don't live near a Motto store, Motto has created an online space that makes it super easy to create outfits that work for your lifestyle.
This is a fashion brand that has been around since 1985 – originally started by Faye and husband John. Lauren came on board 10 years ago and launched the brand's online store.
Then and now, the underpinning philosophy of the brand is based on a desire to have women feel effortless stylish in what they're wearing; to have clothes that fit, flatter and move with them throughout the day.
Motto white denim jacket | Stripe Splice skirt | Vee cami
The motto signature
Each Motto collection gives a nod to current trends while still allowing women to make that trend their own. This is key, in my style books. It would be a boring old world if we all were slaves to trends and looked the same.
Colour and limited editions prints are signature to the Motto brand but Motto also knows its way around monochrome and denim too.
Motto Crochet Hi-Lo Panel top | Chiffon Feather dress
What Motto pieces allow you to do is play with proportions in any outfit you create. Whether that's a long, sheer, embroidered tunic over long pant and a tank or an asymmetrical top sitting underneath a military-style jacket, each piece offers up a myriad of ways in which to style it.
You'll find options for the office, for occasions/events and for casual. The key common denominator is that you feel incredible – you'll feel confident – each time you wear a Motto piece.
Motto Stripe Slouch top | Wrap culotte
Faye and Lauren specifically design for the Australian woman. Their design team all wear and road test the clothes they design. This energy translates in store and online to a idea that is greater than a fashion label or the sum of individual pieces in an outfit.
It's about women honouring women and allowing themselves to express who they are through the clothes that they wear.
A word on sizing: I've generally found Motto to be true to your normal size (my current normal size is 14), with the exception of the denim. Because it's super stretch, I'm in size 12. You need to buy super stretch denim super firm. Don't worry though, this denim is uber-comfortable. In some other stretch bottoms, I'm also 12, but it depends on the shape. In most tops and jackets, I'm size 14.
What more inspiration? Check out this page for outfit ideas. And you can shop all my Motto favourites HERE.
So tell me … are you already a Motto-holic? Which is your favourite outfit?
Motto Adele tunic | Cold Shoulder top | Sophie Dark Denim Raw jean
Sign up to become a Motto member and receive a $20 voucher for joining PLUS 10% off every single order.