I've had a look back in the Styling You archives to when I first brought you news of a then newly launched label – Bohemian Traders.
It was early in 2014 and Emily, who I'd met through blogging, had set out to source clothing pieces she hadn't been able to find and buy herself.
Fast forward three and a half years and the label continues to grow from strength to strength. What started as a collection of purely boho pieces has grown to also offer classic pieces that sit really well alongside their bohemian sisters.
Last year Bohemian Traders also created its first denim collection – I fell hard – particularly for these jeans. There have been other Bohemian Traders denim styles encasing my legs between then and now but it is those distressed skinnies that I always revert back to. It's those jeans that I bought in two smaller sizes as I lost weight this year (I now wear size 30 in these) because there was no way they couldn't be in my wardrobe.
So, when Emily contacted me to say there was a new denim style on the Bohemian Traders block and that I would fall for it as much as my beloved distressed skinnies, I thought: mmm, let's see.
Here they are on the model …
The model
Bohemian Traders Stepped Hem skinny jeans
and me
Bohemian Traders blazer, (I'm in size L); tee (I'm in size M) and jeans (I'm in size 32 – 14) | Christie Nicolaides earrings | FRANKiE4 Footwear CATE heels
I'm going to start at the top and work my way down this outfit. Because WHITE BLAZER. Oh my, I do love a white blazer or jacket to freshen up a spring look. This one is the sister to the gorgeous black blazer I featured in the Styling You Shop last autumn-winter.
The shape and embellishment is the same as the black but the difference is in the blazer's fabric. It's a lighter linen/cotton-look polyester. It's lined and feels super luxe on.
The tee is a signature a-line style of Bohemian Traders. The pink colour is cornerstone to the label's new-season Back To The Gypsy collection, which is filled with gorgeous pink, white and raspberry hues.
Personally, I don't know who I am, but this year I've embraced all shades of pink and blush. The pastels do work with my skin tone and sometimes I just like to soften out my love of all things monochrome or denim. Sometimes.
Speaking of … let's discuss THE JEANS. They are a mid-rise like the distressed skinny and the fabric is similar in stretch. On first try they felt super firm with more butt and leg "sculpting" qualities than the distressed skinnies.
It took a little manoeuvring to shimmy them into place on my legs but, once on, they felt like I wasn't wearing jeans at all. Comfort levels are superior.
Now, you know that I'm partial to a distressed denim anything and these get a big tick from me too but I know that even if you're on Team Distressed, then it might be a bridge too far to add on an asymmetrical hem.
Me? I'm an embracer. I've got a pair of Sussan jeans from earlier this year with a similar hem and these work the same ankle flattering magic as do the ones featured here. It's an ideal hem for spring when you don't need to have your ankles encased in merino socks and boots.
When a pair of jeans has a little edge to them like this, it works a treat to pair them back with classic pieces like a blazer and tee. This creates a contrast of styles, which adds interest and excitement to your outfit.
Verdict: I LOVE THEM.
So tell me, do you own the distressed skinnies? Think you'll try a new style of hem? Love a white blazer?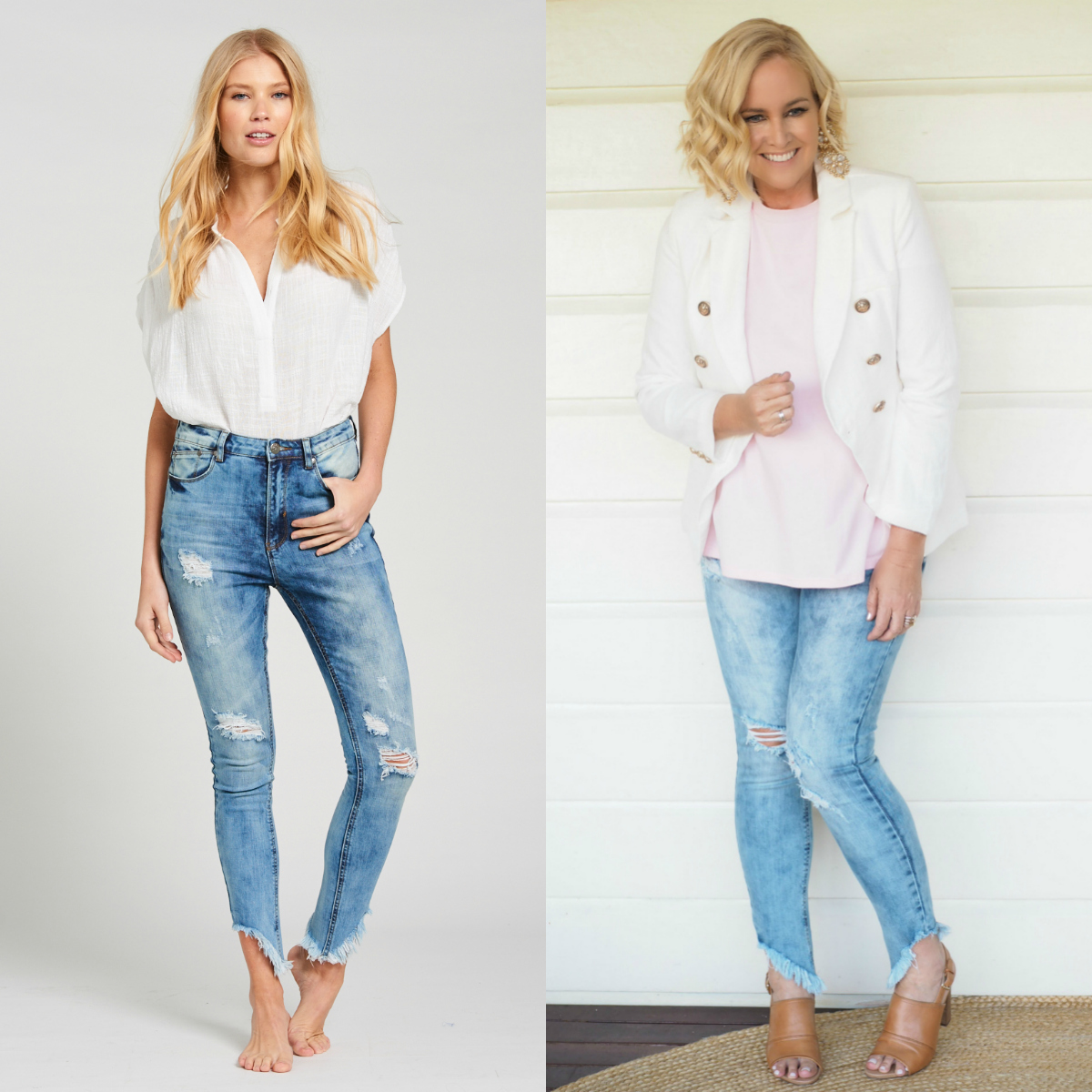 * These garments were gifted to me for editorial consideration. Full disclosure policy here. This post contains some affiliate links. If you buy something via one of these links I may receive a small commission.
---
Join our Ultimate Capsule Wardrobe online style program
Registrations close Saturday, September 16
It's not too late to join the fabulous group of women who have already signed up to get clear on their wardrobe for the season ahead.
The concept of my Ultimate Capsule Wardrobe online style challenge is a simple one. I've chosen 30 spring-summer clothing and accessories pieces and I will show you 42 different ways to wear those 30 pieces. That's right – six weeks' worth of outfits sorted for you to make getting dressed each day a no-brainer.
The idea behind this concept is that I help you get organised so that you make the most of what's already in your wardrobe. You may choose to buy new items but I know you have great substitutes sitting there ready and waiting in your wardrobe right now.
Find out more and join HERE.
PS. The Styling You Shop's spring-summer 2017 edit is now online and selling super fast. Get in quick if you want to grab one of these 20 pieces. Shop HERE.