Whenever the topic of online shopping customer service is raised in this community, there is one brand that so many Styling You readers consistently rate highly.
That brand is Birdsnest.
Birdsnest started as a small bricks-and-mortar boutique in the regional New South Wales town of Cooma. In 2008, despite everyone thinking she was crazy, owner Jane Cay launched online.
And thank goodness she did. Birdsnest was not only one of the first Australian fashion stores to embrace the online world, it's one of the few which started in that era to have grown to have the success it does today.
Not only does Birdsnest stock more than 250 brands, it has also developed fashion ranges for eight of its own brands.
We prefer not to talk about our target market in age but rather in style – we have designed this site for intelligent, resourceful and fashion conscious women.
Today, I'm not only featuring a new arrival in the Bird Keepers spring-summer 2017 collection, but I'm excited to announce that I'm the brand ambassador for Birdnest's stable of labels for this spring-summer.
I'll be sharing some of my faves across the season, so stay tuned.
The model
Bird Keepers The Shoulder Splice Bounce dress
Bird Keepers are the pieces you will buy now and wear forever. Created by Birdsnest, this collection of affordable, contemporary pieces is created with your long term wardrobe in mind. bird keepers are the classically beautiful, well cut pieces that are the foundation of a wardrobe that mixes and matches – and just works for you.
and me
Bird Keepers dress (I'm in size 12 – I'm normally a 14 and am 166cm tall) | Lovisa earrings | FRANKiE4 Footwear DONNA heels
You know my love of the easy-care-and-wear-frock, don't you? In one garment, you have an effortless look for whatever the day is going to throw at you.
Add a cold shoulder and flattering hemline, complete with side splits, and you have a little edge to your effortless as well. The cut is generous without being tent-like, so do consider sizing down one size if you prefer a more streamlined look.
The jersey fabric (90% polyester 10% elastane) is just the right weight for skimming and not clinging but it's still breathable. Don't be afraid of polyester – not all are created equal – it's a term applied to man-made fabrics and boy, oh boy, have they come a long way.
The three-quarter sleeves are batwing, so super comfortable. Dress this look up with heels (you'll love this DONNA mid-heel from FRANKiE4 Footwear for its uber-flattering, leg-lengthening qualities) or down with flats, slides or sneakers.
Khaki is such a hot colour for spring – and a great trans-seasonal colour to take your winter wardrobe to the warmer months. Work it back with blush or pink for one of THE on-trend colour combinations of the season.
So tell me, can you see yourself wearing this dress? Are you a Birdsnest fan?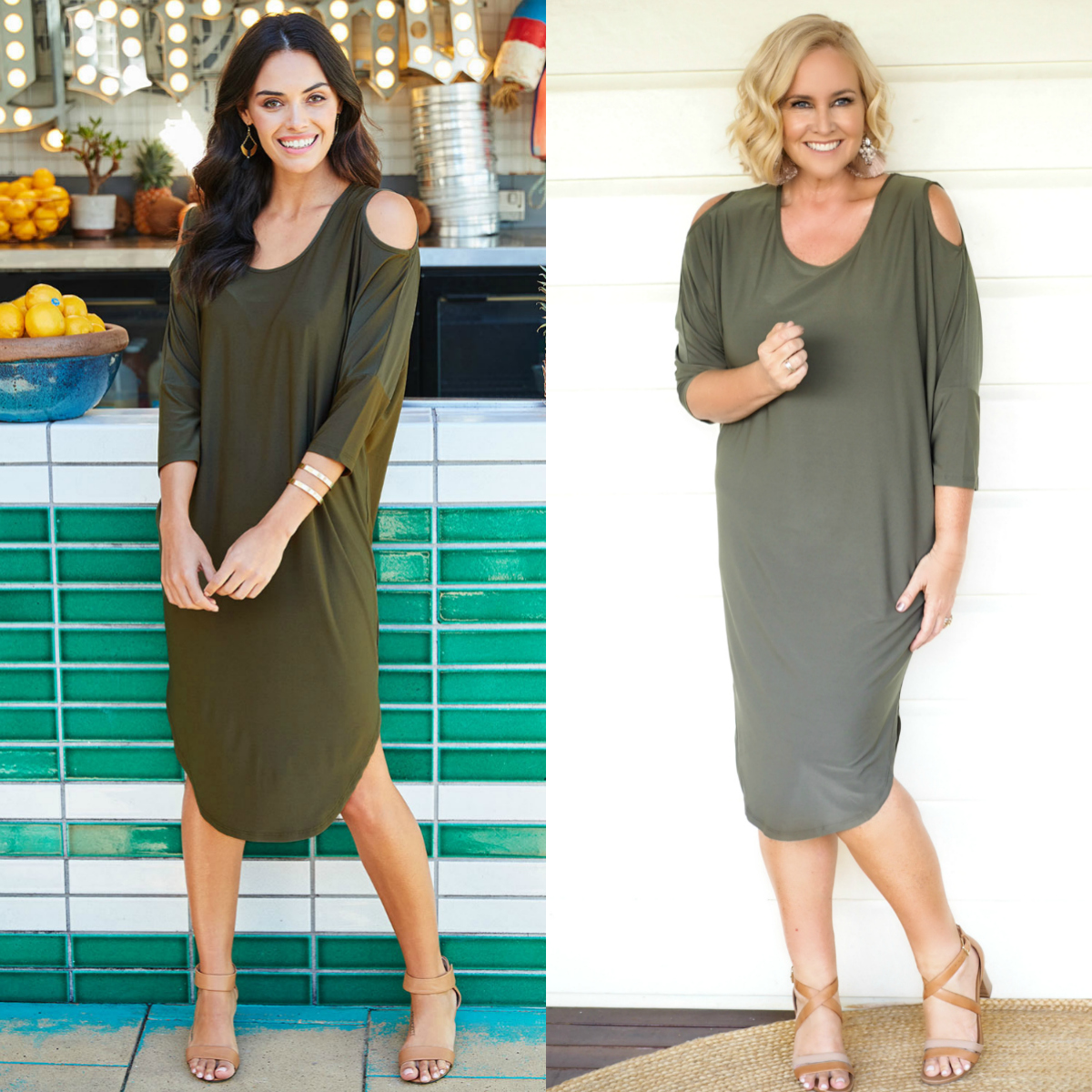 * These garments were gifted to me for editorial consideration. Full disclosure policy here.
---
Ultimate Capsule Wardrobe online style program
Registration opens Thursday, September 7
Looking for care and support to craft a wardrobe that works for you? Want to learn how to create outfits that make you feel fabulous – and fit your lifestyle?
The concept of my Ultimate Capsule Wardrobe online style challenge is a simple one. I've chosen 30 spring-summer clothing and accessories pieces and I will show you 42 different ways to wear those 30 pieces. That's right – six weeks' worth of outfits sorted for you to make getting dressed each day a no-brainer.
The idea behind this concept is that I help you get organised so that you make the most of what's already in your wardrobe. You may choose to buy new items but I know you have great substitutes sitting there ready and waiting in your wardrobe right now.
I also realise that spring takes a little longer to arrive in some parts of Australia. With this in mind, I offer style tips and suggestions on how to adapt your capsule and daily outfits to suit that. I also include shopping and styling suggestions for office wear. You'll find links to shop for budget, plus-size and petite capsule items.
The six-week plan is your blueprint for the entire season. It becomes your reference point when the warmer months drag on and you've lost your outfit mojo. Capsulers, as we have nicknamed ourselves, revert back to that six-week plan for inspiration. And we also shop mindfully to add pieces throughout the season, knowing that they'll work with that plan.
We hang out in a super supportive closed Facebook group – the magic really does happen there as we get sorted and find our style mojo for the season ahead. The group is where we share our outfits to inspire others – and where you can ask me any burning style questions you might have.
Our members range in age from their 30s through to 60s and beyond. We dress for our attitude, not our age because why should style come with a use-by-date?
The 2017 spring-summer Ultimate Capsule Wardrobe online style challenge launches on Thursday, September 7, 2017. The cost remains the same – pay $99 for up to eight weeks' personal style support from me.
FACEBOOK LIVE EVENT: Join me on Wednesday, September 6 at 8pm on the Styling You Facebook page. I'll be talking more about the Ultimate Capsule Wardrobe plus sharing tips on how to adapt your wardrobe if it's still cold where you live.