I cannot tell you how much weight I've lost this year because I refuse to own a pair of scales. I can, however, tell you that I have lost about two dress/jeans sizes since January.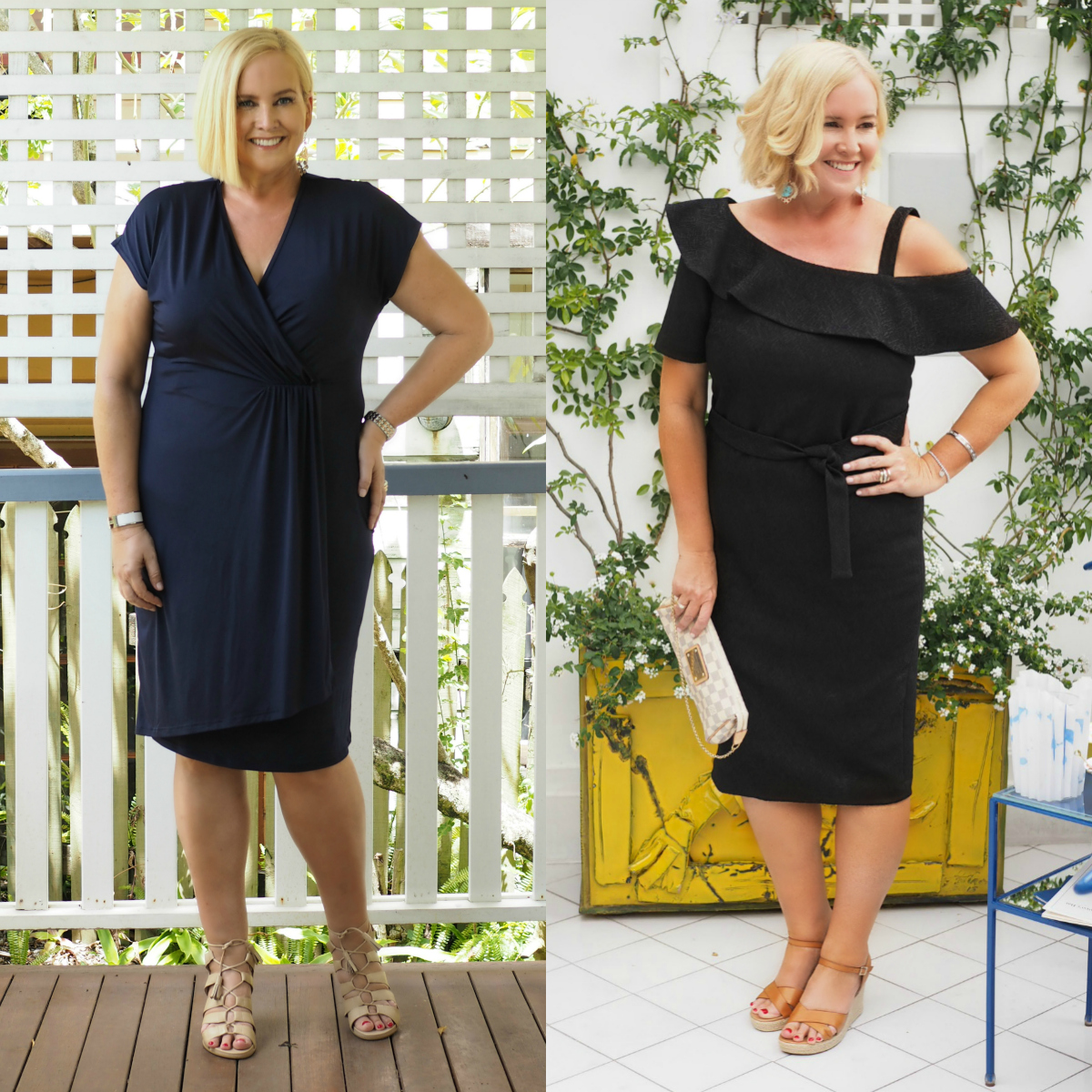 Left (dress details); Right (dress details)
Pictured on the left was me on my first day back at work after the Christmas-New Year break. I'm wearing a size 16 stretchy dress and was pushing size 18. On the right is me late June in Italy wearing a non-stretchy size 14 dress.
I'm perfectly happy in both photos. Oh, you got me, OF COURSE I was very happy in the photo on the right because I was at a fancy bar in Positano with fancy people at every turn and a fancy drink in my hand. I felt #fancyaf.
I may be happy in both photos but in the photo on the right I'm also feeling stronger – mentally and physically. My mission to get healthy this year has not been motivated by weight loss but that has been a welcome by-product. You can read my health back story here – I'll write an update soon as my latest fitness goal has been to learn to run (who even am I?).
This post is not a how to lose weight post – it's designed to help you make your wardrobe work for you while losing weight, if that's something you're doing right now.
At the core of my tips is my firm belief that you should feel good about yourself every day – well as good as you can feel. And I do believe that getting up, getting dressed and putting on a lippy can help you get a head start on those good feelings. It's a tried and true tactic that works for me.
It's never about waiting for the next 5kg or the 5kg after that before allowing yourself to feel good. It's about the here and now. Life is way too short to think and act any differently.
That's why I can tell you that the "me" on the left was perfectly happy that day. I'd had a fabulous break with family, friends, a whole lot of Champagne and accompanying brie cheese and I was excited to be back at work doing a video shoot to kick-start the working year.
I wasn't waiting until some fictitious time in the future to be happy and content. I wanted to feel the best I could feel that day and each day that came afterwards. And I want you to feel that too.
So, with that little sermon out of the way (I devote a whole chapter to it in my book), onwards with my tips. A lot of these would also apply to women who are pregnant but who also don't want to break the bank with a complete new wardrobe at every trimester.
Tips for making your wardrobe work for you while losing weight
1. It's tempting to just keep buying new clothes as you lose weight because how our clothes fit is usually the first thing we notice but I say go slow with this one. Allow a little mindfulness to set in. It makes no economic, environmental or practical sense to buy a whole new wardrobe each time you drop a clothing size.
2. Edit your wardrobe – and do it often throughout your weight loss journey. I've found that I've been doing mini edits of my wardrobe every month and that's been prompted by trying on something I had planned to wear, only to find that it was no longer making me feel fabulous. By keeping in my wardrobe only those things that do make me feel fabulous, it meant that the daily "what to wear" is not so tricky. It also makes no sense to hang on to clothes that no longer suit or serve us.
3. Get rid of the clothes that are now too big for you. I know this is a very big mental shift for a lot of us. What if I put the weight back on? What if you don't! But I spent so much money on that dress? Why not find someone else who can love it like you did. I've been sending a girlfriend quite a few items from my wardrobe. She's about a size or so bigger than me but on her own weight loss journey, so not wanting to spend a lot of money on new pieces. I also donate my clothes to Dress for Success, a global organisation which works locally to help disadvantaged women get back into the workforce.
4. Have key pieces and favourites altered to better fit you. Some clothes are easier to alter than others. If you have good quality favourites then it's worth investing in having them altered to fit you. Ask around for recommendations. Or maybe you're a gun at the sewing machine and can sort it yourself? I took quite a few of my summer pieces to my dry cleaner to have altered before heading to Europe. It was the wrong time of year to buy new summer items so it made sense to do this so that I had a travel capsule wardrobe that worked for me.
5. If you have favourite jeans, pants, shorts or shorts, buy them in a smaller size as you lose weight. I've found that if my "bottoms" fitted me then I could work my existing tops back with them, without the whole outfit looking overwhelming. I bought two new sizes in my fave jeans and shorts and that's meant I've always had something to work back with my tops. If you are pregnant, you can apply this concept in reverse. Your current tops will serve you most of your pregnancy but it's your bottoms that you will need update to accommodate your bump. (On a side note, because exercise is very much a part of my daily motivation, I've also bought new tights as I've lost weight)
6. Do embrace clothes made of stretch fabrics to prevent the saggy baggies. I'm not talking nana-wear, I'm talking good quality jerseys, bamboo, modal and knits. You probably have pieces like this already in your wardrobe – they'll mostly work through to the end. Think tube skirts, tunic dresses or tops, leggings, jersey wrap dresses.
7. Make friends with thrifting. If you love a good op-shop haul then go to town. You'll be able to treat yourself to a new outfit on a regular basis without busting your budget.
8. Borrow from girlfriends. My girlfriends and I joke about "cataloging" each others clothing purchases and happily open up our wardrobes to each other for borrowing. This works particularly well for event or occasion dressing when you're not too keen to buy new as you may not be that size for the entire season.
9. Treat yourself to new shoes and accessories. These are the "icing" on any outfit, they always fit and never fail to keep your existing outfits feeling and looking fresh.
10. When you reach your goal, mindfully plan out a new wardrobe to suit. There's a fair chance that your style may have changed or you need to find it again. The best place for you to be to get support to build your new wardrobe from scratch is in my Ultimate Capsule Wardrobe online style program. See below for more details on that.
So tell me, do you have any tips to share? Been through the process of dropping sizes and not knowing how to keep your wardrobe fresh without busting your budget? Share away below.
---
Join the Ultimate Capsule Wardrobe online style challenge
Looking for care and support to craft a wardrobe that works for you? Want to learn how to create outfits that make you feel fabulous – and fit your lifestyle?
The concept of my Ultimate Capsule Wardrobe online style challenge is a simple one. I've chosen 30 spring-summer clothing and accessories pieces and I will show you 42 different ways to wear those 30 pieces. That's right – six weeks' worth of outfits sorted for you to make getting dressed each day a no-brainer.
The idea behind this concept is that I help you get organised so that you make the most of what's already in your wardrobe. You may choose to buy new items but I know you have great substitutes sitting there ready and waiting in your wardrobe right now.
I also realise that spring takes a little longer to arrive in some parts of Australia. With this in mind, I offer style tips and suggestions on how to adapt your capsule and daily outfits to suit that. I also include shopping and styling suggestions for office wear. You'll find links to shop for budget, plus-size and petite capsule items.
The six-week plan is your blueprint for the entire season. It becomes your reference point when the warmer months drag on and you've lost your outfit mojo. Capsulers, as we have nicknamed ourselves, revert back to that six-week plan for inspiration. And we also shop mindfully to add pieces throughout the season, knowing that they'll work with that plan.
We hang out in a super supportive closed Facebook group – the magic really does happen there as we get sorted and find our style mojo for the season ahead. The group is where we share our outfits to inspire others – and where you can ask me any burning style questions you might have.
Our members range in age from their 30s through to 60s and beyond. We dress for our attitude, not our age because why should style come with a use-by-date?
The 2017 spring-summer Ultimate Capsule Wardrobe online style challenge launches on Thursday, September 7, 2017. The cost remains the same – pay $99 for up to eight weeks' personal style support from me.
Will you join us on September 7?