I've said it before and I'll say it again. One of the best things about this job is being able to introduce you to independent Australian labels which are helping women on a daily basis to look and feel amazing.
If you're a regular around here, you would have seen me talk about and wear the label Motto. Today, I'm excited to not only share a new outfit release from this Melbourne-based label but also announce that I'm Motto's brand ambassador for the spring-summer season.
There are many reasons why I'm excited to work closely with the amazing mother and daughter team behind this label to give you style inspiration through the season but the biggest reason is that I love how Faye and Lauren have created an ageless label.
It's a label that encourages you to embrace your personality and attitude through its prints and comfortable, yet stylish, pieces.
This is exactly what I'm all about too. I want women to explore their style, no matter what their age. And if you can find a comfort/style sweet spot along the way, then all the better.
In this new-season outfit, that sweet spot is very much here.
The model
Motto black velvet captain jacket | check waffle midi skirt | black jersey v cami
and me
Motto jacket* (I'm in 12), top* (I'm in 14) and skirt* (I'm in 14) | FRANKiE4 Footwear CATE mules* (I'm 166cm tall)
I NEED to start with this statement jacket. It's a head-turner with its gold military-style detailing and the stretch velvet feels incredible on. You have the illusion of structure and shape but in a fabric that is incredibly comfortable to wear. I'll be wearing this jacket with a tee and jeans for a more dressed down look.
In this look, it takes the black top and checked skirt up about six (gazillion!) notches. It's the kind of look that would work for an office, a girls' restaurant lunch or date night.
A monochromatic colour scheme always works in my books. It never gets old, particularly when you are adding in pattern and/or texture to the mix. This stretch, tube-style skirt adds interest, yes, but its number one super power is its figure hugging/flattering sorcery. The fabric is not super thick or heavy but it doesn't cling – it skims.
The top has a longer asymmetrical hem than it appears to on my outfit. What I've done is do my half tuck on one side to better balance out proportions for me. I don't have a long torso so it works better to show a little hint as to wear my waist sits. Try this for yourself if you think the length of a top overwhelms your body.
Shoes: you may have seen me trot out these on social media in the past week or so? They're a brand, spanking-new style from FRANKiE4 Footwear, another company I love being a brand ambassador for. This mule shoe is the ultimate trans-seasonal shoe. Give your feet a pedi (or outsource like I do!) and pop them on with skirts, dresses, jeans or pants.
So tell me, do you love a statement jacket? Love combining comfort AND style?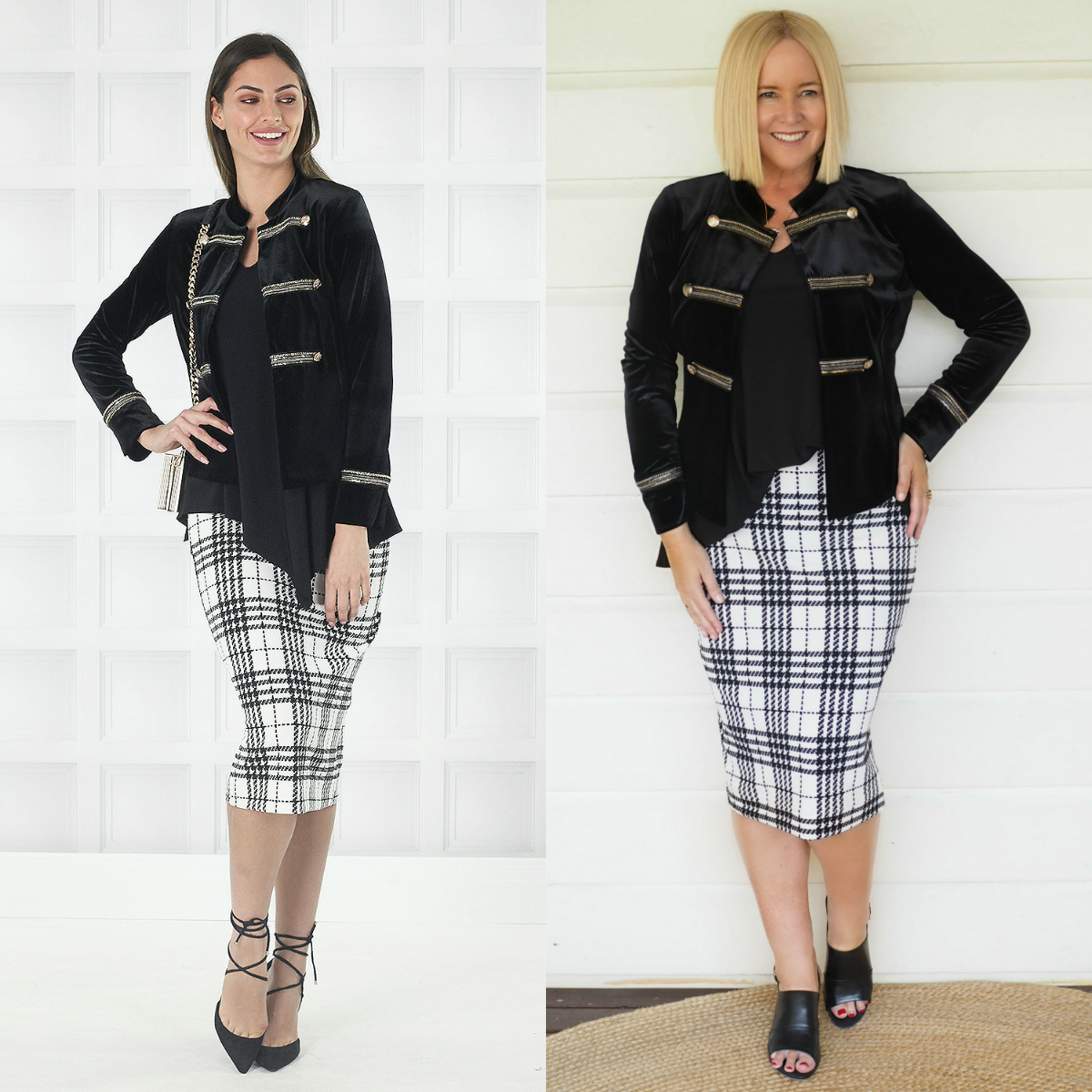 * These garments were gifted to me for editorial consideration. Full disclosure policy here. I am an ambassador for both Motto and FRANKiE4 Footwear.