We talk a lot here about the differences between Nina and Billie Proudman's style.
Nina is the romantic boho; Billie the corporate rock chick with the two distinct styles rarely meeting.
But meet they did in this week's episode (Season 7; episode 4) … IN NINA'S WARDROBE.
Spoiler alert: read on about why Billie is in Nina's wardrobe and wearing Nina's clothes. Get excited to see a few of the favourites from previous collections hanging there for us all to reminisce over. Hands up if you can see any that you own?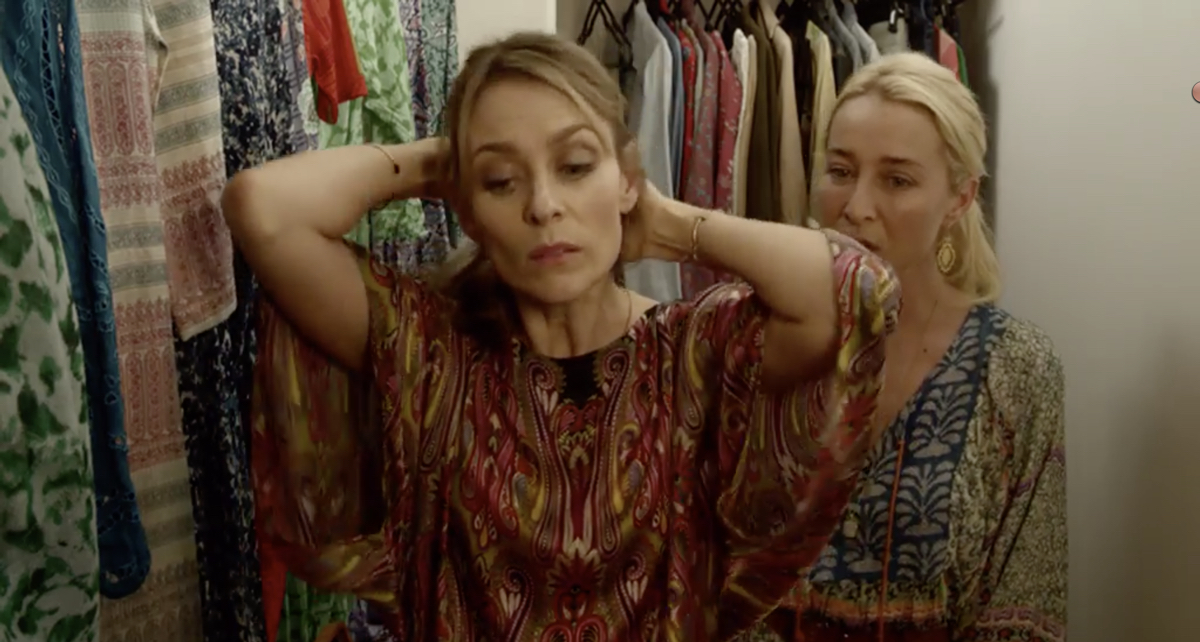 This episode did give us a Nina Proudman wardrobe feast: four outfits. Well, five if you count her opening "cardiovascular exercise" outfit.
There were glimpses of both the old and new Nina styles. No scarves but a fabulous fine jewellery display that had me going down the rabbit hole, searching for matches.
Read on for some of those matches and also details of the fabulous boho maxi dress you've all been wanting details of.
Outfit #1
This outfit was classic Nina – flowing layers, jeans and boots. The top looks a lot like a Tigerlily top but I can't find a current match for it.

Fairley necklace (short) | Love Hate necklace (long) | Fairley earrings | Primness trench
Outfit #2
This outfit is a similar combination to the first. Nina's skill at layering camis underneath sheer tops should never be underestimated.
Love Hate earrings | Primness trench | Fairley ring
Outfit #3
From the moment the preview for this week's episode screened, you went mad for this dress by Melbourne label and store, Albert and Victoria. It's available by order only as the shop stock has sold out already. The price is $320 with sizing small/medium or medium/large. Fabrics are rayon, cotton and silk. If you'd like to order the dress, phone 0429355112.

Albert and Victoria dress | Fairley necklace (short and long) | Rock Finders Keepers bangles | Fairley ring | Royal Hamam earrings
Outfit #4
Neens is loving a printed pant this season and these were offset by a stunning knit with pom-pom-like detailing.
Fairley earrings | Aje knit (here in black)
The de-brief (spoiler alert)
Exes returning to stir the plot, Osher Guinsburg making a TV cross-over, Bacherlor-Offspring cameo appearance, Billie laying a brick on her sex wall, Jimmy and Kerry taking the concept of shadowing a little too far, Zara going back on the ward and Geraldine going in search of Darcy's bench … this was an episode with it all.
Neens, what were you thinking? Inviting Harry's ex into your home, to your courtyard, cooking that little witch dinner? Snaps to you for keeping your cool while she did not. I think Harry is a good egg. I think he is. He is YOUR blonde warrior. Forget that upstart who looks to have dipped into your wardrobe, albeit with sandals. I've never seen you wear sandals but if you did, I guess they'd look like that. Anyway, Georgie be gone. You're not welcome here.
Speaking of wardrobes, as someone who likes to "shop" her own wardrobe, it was just the best seeing the inside of your wardrobe and seeing some of the last seven year's favourites just hanging there. Billie dressing in Nina style. I think it could catch on, yes? It may have looked like Opposite Day on Offspring but it was a good ploy by Billie as part of the required armoury when building her sex wall.
We can be whoever we want tonight … so why not dress up and have fun with it? – Billie to Nina
Jimmy and Kerry, alcohol and broken hearts do not mix, do they. Add in a dark nightclub and boundaries will be crossed. OF COURSE, Jimmy will spill to his sisters but I just wish he wouldn't.
Le SIGH.

So tell me, what was your highlight from last night's episode? Favourite outfit?
---
Photo credit: all scene photos are from Network Ten.