I have to confess, when Offspring's Nina Proudman trots on to our TV screens wearing an outfit that is the traditional Neens, I get more than a little excited.
I try to embrace the printed jogger pants and pattern-clashing tops or kimonos but it's just not me. If I tried to attempt the below look it would look more crazy than quirky.
Nina? She can do it. She can do anything.
Necklace: Vintage kimono jacket | Isabel Marant pant |Stefan Brandt t-shirt | vintage Chanel necklace (possibly) | antique earrings | Seed shoes
Give me Nina in a jeans and boho top and I'm all over it. Absolutely loved that she spent most of last night's episode in this outfit.
Primness trench | Seed boots (not current)
I would happily wear this outfit every day during the winter months in Queensland. It has the beautiful contrast of structured (jeans and boots) with loose and flowing. It's the kind of outfit that would take you anywhere at the weekend or be suitable for work in a smart casual environment. It's Nina-style at its most relatable.
I've recreated the look below with pieces available now.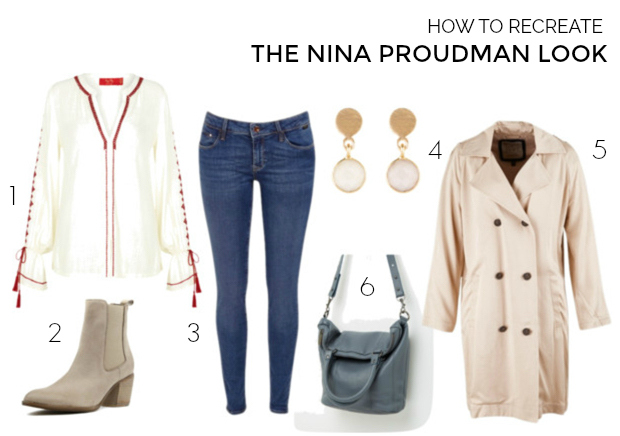 1. Tigerlily top | 2. Django & Juliette boots | 3. Mavi jeans | 4. Nicole Fendel earrings | 5. Jump trench | 6. Status Anxiety bag
The de-brief (spoiler alert)
Nina and Harry's relationship survives another episode, his unlikeable family (except Russ, he's Team Nina) and his moving in with only a "suitcase and a Hong Kong shopper bag".
Snaps to Neens for keeping her cool over dinner when Harry's family just wanted to talk about his ex and how wonderful she was. As for the phone-at-the-table incident, I would have growled right back at Harry's father. What a bullying twat.
About Harry blind-folding you with one of your antique scarves? You might just have to fill him in on how precious your wardrobe his. But the sentiment? Zoe falling asleep on Harry's chair said it all.
I may watch Offspring for the fabulous mix of characters and the fashion but I have to say, each week I get even more excited as to what gems Billie may deliver us.
Her tactics for ensuring her sex wall dates don't call back ("I sex them and then pre-emptively pretend to be overly in love with them in a needy, bordering on obsessive way.") had Zara mentally high-fiving Billie's rat cunning ways.
Speaking of rats, Billie can sure smell one with very little clues. Kerry and Jimmy proved no match for her. Despite Jimmy declaring it was a "party pash" and Kerry saying it was just a "party poke", Billie delivered a heart-breaking monologue in response to Kerry and Jimmy's confession.
Meanwhile, Billie went on a, dare I say it, heart-mending new sex wall date. Talk about sparks fly. Jeremy Lindsay Taylor your character was way more smoking than that of the dad in Puberty Blues. Could you be the new Mick?
Will has enlisted Jimmy to be his guru in spontaneity. I guess dancing an Irish gig in the street (under text instruction from Jimmy to avoid Billie) tops the spontaneous list. Will just might act spontaneously without instruction when he learns just what Will and Kerry have been up to.
Then we have word that Martin Clegg is not returning, despite his and Cherie's love letters to each other becoming very much on the steamy/saucy side.
Geraldine agrees to meet Darcy's arch nemisis, Phil, for dinner. It's a fine line between love and hate and I think Geraldine might be crossing it.
Lastly, poor Brodie. I'm so glad Nina made her tell Billie about Jason (the baby daddy). Who knows what will happen there but who on the show actually has a drama-free relationship.
So tell me, what was your highlight from last night's episode? Favourite outfit?
---
Photo credit: all scene photos are from Network Ten. This post contains affiliate links. If you buy something via one of these links I may receive a small commission. Full disclosure policy here.