Did that fabulous European holiday really happen? My photos tell me it did but in the day to day of life, it seems so long ago.
I've been madly following anyone and everyone on Instagram who is travelling somewhere fabulous and warm in the Northern Hemisphere. Do you do this too? I have wanderlust bad!
In this post I mentioned that I'd got my European travel capsule down to about 20 pieces, most of which I featured on my Instagram feed while I was away. In this post, I'm featuring the second of the two pieces that didn't make it to my Instagram feed, as I was saving them for a Model and Me post.
It's a silk kaftan from Brisbane-based label Cassandra Harper. I first met Cassandra last year and before heading to Europe was invited to a showing of her spring-summer 2017 collection.
You can read Cassandra's back story here. Her passion for silk, prints and garments created by hand translates into covetable collections of investment pieces you'll wear year after year.
The model
Cassandra Harper Capri silk kaftan
and me
Cassandra Harper kaftan (free size) | FRANKiE4 Footwear ALYCE wedges* (coming next month to FRANKiE4 Footwear) | Christie Nicolaides earrings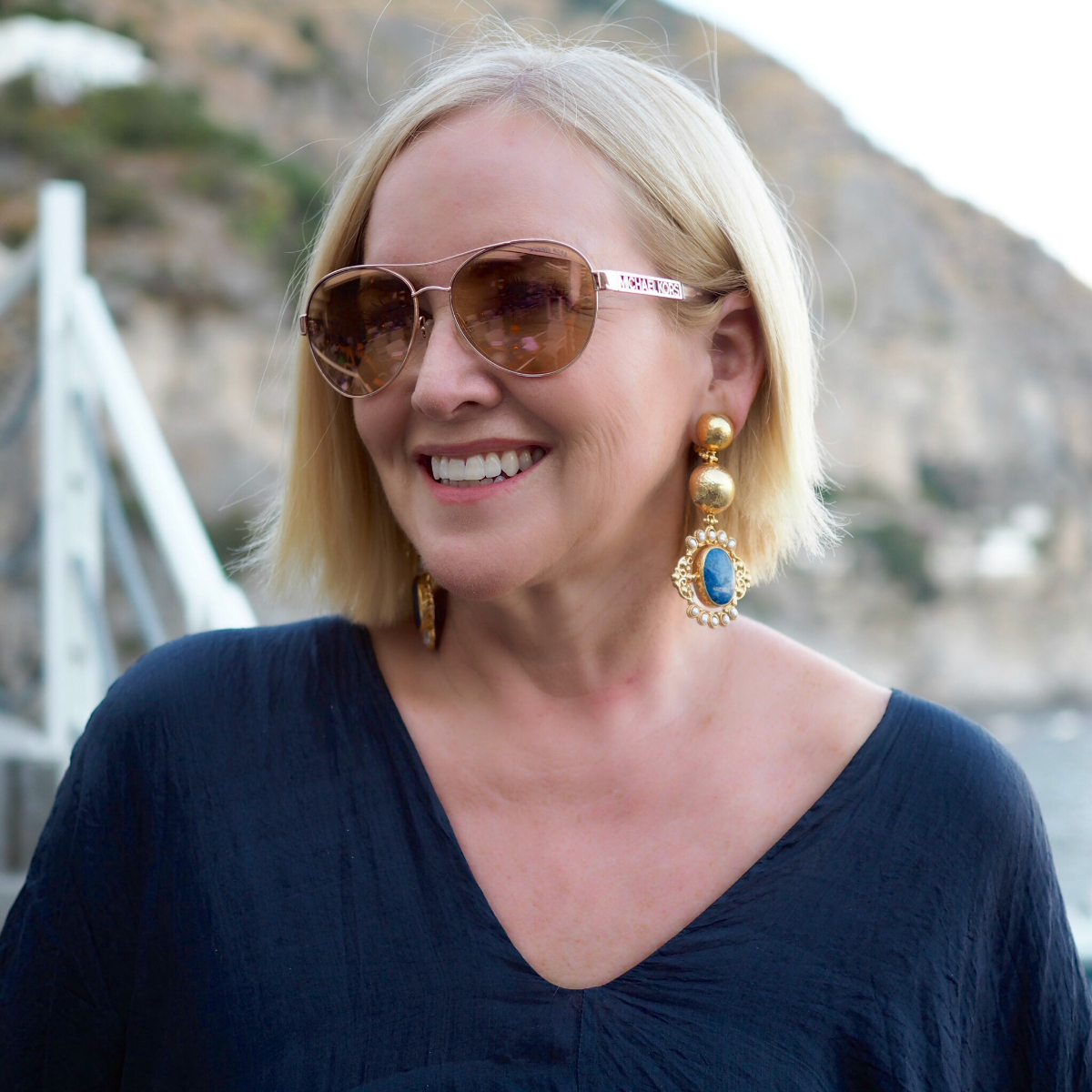 I first wore this kaftan for a dinner out at Il Pirata at the marina in Praiano (on Italy's Amalfi Coast). It was the perfect garment to pack for wearing out any evening of our trip. I later wore it with flat sandals on the Croatian Island of Vis. Such is the versatility of a garment like this – and why I love a kaftan for summer resort holiday dressing.
I rolled up this kaftan in my suitcase and it unrolled beautifully for every wear. I did pack a patterned Camilla kaftan but loved that this navy kaftan was a blank canvas for any jewellery I wanted to add.
It is an investment piece and not for everyone's budget. It is created from hand-dyed, hand-loomed organza silk, which feels incredibly luxe on. It breathes, is hand-washable and instantly looks dressed up. It FEELS incredible to wear, floating lightly over and kissing your skin – just want you want in warm/hot weather.
That's what ensures that this kaftan is a piece that will be in your wardrobe for years to come.
I know that a free-size garment like this can scare some people. Me? I love its billowy ways, especially if heading out for a particularly delicious dinner.
You might choose to create shape with a belt or tie. I prefer to add interest, balance out proportions and reduce the volume of the fabric through knotting of the hem.
There isn't a precise science to knotting a kaftan hem. Simply take the hem on one side of your kaftan and knot it. What this does is show a bit of leg on one side and prevent the kaftan from overwhelming your body.
I've got a strapless slip on underneath because the back of this one is low but this also gives me the option of letting the kaftan slide off one shoulder for a different look.
Want to wear a kaftan like this on a mild winter's day? Tuck it at the front into a pair of jeans, add a pair of boots and a knit wrap.
So tell me, are you a kaftan fan? Dreaming of warm days in Italy?
* These garments were gifted to me for editorial consideration. Full disclosure policy here.