Neens and the whole entirely dysfunctionally loveable Proudman family are back on our screens and in our hearts.
Yes Offspring is back for its SEVENTH season tonight on Channel Ten at 8.30pm. Can you believe it? Who's been watching from the start?
That would definitely be me.
If you're new to these parts, I've been writing about how to recreate Nina Proudman style posts since Series 1 (the back catalogue is here).
I'm overseas at the moment so missing out on watching the first two episodes in real time (don't feel sorry for me, I'm probably basking in the Mediterranean sunshine sipping on and Aperol Spritz when you read this). My episode re-caps and ideas on how to re-create Nina's look will be back with Episode Three.
What I did do before flying out to Europe was secure an interview with Offspring costume designer Michael Chisholm, who nails it each season with the Nina's style – and the the style of the other characters for that matter.
It is Nina that you all ask the most questions about so it's Nina who I asked Michael most about. But Billie fans, don't despair, there are also some style notes about her look. Read on!
Scroll down for the full interview. In a nutshell, these are the things you'll most notice about Season 7 Nina Proudman:
Her wardrobe "silhouette" has slightly evolved again – the essence of Nina is still there but there will always be new looks with each season.
Her scarf style has evolved again – we'll see her wearing a lot of antique, small square scarves tied at the neck.
She wearing more dresses than in previous seasons.
Her statement Gucci tan suede boots are back from last season but they compete for wardrobe attention with a pair of Seed suede, high ankle boots (not current but a search did find one pair on e-bay).
Her seemingly effortless look is far from effortless to achieve – it's a combination of Michael Chisholm's genius and the close collaboration he has with Asher Keddie, who plays Nina.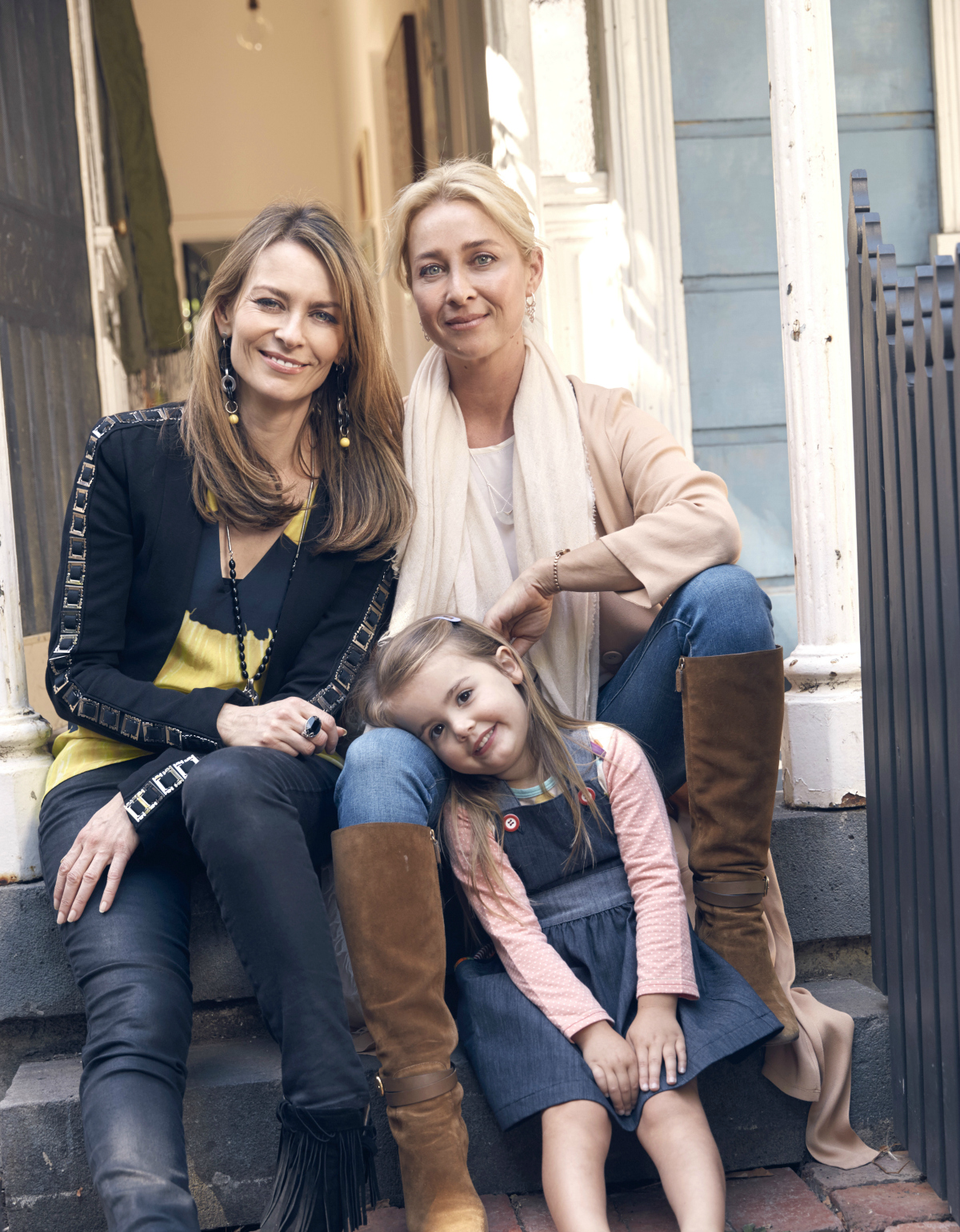 Billie wears: altered sass and bide jacket; Peter Lang jewellery (as seen in previous seasons); Nina wears: Primness trench coat; vintage Gucci boots; Linda Tahija necklace and earrings (see below); Zoe wears: Oishi-m Sunday Stroll pinafore dress
Add to cart Nina Style
I've sussed out a couple of new labels we'll see Nina wearing. I love that Michael and his team support and foster independent Australian fashion labels when developing the characters' wardrobe.
It's a Catherine Murphy maxi dress that we've seen Nina wearing in all the Season 7 previews (when not in the striped top and neck scarf). You can check out the dress here and it's also available in a top version here.
Catherine Murphy clothes are imbued with love rather than mass production and colours inspired by flowers rather than the latest hot pantone shade. All made in Australia.
The Styling You Everyday Style community alerted me to this fabulous jewellery label. The designer's sister is in our Facebook group and is super proud of her sister Linda. We're proud of her too. Absolutely love her pieces. They fit Nina's style when it comes to jewellery – fine metal pieces that can be layered.
We've already seen in the promo photos and teasers Nina wearing the following pieces: Shield earrings; Seventh Star earrings; Eclipse necklace; Three Moons necklace; and Protector Amulets necklace.
Drawn to the ability of a piece of jewellery to tell a story and hold a deep personal meaning for the wearer, it is Linda's goal that her very own creations will become such items, treasured and past on from generation to generation. Inspiration and reference comes from the distinct, tribal patterns and artworks of ancient cultures in far away places. Think of works created by native African, Aztec and North American Indian tribes.
Nina's bags have always been a point of interest in her outfits – from cross-body bags (her signature) to totes, we've seen it all. This season, Michael has incorporated this fabulous Victorian label into the mix and I think you're going to love.
Be on the lookout for these pieces during this season of Offspring: The Dreamwalker Bag – Ocean; The Helsinki Bag – Almond/Toffee; The Helsinki Bag – Forest/Mushroom
Harlequin Belle is a label with a conscience. Kellie and Andrew offer stylish products with a sustainable and ethical approach. With Harlequin Belle, their goal was to create pieces with which people could really connect. Not just a bag to hold things (although functionality is also key) but a valued piece in itself that people would be proud to carry – and a reflection of their own individualism.
Nina wears: Catherine Murphy dress; Nicole Fendel necklace (short); Linda Tahija necklace (long) and earrings; Rock Finders Keepers bangles – this one and this one – from Voult Collection.
Offspring costume designer Michael Chisholm talks to Styling You
Will we see any changes to Nina's wardrobe this year?
I think our audience will love it. They'll recognise Nina and notice the little changes happening too. There are a lot more dresses this season, too.
What labels will we see Nina wearing?
We've got some new Aussie labels which I'm really happy with – a girl called Catherine Murphy, she's fantastic. I love her. We featured her in the first episode. Primness is back as usual, which I love. Primness do our beautiful silk trenches that are really popular. Then we have our regulars. There's a lot of Isabel Marant; Chanel – some vintage Chanel I found and some great pieces overseas; Helmut Lang; Scotch and Soda; Tigerlily. When you get to the end of the season, you'll see some beautiful Flannel pieces – really spectacular. We've also made some pieces to accompany those pieces.
What about jewellery?
There's some new jewellery. I found a really good local jewellery company just around the corner, which is Love Hate, and they do such beautiful stuff. And then Linda Tahija, which is another Sydney designer. She's fantastic, a lovely lady and really good pieces, so Nina-ish. We do also use some of our regulars like Calvin Klein, Peter Lang, Rock Finders Keepers, Nicole Fendel.
When you're doing these characters, you need to give them just a little bit of a shake up. That's where the jewellery helps. Asher and I play. When she's being dressed to go on set, the last 10 minutes are just putting all her jewels on and putting that together. We play around with whether she should be the silver, the rose gold or the yellow gold. A lot of the companies I deal with they maybe have their jewellery in the three different metals. I love mixing them up.
Nina always has a scarf story to tell, yes?
When I originally did the pilot seven years ago, I created in my head because there was a lot of angst involved in her character. I thought the scarves were almost that thing that she was (metaphorically) strangling herself. The scarf was an extension of that. It wasn't so much that it was a fashion accessory. When she was pregnant, we wanted to show the belly and not hide the belly. We celebrated that and the scarves took a break.
This season, there are some great, new scarves – a lot of antique, little scarves. We went and found all these beautiful, antique, small scarves so she wears those a lot. There are some big scarves from HTC (Hollywood Trading Company) and Rude Riders. We use the big scarves when we want to do an exterior scene. We don't want a winter look, we want that trans-seasonal look. Is she more confident this season? I think so but I think it's more we wanted to change the silhouette.
Is there a new signature boot?
She's wearing Gucci again. Plus, I found these (ankle boots) – Seed boots. We bought four pairs of them and we coloured them so there's a few variations. They're just a really nice, spongey boot. I really love them and couldn't be happier. They're just so nice. And really comfortable. After Asher's been wearing $1000 boots, these ended up being something I got on sale, 50% off already marked down price. Asher loves wearing them and they just suited us. They're neutral, sometimes they stand out but sometimes they can be really neutral and not stand out. We coloured one pair that's like an "off-green".
What bags will we see Nina wearing?
We've gone back with a few of the same people we've used before and we've got a new label, which is Harlequin Belle. They're a great husband-and-wife company who have developed this bags. We've also gone with Oran Leather again because they've got a good range of bags. I've tried to support Australian suppliers.
Having a character like Nina, made me think more about accessories. I've had to get into the mind of a woman. I workshop it with Asher. We always bring it back to: do I believe this is what Nina would wear?
Nina's look isn't effortless, even though it looks that way is it?
I buy stuff and re-shape it. We have a full-time costumier who works to make each piece just right for Nina. The effortless look of Nina is not so effortless.
I have about 20 racks of clothes that we select from. We play around. I buy a lot of vintage stuff. I get stuff that's a year ahead – things that are samples. We can play. That's why when you do a show like Offspring, I'm really fortunate I have a character like Nina to play with.
When I go into companies, and they say this is "so Nina", they don't really know Nina. They probably have a memory of what Nina was in the first series. They haven't seen the evolution of her. That's what I'm really proud of. Asher and I, we like to move on.
How important is the collaboration between you and Asher
The looks on this show, I might bring them to the table but it's actually the collaboration, how Asher wears it, and how we both put it together that makes it work.
When we finished filming, Asher and I had a bit of a hug and said we had had a great season. We really did have a great season. We had a great time playing. Asher works her butt off. She's almost in every scene so it's a long day. So for her to still get excited about her clothes and pieces, that's really great for me.
Let's talk about Billie
Billie's a very interesting character too. They're so different but that's what I love about it. You would never see Billie wearing a Nina look unless there's a storyline that requires it. I get just as excited shopping for Billie as well as creating looks and shopping for Nina.
I always saw Billie as an extension of (her dad – oh boy do we miss him) Darcy. Her love for clothes and style came from rock and roll and that came from Darcy. Whereas, Nina's style came through Geraldine.
Billie does have these two sides to her, so that's changed a bit. She has the corporate look (with her job) and she has a rock and roll look. In both those looks, strength in colour is really important. When we try things on with Kat and go through her wardrobe, she lets me know if she's "feeling" Billie in those outfits.
How does Billie's jewellery and accessories differ from Nina?
She's always pushed a little bit. Her jewellery is a little bit out there, with Peter Lang or Dinosaur Designs. It's always something that's a little bit strong and a statement. She doesn't mind the clothes competing a little bit with her jewellery. That's the difference between Nina and Billie. Nina's a little more complementary in her jewellery. With Billie, sometimes it's a competition. And that makes Billie that bit more exciting, a bit more flamboyant.
What labels and brands will we see Billie in?
I've got a lot of overseas labels, I've bought. I was just in Hong Kong. There's a department store called IFC there. They had a 90% off sale. I went in and bought some amazing coats that were $AU3000 down to $AU300 and Kat fits them beautifully.
She wears a lot of Amarni. There's quite a bit of overseas designers – YSL pieces. She also wears Willow, sass and bide and Scanlan and Theodore.
I work with a lot of really good recycle shops (for Billie's looks). Their clients travel the world and they only wear an outfit once. It could be a $3000-4000 outfit and the next week it's in the recycle shop. Those people just love to shop but they only want to wear an outfit once or twice. Billie (and sometimes Nina) have had the luxury of that. And it will be things that are this season, on trend, straight from Europe. You also get things that people have bought online overseas and it doesn't fit, so they go off to the recycle shop and I get a brand new outfit at a fifth of the cost.
We've been really lucky. I can only say my relationship with my recycle shops is brilliant. They ring me up or I give them a brief of what I'm looking for and they check their shop. I spend weekends leisurely looking for those little treasures.
Do you have the ultimate clothes shopping job?
I'm always shopping for women's stuff, not myself. At Easter, I went to Hong Kong to shop for the show and before that New York. That's the thing, I start off the season with pretty high parameters. When Asher and Kat come back and we start filming the show, I've got an array of stuff from around the world and Australian designers ready to go. We start off in a really positive way and keep on adding things all the time.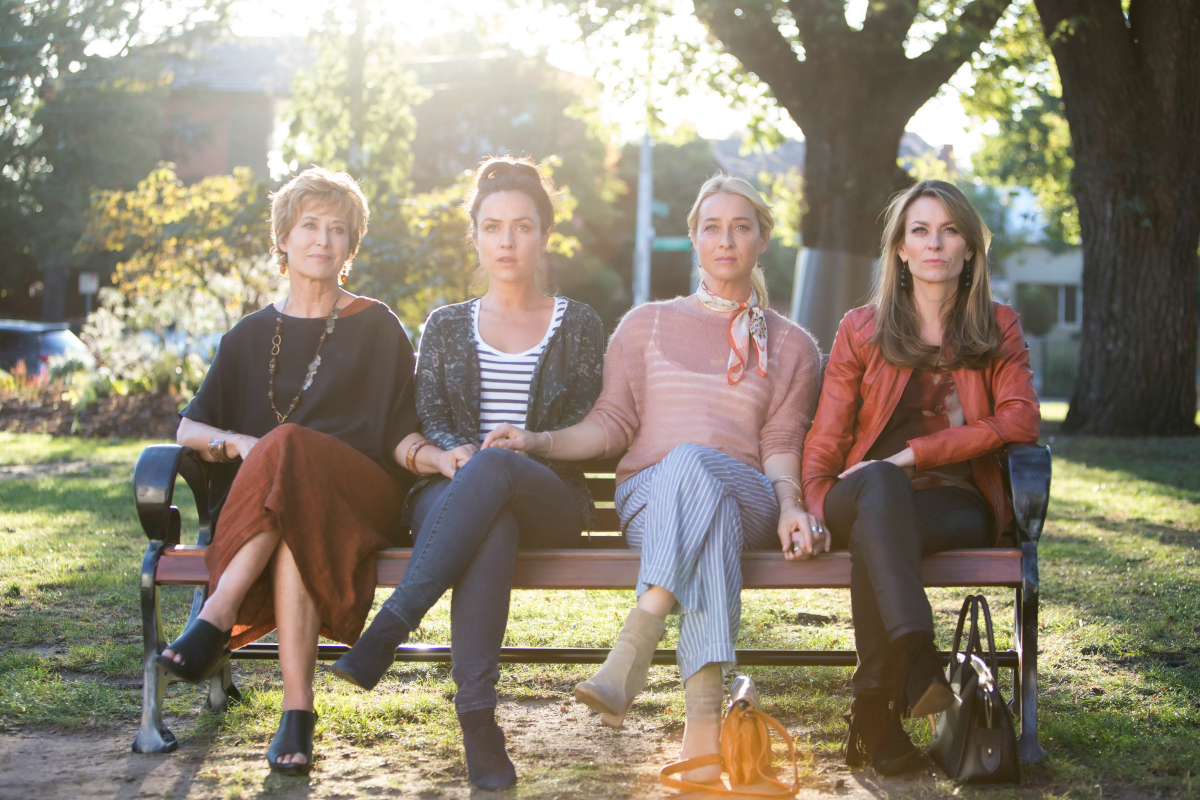 Nina wears: Scotch and Soda knit; vintage scarf; custom-made pant; Seed boots
So tell me, how long have you been an Offspring fan? Are you excited to see this series play out? Whose style on the show do you most relate to?
(I'll be back with my regular how to create Nina Proudman's style series in two weeks' time)
Image credit: Channel Ten