If you follow along on Instagram, you would have seen a sneak preview of the White Label Noba autumn-winter collection at the launch evening.
The audience – myself very much included – was blown away by what was on offer for the season ahead.
What I love about this Brisbane-based label is a combination of things but I think, at its heart, is designer Tracey Watkin's ability to bring excitement and interest to every piece.
Whether that excitement is via embellishment (Tracey does love a sequin and we love her for that), silhouette, colour or texture, it's there and makes you feel a million dollars for any planned occasion or event.
This collection offers outfit pieces that would suit everything from girls' lunches to date nights, weddings, special birthdays and even formal occasions.
You'll also find that many of the separates work back with pieces from previous seasons.
The outfit I've chosen to feature is just one of my faves from the runway launch.
The model
White Label Noba Chloe top | Ralph pant (the pieces are denim and navy)
and me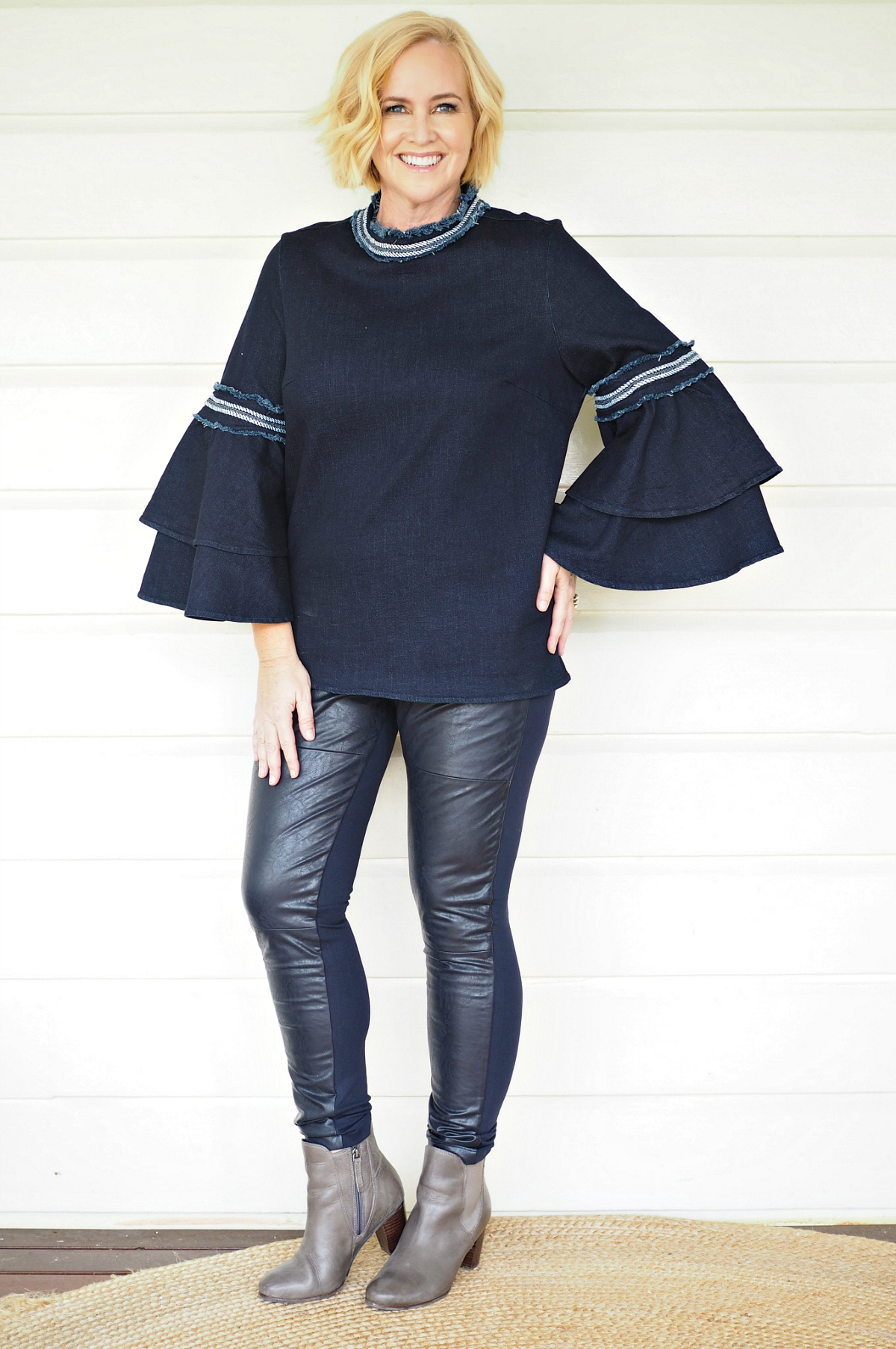 White Label Noba Chloe top (I'm in size 1) | White Label Noba Ralph pant (I'm in size 1) | FRANKiE4 IZZY boot
Now, you know my love of anything black in the clothing department runs deep. VERY deep.
But my love of navy is on a par. So when I saw that my favourite Ralph pant was back this season in navy, I was like … get my legs into these babies. STAT.
Aside from jeans, these are my go-to winter dress legging-style pant. You've got a little pleather at the front and ponte at the back, which equates with supreme good looks AND comfort.
The key thing here when buying is that you need to buy super firm because of the stretch factor. Having said that, I've always found that the elasticated waist on these pants doesn't fall down. Not sure what style sorcery is at play here but it makes this girl very, very happy.
I've gone for the Chloe top in indigo denim for a little double-navy effect because I think that the mix of textures and shapes just works.
If you prefer a contrast then the white Chloe top might be for you.
This is definitely a winter-weight top. I love the drama of the sleeve shape and detailing.
It's not relaxed in styling but it does skim the body. I'm usually a size 1* in White Label Noba and it skims my size 14 hips.
I'd also wear this top back with a white jean, a black pant or legging or a mid-wash denim jean.
As a total outfit, it works for me for a winter lunch or evening out. I'd feel dressed up but with supreme comfort on my side.
So tell me, are you a White Label Noba fan? Tried the Ralph pant in previous season? A sucker for anything navy?
* A note re White Label Noba sizing. The conversion chart is here. I'm generally a size 1 but have sized up and down on previous garments depending on their shape/style. For an over-sized style, I always size down.

* These garments were gifted to me for editorial consideration. Full disclosure policy here.