Don't laugh (oh go on, you can) but currently I'm leaving open the windows to our Queenslander home. ON PURPOSE. Just to feel the cool edge to the season that has finally hit.
In a month or so, I'll be shutting everything down because the novelty will have worn off and the UGG boots will be firmly on. In the meantime, I'm embracing the cooler nights and mornings after another long, hot, humid summer.
I know my southern style sisters have already had a taste of real winter but for us northerners, we're working a trans-seasonal wardrobe like nobody's business. I've grown tired of my summer clothing and am yearning for something a little different, something that looks a little "autumn with a side of winter" possibility.
As ambassador for Adrift, a Brisbane-based online retailer, I get to play with so many of their looks and pieces. The label's new-season collections have launched. I'm in love with so much but have fallen hard for the winter colour combo of navy, white and charcoal.
This colour mix is perfect for trans-seasonal looks because it can easily be "winter-fied" by the addition of a cosy knit, tights and boots.
If you're wanting tips on how to create a winter outfit when it's not so cold outside, read on. If you'd like tips on how to take these featured outfits into winter then check my style tips under each outfit.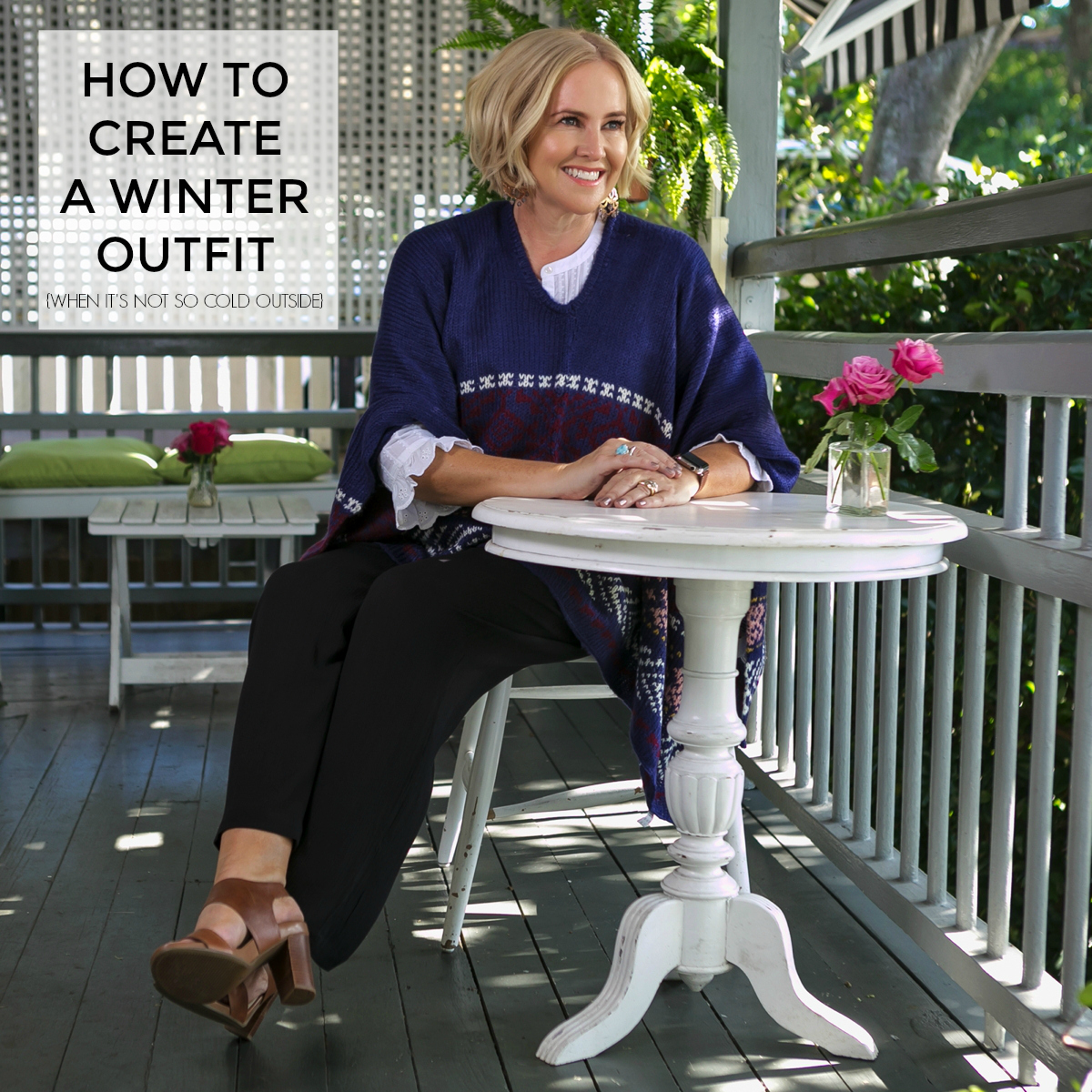 Adrift Desini knitted poncho in Ztec (one-size) | Adrift Benito top in white (I'm in M/L) – also available in XL/2XL and 3XL/4XL | Adrift Jansi pant in black (I'm in M/L) – also available in XL/2XL and 3XL/4XL
Style notes: a poncho that pops a little colour is a great way to lift an otherwise neutral outfit. This one is so super soft and not at all scratchy. The top has beautiful detailing should you need to remove the "winter" layer. These pants are just so comfortable and flattering. They do need a heel to make this leg width work.
Cold weather styling option: add thermal tights under pants; wear closed-in block heel pumps; swap the white top for a merino knit; add a coat
How to create a winter outfit when it's not so cold outside

1. Think about your base outfit pieces. These are not only the building blocks of an outfit but they also have to be good enough to stand on their own should you need to de-layer throughout the day. This is where I used to get totally caught out. I'd have a fabulous layering piece on top but couldn't remove it as I hadn't thought about what was underneath.

2. Don't wear a thick knit jumper on its own if you know you're going to be creating a personal sauna by 11am. I don't know what it is but I'm seduced by every new knit I see online and in store. It's just crazy as I already have a massive collection for someone who lives in a mostly warm climate. I like the comfort factor, I think. So, if I'm going to wear a knit on its own, I have to know in advance that it's a particularly cool or cold day/night.

3. Create an outfit that's half winter/half autumn. This is one of my most used tricks. We know we're not in summer any more and we want to utilise our autumn-winter offerings but how to do that? Simple, break down the outfit and balance it out. Maybe a summer-weight dress with leggings and boots. Maybe pants and ankle boots but with just a tee and a scarf. Can you see where I'm heading with this? Your wardrobe is refreshed and different but it's also allowing an outfit to be climate-appropriate.

4. Do not ignore the power of a scarf/cape/wrap/poncho. This is the key to successful winter layering and how you can add winter texture to an otherwise lightweight outfit.

5. Colour in winter is very ok. Just because it's winter, it doesn't mean we have to put away our colours. Don't let anyone stop you from going peacock in among a sea of black and grey. Conversely, if black and grey are your thing, go for it.
Adrift Benito top in navy (I'm in XL/2XL* – also available in XS/S and M/L and 3XL/4XL – *I'm actually between sizes on this style. The M/L is a better fit)
Style notes: I just love the pin-tuck detailing, broderie anglaise and flutter sleeve and hem of this top. The button-down situation is great for mums who are breastfeeding. Work this back with any pant or jean for an instant outfit.
Cold weather styling option: Add a long woollen cardigan; add a thermal t-shirt or tank underneath; add a scarf
Adrift Lorena top in indigo (I'm in M/L – also available in XS/S and XL/2XL; 3XL/4XL) | Adrift Ponte pant in grey (I'm in M – also available in XS, S, L; and XL, 2XL, 3XL, 4XL)
Style notes: love the over-dye nature of this cotton top. The pleated detailing around the neckline and mesh cut-outs on the sleeve add interest. If you've not made ponte pants a part of your winter wardrobe, hop to it. They are thicker than leggings – these ones are quite lightweight but in a fabric that holds you in. Buy down at least one size so they stay on.
Cold weather styling option: add thermals under the ponte pants and top; add a knit; add a coat and scarf.
Adrift Lorena top in white (I'm in M/L – also available in XS/S and XL/2XL; 3XL/4XL) | Adrift Jansi pant in dark grey (I'm in M/L) – also available in XL/2XL and 3XL/4XL | Welisa knitted wrap (one-size)
Style notes: work or an occasion might call for a pant that is not as streamlined as the ponte pant. This is where the Jansi works well with heels. It's not a pant that works so well with boots, however. The white version of the Lorena is a lighter fabric than its indigo counterpart. I'm not wearing a cami underneath but you might find it needs one for your style confidence. I do love a knit I can throw over an outfit and be seen out of the house legitimately wearing a blanket!
Cold weather styling option: add thermal tights under pants; wear closed-in block heel pumps; add a thermal tank or cami under the top; add a coat

Adrift Kassina knit in French Navy (one size) | Adrift Maya top in navy stripe (I'm in M/L – also available in XS/S and XL/2XL)
Style notes: the power of the poncho is strong. It's a little something that can be thrown on for warmth and outfit interest without committing to a full-sleeved knit. Play around with how you position your poncho too – there's no need to keep it front on. I find wearing it a little off the shoulder helps balance out outfit proportions.
Cool weather styling option: Add a full-sleeved knit underneath your poncho

Adrift Aarna dress in FP print (I'm in L – also available in S, M and XL and 2XL)
Style notes: this is generous-sized garment. It's also quite long. I'm 166cm so you can see how it falls on me. To prevent overwhelm, undo a few buttons to show a bit of leg. You can completely unbutton this dress and wear as a duster jacket over jeans or ponte pants and a top. The waist can also be adjusted with the tie to be as loose or as fitted as you'd like. This dress is breast-feeding friendly.
Cold weather styling option: Add leggings and a long-sleeved top underneath; add a long knit cardigan over the top.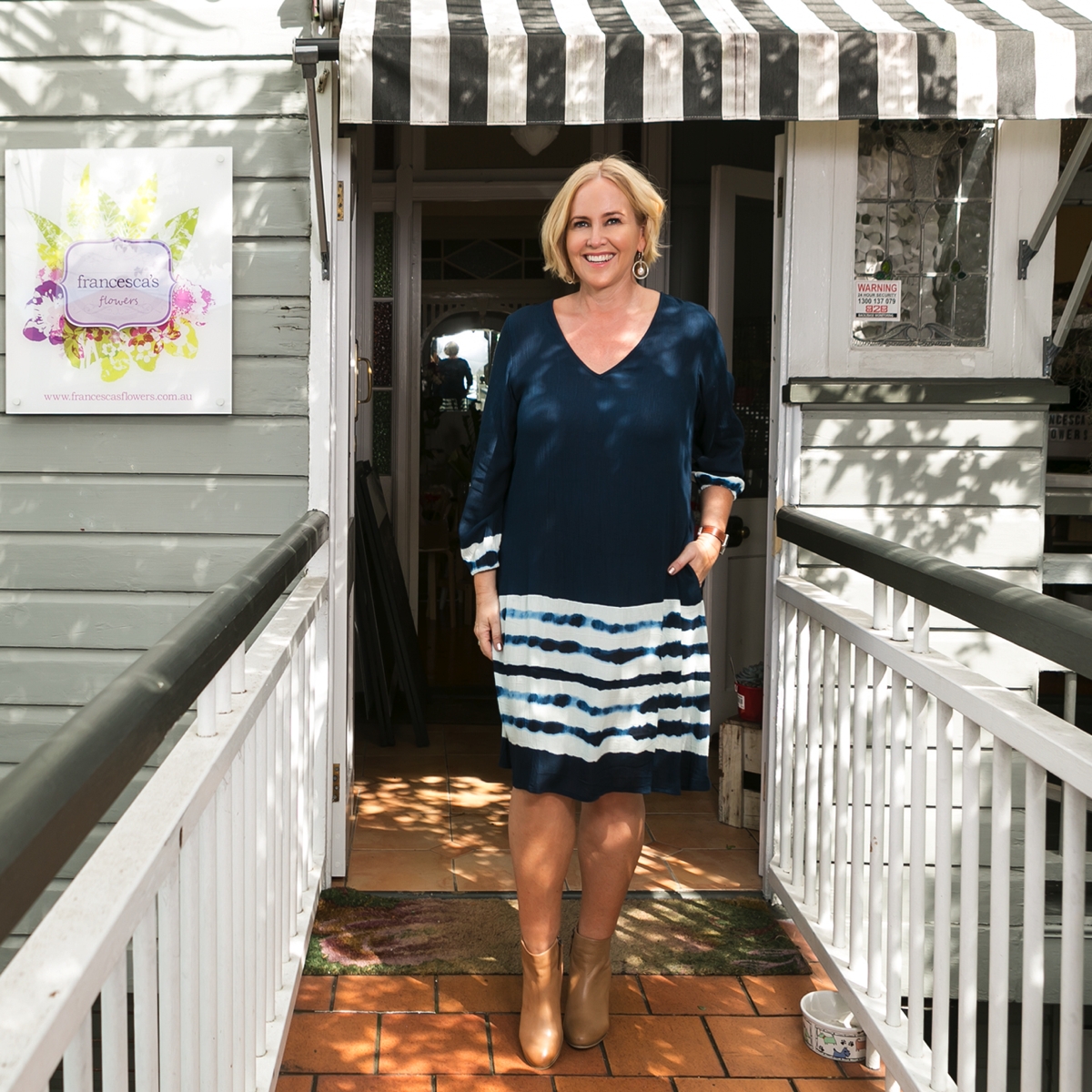 Pearson dress in navy stripe (I'm in XS/S – also available in XL/2XL and 3XL/4XL)
Style notes: This is a generously sized dress for me to be in the smallest size, so adjust your sizing accordingly. This is a lightweight fabric and flows beautifully on. The gentle a-line shape is one that works for so many. If you had the summer version of this dress, you won't want to miss this one.
Cool weather styling option: Add grey tights, a thermal top and a long, knit cardigan
So tell me, how do you do winter? Is it mild where you live? Already putting the fireplace on every night?
Location: Francesca's Flowers, Paddington | Photographer: Sarah Keayes, The Photo Pitch | Hair and makeup: Dale Dorning, Arc Creative
---
WIN
Adrift has two $200 gift cards to give away to TWO Styling You readers. Simply answer the following question in the comments below.
Which of the above outfits can you most see yourself wearing this autumn-winter and why?
Entries open on Wednesday, May 17, 2017 at 5am (AEST) and close on Wednesday, May 31, 2017 at 5pm (AEST). Australian entries only, sorry. The two winners of the "answer the question" competition will be judged on originality and creativity. Photos can be uploaded in the comments section. The winners will be emailed and their name will be published here. Entrants must include an email address when the filling in the commenting system below to be eligible to enter. Full terms and conditions here.
---
Special offer
Enter STYLINGYOU at checkout to save 25% off all new-season pieces at Adrift.
---
Check out the Facebook Live event which launched the collection
---