There's no doubting that layering in an outfit adds interest and takes your whole look up a notch. In the warmer months, however, layering is not easy to pull off without sweating up a storm.
There is one wardrobe piece that can work in the layering department when the heat is on – the kimono.
I'm a fan from way back and was excited to find out about online store, Iland Co, a store that specialises in them – and offers them in three different lengths.
New South Wales-based Jodie Minto created the label when living as an expat for almost nine years in Dubai.
Our designs are all done in-house and are inspired by our travels. We ethically source our fabrics and materials and always strive for a fair deal for all of our team, suppliers and manufacturers. – Jodie Minto
The model
Iland Co kimono $89 (short); $115 (medium); $129 (long)
and me
Iland Co kimono (long) | Sassind tee | Bohemian Traders jeans | FRANKiE4 Footwear EMMA heels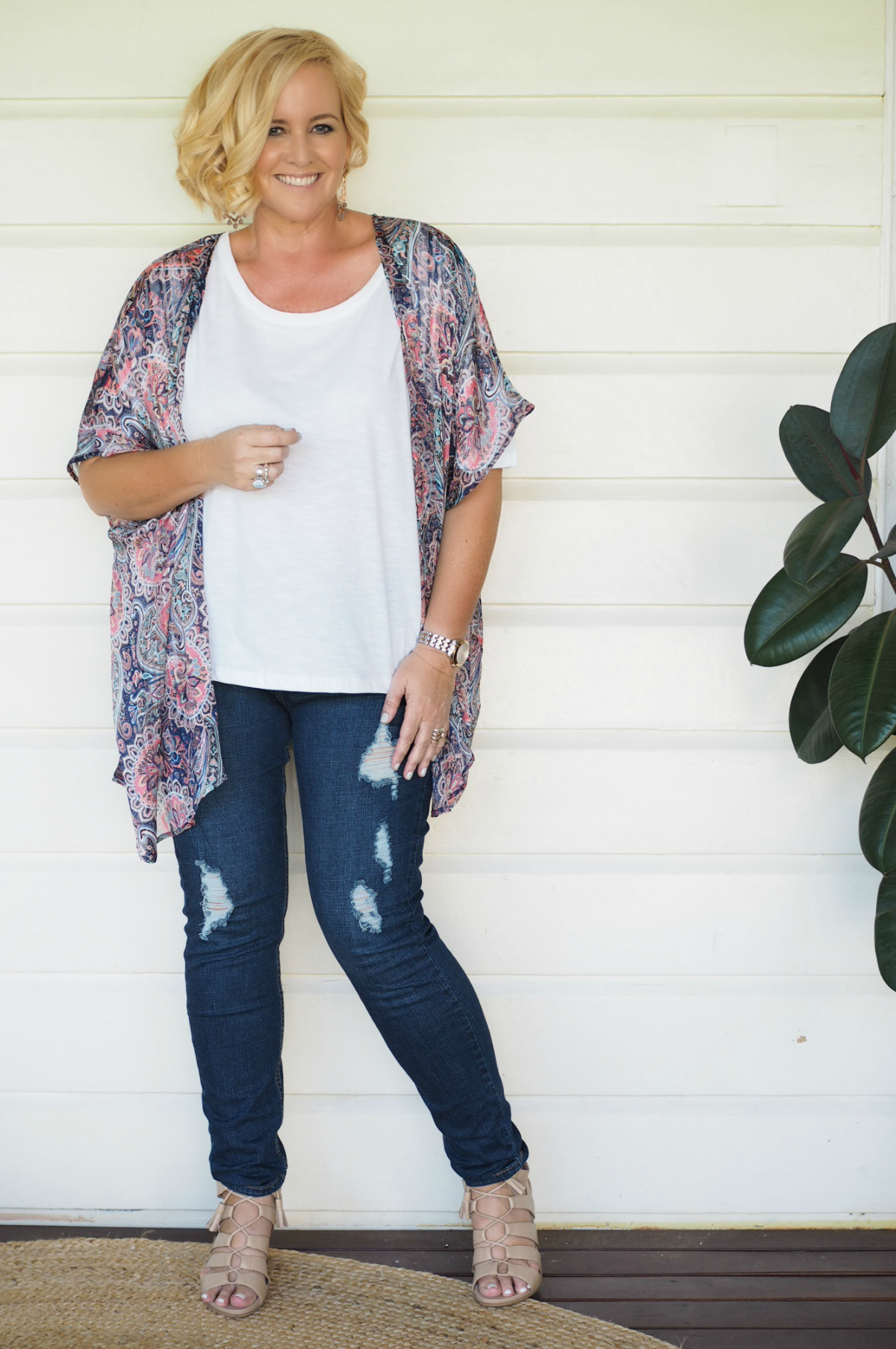 The base outfit I've worn here is one that most of us have in our wardrobe – a white tee and denim jeans. Sure they look great on their own. It's a classic look.
But just the addition of one garment – the kimono – in any of the three lengths takes the outfit next level.
Each length of kimono offers a different look too. The longer length offers a dressier take and the short of medium options a more casual look.
I've worn a tee but a tank or cami works equally as well, particularly if it's warmer. A kimono worn with shorts also works. Play with proportions and wear a long kimono with short shorts as shown in the model's outfit.
The kimonos are made from a chiffon polyester mix. The short length kimono comes with one front clasp, the mid-length with two clasps and the full-length with three fastenings. The clasps are invisible clear press studs so no noticeable when worn open.
Sizing is free size.
So tell me, would I find a kimono in your wardrobe? What length do you prefer to wear?
* This garment was gifted to me for editorial consideration. This post contains affiliate links. Full disclosure policy here. Full disclosure policy here.
---
Plan your outfits for the week ahead
Once your wardrobe is edited and working for you, the next step in keeping things stress-free is all about daily and weekly outfit planning.
I know this is not for everyone but it's something that works for me. If you think a little planning might help you, we've created a weekly outfit planner printable that you can download for free and fill in each week.
Download your FREE weekly outfit planner HERE.