I LOVE sleeping.
My enjoyment of a good slumber starts with fabulous bed linen. There is absolutely nothing like slipping under fresh sheets. Nothing.
But combine that with fabulous sleepwear then you have got a match made in sleepy heaven.
Summer sleepwear is generally not about being cosy but being comfortable and cool. Personally, I'll minimise what I'm wearing to bed in the hope I'll still be able to snuggle a little under the doona.
Opt for quality fabrics that wear and wash well if you want the sleepwear to last beyond the season.
In summer, I also change out what I wear to bed every two-three days because, you know … excessive perspiration.
Showering before bed also helps extend the longevity of your sleepwear. On many nights in Queensland, this isn't optional, it's mandatory to cool down.
Personally, I switch around my style of summer sleepwear as much as I switch around my wardrobe style. Some nights it's about a cool, comfortable t-shirt and shorts set; others it's all about the slinky nightie.
If you're still looking for a summer sleepwear and pyjama solution that suits your style – in and out of bed – then check out these three Australian independent labels doing amazing things with their sleepwear ranges.
I've been wearing pieces from all of them across the summer months and it's a big thumbs up from me.
3 sleepwear and pyjama solutions from independent Australian labels
The Goodnight Society launched in 2014 after a dream (pun intended) of its owner and founder Kathryn Koch. Kathryn wanted to make some good in the world AND make some good pyjamas. They design all their bold and quirky prints which is their signature trademark. You can help but smile when wearing their pjs. They're made from organic cotton in factories that care for their workers and pay them a living wage. The Goodnight Society supports The Heartfelt Project and The Pyjama Foundation.
My faves (pictured): Disco Baby Nightie | Iced Vovo leggings | Bubble O Bill pyjama sleep set
Palmflower was born after its founders had spent too many nights wearing a sports bra to bed for support while they slept. All Palmflower sleepwear include an integrated soft bra, featuring bilateral pockets for prosthesis and removable soft shaping. The fabric used is sustainable Lenzing Modal yarn. The range is designed in Australia and is made using ethical manufacturing partners that ensure fair working conditions for their employees. $1 from every item sold goes directly to Pink Ribbon to help fund breast and gynaecological cancer research and prevention.
My faves (pictured): Baby Doll Farfella | Sleep Top Lido | Lounge pant Nero
Lunabella had me at pineapples and flamingos and palm leafs. Wearing these soft cotton and rayon sleepwear pieces makes you feel like you're always on holiday somewhere tropical. Love the shape and flow of Lunabella nighties and camis.
My faves (pictured): South Beach nightie | Ohana sleep pants | St Lucia camisole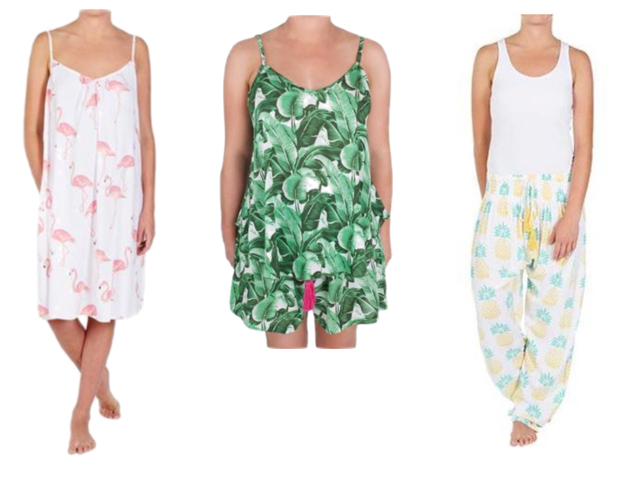 Ok, let's get personal. We're among friends. What do you wear to bed in summer? Tried any of these brands?
---
Come away with me in 2017 … to Melbourne and Bali
In 2017, I've once again teamed with Hello Me Escapes to offer two styling and shopping escapes – one long weekend in Melbourne and one six-night getaway to Bali.
The sold-out Styling You high tea event in Melbourne is part of the weekend away. If you book for the weekend, you'll get the best seats in the house. There are only a few spots left for this weekend so get in quick if it was on your to-do ist.
Tickets for the event and spots on each of the escapes are limited. More details HERE.