On of my summer staples in the wardrobe department is the t-shirt dress.
I love them for many reasons. Below are just a few.
It's a throw-on garment situation. In one swift move, you're dressed and ready.
You FEEL comfortable all day, like pyjamas comfortable.
You can dress it up or dress it down simply by switching shoes and accessories, making the t-shirt dress a fabulous travel partner.
The shape of a t-shirt dress can vary from a tube/tank style through to a-line, tunic and cocoon style.
This post's featured t-shirt dress falls into the cocoon-style camp and is from the Hunt + Kelly summer 2017 collection.
The model
Hunt + Kelly Tabitha dress (model is size 8 on left and size 14 on right – both are wearing the same size 2 dress)
and me
Hunt + Kelly dress (I'm in size 3) | FRANKiE4 Footwear LiBBi sandals
A cocoon-style t-shirt dress is never going to look good on the hanger. It comes to life when it drapes over a body.
It loves curves and harnesses them to help create shape in the dress when worn.
It's my favourite style of t-shirt dress for comfort because it's lovely and loose to wear but not tent-like in its proportions.
I just love the way this dress sits on me. You could let it also fall off the shoulder for an alternative look.
My inner bowerbird LOVES the subtle sequinned detailing on the sleeves.
I've worn with sandals here but I'd also wear this dress with white sneakers for an even more casual look or nude heels to dress up for a lunch out with the girls.
This dress comes in three sizes. The models are both wearing size 2; I'm in size 3 for a more relaxed look. Prefer it more fitted? Then size down.
So tell me, do you love a t-shirt dress as much as I do? And how about the sequins?!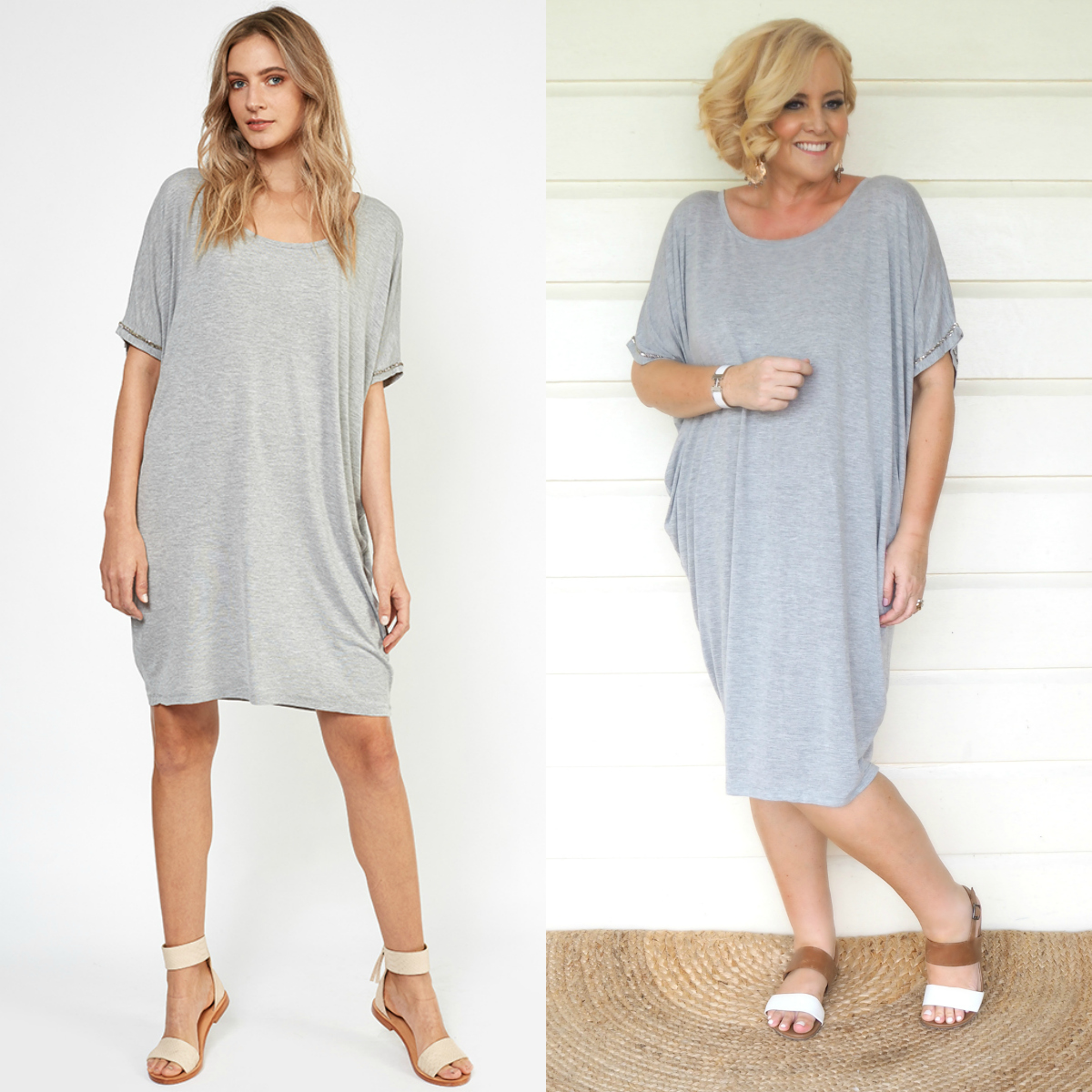 * These garments were gifted to me for editorial consideration. Full disclosure policy here. Full disclosure policy here.
---
Plan your outfits for the week ahead
Once your wardrobe is edited and working for you, the next step in keeping things stress-free is all about daily and weekly outfit planning.
I know this is not for everyone but it's something that works for me. If you think a little planning might help you, we've created a weekly outfit planner printable that you can download for free and fill in each week.
Download your FREE weekly outfit planner HERE.