This time 20 years ago (depending on when you're reading this post) I was in quite a deal of pain.
Miss SY had taken her sweet time to decide when she was coming into the world. It was hot, damn hot, and I had spent the previous two weeks doing laps of the air-conditioned local shopping centre.
Despite being four centimetres dilated, labour just wasn't happening. My gyno offered an induction, I heartily accepted and within a hour of that gel going on, she was out.
Today she officially says goodbye to her teenage years. We got off extremely lightly in the teenage angst department.
Her teenage years were a walk in the park compared with her first five. From reflux through to tantrums that went WAY beyond the terrible twos, Miss SY tested us at every turn.
Then it was as if someone had flicked a switch. She hit high school and each year found something within herself, something that saw her get into her course of choice at uni and continue to succeed in that course.
Beyond any academic success, she's a decent human. For that I'm most proud.
That heat I experienced 20 years ago is very much with us now. For the pregnant – and non-preggers – women in the Styling You community, this Model and Me post is for you.
This maxi dress from the Bella Lido spring-summer 2016 collection, ticks all my high-summer style boxes.
The model
and me
Bella Lido maxi dress* (I'm in M/L – I'm 166cm) | FRANKiE4 Footwear NiKKi heels in tan
I've been a fan and supporter of Bella Lido from the beginning. The designs very much suit my summer, the prints are fun but not overwhelming and the rayon used in most pieces is soft and lovely to wear.
The Beach maxi dress is a new design in the Bella Lido collection and it comes in three shades of this floral print. I'm in the blue but it also comes in aqua and navy.
The straps on this dress are adjustable. I like to wear them higher so that there isn't an armhole gape situation.
From the neckline, the dress flows beautifully. It doesn't feel tent-like to wear at all. A trick I do with most of my maxi dresses is that I knot one side of the hem.
The effect of doing this (and showing a bit of leg) is that the proportions of the outfit are better balanced and the dress doesn't overwhelm.
This is especially important if you are my height or shorter.
I'm wearing a strapless bra with this – the full underwire variety – but I would also wear a soft bandeau-style boob tube if wearing the dress for a more casual look at home.
I've worked the dress back with heels – specifically my signature FRANKiE4 Footwear heel – but this dress works equally as well with flat sandals.
So tell me, do you love a maxi dress for keeping cool in style in summer?
PS. If you live on the Sunshine Coast – or are visiting across the summer break – pop into the Bella Lido shop at Shop 16/13 The Esplanade, Mooloolaba.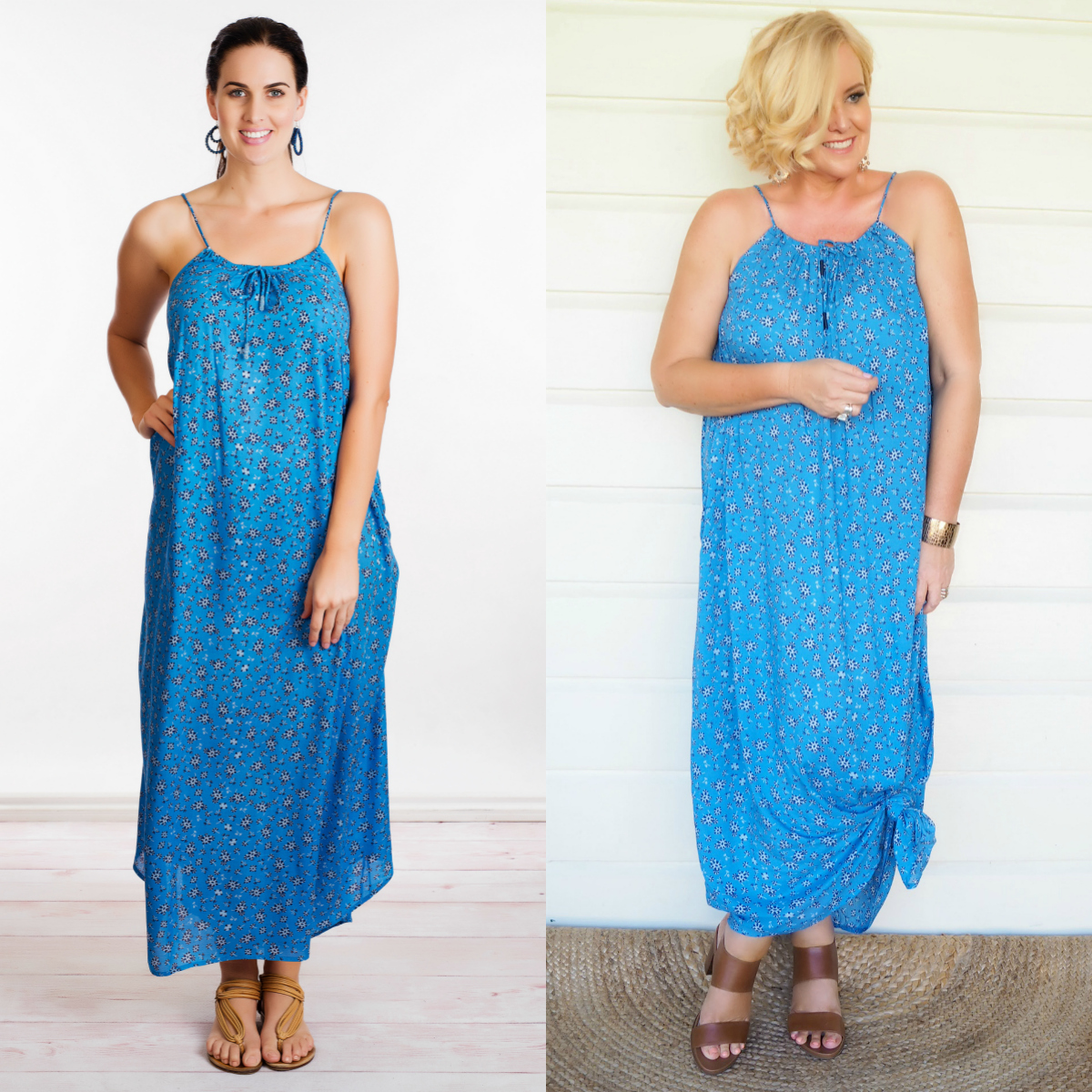 * This garment gifted to me for editorial consideration. Full disclosure policy here. Full disclosure policy here.
---
Join the #sypartystyle style challenge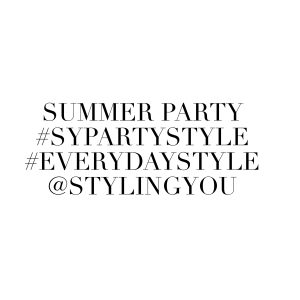 Until December 8, I'd love you to please share your summer party style outfits. It doesn't have to be a glitz and glam situation (but it can be!). It may be you have a an end-of-year school concert to attend, a graduation, a barbecue catch-up with friends, a Christmas night out with your book club, a long lung with your girlfriends or the office Christmas party.
There is so much on from now until the end of the year, I'd love you to inspire us with your outfits for the small and big events happening in your life.
Your post to the #sypartystyle hashtag could be used in a blog post here on Styling You. Plus one woman has the chance to win a $100 gift card from Adrift to top up her party style wardrobe.
Simply post your photo to Instagram and tag with #sypartystyle #everydaystyle @stylingyou