It's been almost three years since we packed up and left the beach for the city.
My wardrobe's adapted to the change but one section I refuse to give up on is my dedication to the flowy, summer beach dress or cover-up.
Granted, they may not get as regular a run as they once did but Brisbane summer days can get mighty hot – and we still escape to the beach as often as possible.
On those days, nothing beats a light frock that works equally as well over a swimsuit and it does dressed up with sandals or wedges for a casual gathering with friends.
This summer frock/cover-up in this post comes from the Eb & Ive spring-summer 2016 collection. It ticks my resort-playing boxes and it might just do the same for you.
The model
and me
Eb & Ive Mari dress*| Sarah J Curtis hat | FRANKiE4 Footwear LiBBi sandals | Michael Kors sunglasses
This is a one-size dress. I'm a size 16 and there's a tonne of room. If you're smaller than me, it will appear more over-sized.
Because it's 100% rayon and is cut to drape beautifully from the shoulder detail, it has less of a tent-like feel.
An over-sized garment like this also works as the proportions are balanced out by the showing of a little leg at the front (the back hem is longer).
As soon as you show a bit of skin, the potential for a voluminous design to overwhelm is lessened.
I love a bit of a sleeve on a garment like this – it adds a bit of sun-safety if popping on to and from the beach – but is still cool because the fabric is light.
As for the colour – oh my – it just screams summer, doesn't it? But if mandarin/coral is not your thing, this style is also available in black and biscay/turquoise.
So tell me, do you have a beach holiday planned? Like to play resorts at home?
* This garment gifted to me for editorial consideration. Full disclosure policy here. Full disclosure policy here.
---
Join the #sypartystyle style challenge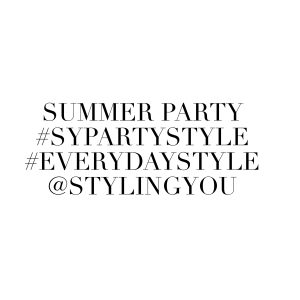 Until December 8, I'd love you to please share your summer party style outfits. It doesn't have to be a glitz and glam situation (but it can be!). It may be you have a an end-of-year school concert to attend, a graduation, a barbecue catch-up with friends, a Christmas night out with your book club, a long lung with your girlfriends or the office Christmas party.
There is so much on from now until the end of the year, I'd love you to inspire us with your outfits for the small and big events happening in your life.
Your post to the #sypartystyle hashtag could be used in a blog post here on Styling You. Plus one woman has the chance to win a $100 gift card from Adrift to top up her party style wardrobe.
Simply post your photo to Instagram and tag with #sypartystyle #everydaystyle @stylingyou