Sponsored by Michel Herbelin 
I've loved clothes and accessories for as long as I can remember.
When I think of particular moments in my life, what I was wearing at that time is as vivid as the memory.
That floral a-line shift dress and pink round plastic sunnies as a three-year-old in the front yard of our second family home.
The brown maxi skirt and blue tunic top I wore to my dad and step-mum's impromptu wedding 40 years ago.
The pale pink taffeta dress my girlfriend's mum sewed me for my high school graduation.
The first designer clothing piece I bought in my early 20s – a white linen shirt that I wore for years before sadly retiring.
The stirrup pants, chambray shirt and deck shoes I lived in during my first pregnancy in the '90s.
The shift dress I wore post-pregnancy with my second, a dress that made me feel far better than I was feeling at the time.
The boho-style denim skirt that travelled with me to Santorini with my now-husband.
The OMG-this-dress-was-made-for-me cocktail number that fit in all the right places and made me feel like a million bucks on an evening where I was co-hosting an event with the acclaimed designer of said frock.
The sequinned kaftan that felt right at home on me two years ago in the Whitsundays.
The distressed denim jeans that fit and flatter and are a whole lot of fun to wear – any day of the week.
The watch I'm wearing today.
All these moments in time, marked by what I was wearing.
What they also mark for me is my own style journey – from someone who jumped on most trends (even if she shouldn't have) to someone who's making less trend-driven and more timeless choices.
I know what works for me. I know what pieces of clothing or what accessories make me feel confident when I'm wearing them.
That confidence is what style is all about. It's not something that comes easy for most, French women excepted.
French women seem to have been born with an in-built genetic predisposition to exude style – and confidence. The rest of us? We can learn from the three secrets of timeless French style.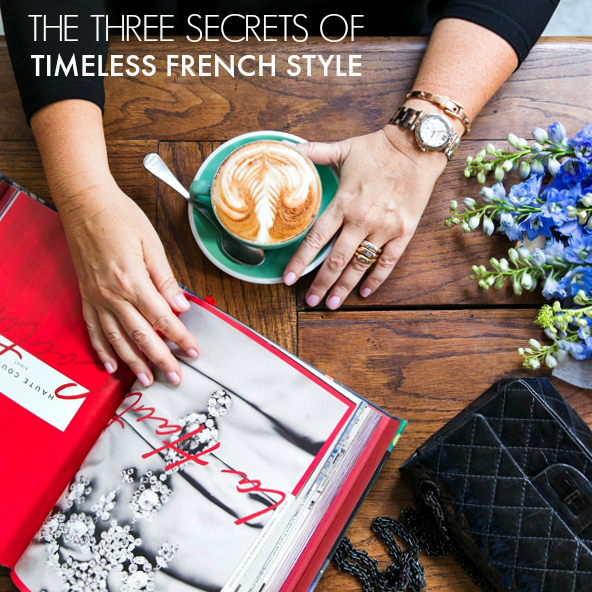 The three secrets of timeless French style
1. Edit your wardrobe – less really is more. Everything in your wardrobe should make you feel fabulous. French women work to a minimalist capsule wardrobe. This makes getting dressed each day a breeze and puts you two steps ahead because if the process of choosing what to wear is effortless then you're well on the way to looking and feeling effortless in your daily outfits.
2. Buy good quality basic clothing pieces – they will always be on trend. Buy the best basic garments for your budget. These are the pieces you wear most so buy knowing that they will serve you for more than just one fashion season. Quality basics wash and wear so that they look like new every time.
3. Invest in timeless, high quality accessories – watches, bags and shoes – to complete your outfits. These are the dot points on your outfit. Think about when you see someone during your day and your eye travels from one accessory to the other, much like a dot-to-dot drawing. Wear beautiful accessories so you give someone else's eye something to dwell upon and note each dot point.
Michel Herbelin watches
The watch you wear says so much about your style. A watch is an accessory that most of us wear every day.
A timeless, quality piece will always look good and be a significant dot point on any outfit.
Michel Herbelin may not be a brand that you're aware of right now but this global luxury brand, which offers Swiss quality with French design, has a huge following in France.
When you see and feel how these watches sit on your wrist, it's not difficult to understand why. It's all in the refined styling and detail. The watches successfully blend timeless design and manufacturing with a contemporary edge.
And because every woman needs a watch-robe, I've featured two here for you (read on to find out how you could win your own Michel Herbelin watch).
I love this watch for its timeless everyday appeal. The brown leather strap and stainless steel casing make it a beautiful pairing with a relaxed, casual outfit. I love the nod to vintage timepieces but with the mechanics and good looks of a modern watch.
This is the kind of dress watch that immediately gets noticed. I love the combination of silver and rose gold with a mother-of-pearl face. It's the type of watch that will take you from the office to after-work drinks and dinner, working back seamlessly with a corporate or after-five outfit.
To find out more about the Michel Herbelin range of watches, visit www.michelherbelin.com.au
So tell me, which watch do you love the most? Or could both fit beautifully into your watch-robe?
---
WIN
Would you like to win the rose gold Michel Herbelin watch (pictured below)? OF COURSE you would.
How to enter via Instagram
Set your Instagram account to public – otherwise we won't be able to see your entry.
Share an image on Instagram from this blog post – or your own image – that represents your timeless style.
Tag @stylingyou and @michelherbelinaustralia
Add the hashtags #mytimelessstyle #michelherbelin #everydaystyle
Terms and conditions
Michel Herbelin – #MyTimelessStyle Competition: To enter successfully, readers must post a picture on Instagram of a person, item or experience that they feel captures timeless style. Alternatively, readers can repost one of Styling You's images. The competition will be run through Instagram only. One (1) Styling You follower will receive one (1) Michel Herbelin 17411/BPR19 watch (pictured above, rrp $950). Winners will be notified by Instagram within thirty (30) days of winning. This is a game of skill – entries will be judged on creativity, originality and relevance in the entered photographs and accompanying text. Chance plays no part in determining the winner. Entries must be posted to Instagram tagging @michelherbelinaustralia, #MyTimelessStyle and the @stylingyou social handle. Entries open at 4.30am AEST Wednesday, October 18, 2016. Entries will be accepted until 11:59pm AEST Monday October 31, 2016. Once the competition closes, no further entries will be accepted. Entrants must be 16 years or older.
Winners will be announced on November 14, with names published here