Sponsored by FRANKiE4 Footwear
I think shoes can make or break an outfit.
Often when I'm playing around with different outfit combinations, it's more likely going to be the shoes over any other piece that I switch until I get the look I'm happy with.
Until I started as ambassador for FRANKiE4 Footwear, I was more than happy to settle for a particular shoe to achieve the desired fashion look, even if I knew I would be super uncomfortable in said shoes all day.
Now, I just can't settle. And I never will again.
I want my feet and legs cushioned and supported. I want my feet and legs to look good while being supported.
I want comfort AND style in my footwear.
That elusive combination is something that I continue to be excited to find with FRANKiE4 Footwear shoes.
Each season, the designs just keep getting better and comfort levels are improved with each collection.
This spring, designer (podiatrist and physiotherapist) Caroline McCulloch has blown me away – again – with a range that offers a shoe for every occasion.
There's a heel. You might have heard of her already because I'm so damn excited … the NiKKi.
There's a ballet flat that leaves all other ballet flats in its wake when it comes to comfort.
And there is an extensive sandal range that will have you booking in a fresh pedi. Stat.
To launch the spring 2016 collection, I want to take you through some of my favourites (this is by no means an exhaustive list) and also share my tips on to create the perfect spring shoe-robe.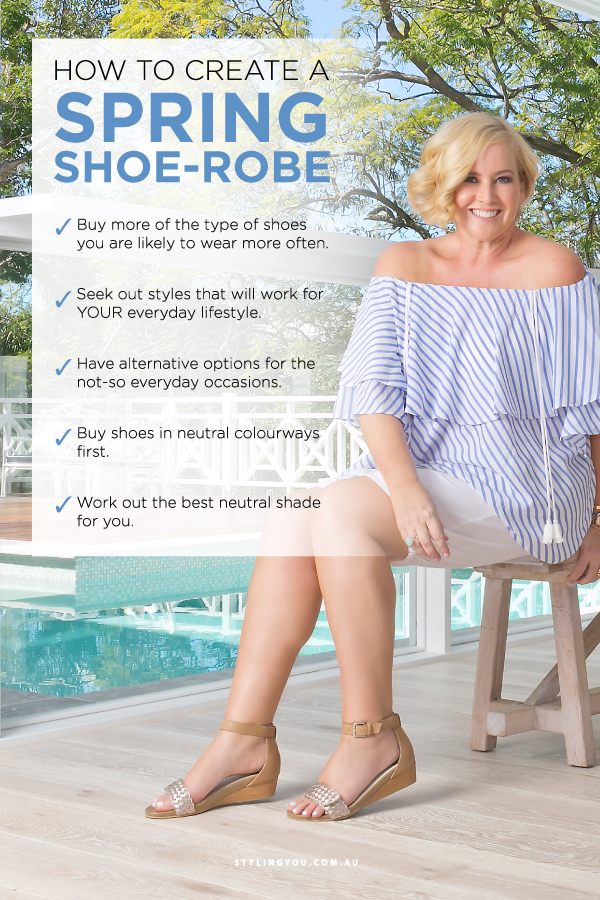 How to create the perfect spring shoe-robe
1. Buy more of the type of shoes you are likely to wear more often. Think about the types of outfits you most wear and what types of shoes best work with those outfits. This is your starting point for any new purchases.
2. Seek out shoes that will work for your every day. What are the main activities you do on your feet each day? Maybe that's a flat sandal because you're chasing kids all day; maybe that's a supportive heel because you wear business casual Monday-Friday? What works for you will be different from the next person – and that's ok.
3. Have alternative shoe options for the days and occasions where it's not your every day. Have a heel you can turn to for lunch out with the girls; have a flat sandal that will be your friend when walking to brunch on a weekend. Having footwear options takes the stress out of the outwear equation.
4. Buy neutral shoes first. I know. It's so tempting and so easy to be seduced by seasonal colours – particularly in spring-summer – but if you cover off first on neutrals then you'll always have a shoe for all your outfits.
5. Work out the best neutral shade for you. I often get asked whether someone should buy black or tan/nude as their neutral. My simple answer to this is: if you wear a lot of black then go for black; if you wear a lot of colour, then start with tan/nude. This is a very general idea but it does simplify that first purchase for most people.
My spring 2016 FRANKiE4 Footwear favourites
Like any mother, I feel guilty for even naming favourites. Truth be told, it was difficult to narrow it down to these six (seven if you count the two colourways in NiKKi). And this list is certainly not discounting any of the styles from last spring that have been re-released with more support and an upgraded look. BELiNDA, my friend, I'm looking at you, with your cocktail-loving, resort-style wedge good looks.
The NiKKi
Just before Christmas last year, I was invited to FRANKiE4 Footwear's headquarters to help with colour selections for the spring 2016 range. Within 30 seconds of my arrival, I spied a nude block heel perched high on the display shelf. Be still my beating, shoe-loving heart.
Cheekily, I asked whether the object of my desires had been given a name as yet, not so subtly hinting that it had MY name all over it. The NiKKi in latte and black was born.
These heels will be on my feet all spring-summer long. They're 8cm high (if you have the LiZ boot, they are the same height) and have incredible built-in footbed support.
The CHLOE
CHLOE and I are going to be firm friends. I had a little hand in her flattering colourway too. She brings with her all the leg-lengthening attributes of the Latte NiKKi but in a low wedge that will take a casual outfit next level. I love her plaited champagne strap. Next level, I tell you.
Chloe is also available in black.
The LiBBi
LiBBi is the fashionable sandal you pop on your feet when you want the look of the slide but the support of a sandal. I love her on-trend ways and I'm particularly taken with the tan and white combo for a fresh summer look. This sandal will work back with all spring-summer colours.
LiBBi is also available in black.
The PiPER
I've always struggled with finding a ballet flat that didn't carve up my feet. So much so, I gave up trying. Not any more. No, the PiPER ballet flat has seen the return of this style of shoe to my feet. The inbuilt arch and heel support and forefront cushioning has you feeling like you're walking on a cloud. Check out the image online of the cushioning compared with a regular ballet flat.
PiPER is also available in black/blonde and black/black.
The MARGiE
MARGiE and I became firm friends last year when I packed her up and took her to Europe with me. Later we firmed the friendship over a golden summer (see what I did there?) and now I've fallen for the black oily. Mind you, I do also have my eye on the pewter. The fit on MARGiE is adjustable thanks to velcro straps on the forefoot and ankle. The cross-over design at the ankle makes it a stylish flat for the everyday. If you tried MARGiE last year, you'll find even more support and cushioning.
MARGiE is also available in gold, pewter and tan/champagne
The ViCTORiA
If it's a minimalist sandal that you want, then ViCTORiA is your summer bestie. She's sleek, stylish but still oh, so supportive. She makes the perfect pairing with a summer maxi for effortless barbecue chic. Adjustable velcro straps on the heels ensure a secure fit.
ViCTORiA also comes in all black.
Shop the entire new-season FRANKiE4 Footwear HERE. Make sure you're signed up to the FRANKiE4 Footwear email so you're first to hear about pre-sales and special promotions.
---
So tell me, which new-season FRANKiE4 shoes can you see on your feet this spring?
* Photographed on location at a private home newly renovated by Hammer and Heels and recently sold at auction.