It's many years since I worked in an office.
Even then, the concept of casual Friday was not one that was embraced. Real casual was reserved to those of us working the night or weekend shifts.
I think it also wasn't so much of a thing in a newsroom because, most days, most people opted for smart casual over corporate.
In corporate offices around the world though, it's a whole different story – a story that started in Hawaii in the 1960s with Aloha Fridays and the donning of Hawaiian shirts.
The casual Friday idea (beyond floral shirts) didn't really catch on until the early 1990s when post-recession businesses started looking for ways to boost employee morale.
Now Fridays' office dress code is one that represents a wardrobe slide into the weekend.
This sounds all well and good but can be fraught problems:
Most companies and corporations want to maintain a professional dress policy. It can be a fine line between casual and lounge wear.
Employees like the idea of casual but often find dressing on a Friday is out of their corporate wardrobe comfort zone. This causes them lose confidence and feel lost when it comes to choosing casual outfits to suit their style.
If employees work in a role that might require them to have meetings with other companies, those companies may not have a casual Friday policy and it can the employee not feel as professional.
So how do you navigate casual Friday while still looking professional and put together? These are my 11 tips.
Avoid associating casual wear with what you'd throw on for a slouchy Sunday at home. What's not to love about trackies? Not much – when you're at home. Only take them to work if they're of the fancy, silk variety and worn with heels.
Aim to create outfits that feel put together. Achieving this starts with some wardrobe pre-planning and coordination of layers and/or accessories on the day.
Think of how French women dress when you think of the relaxed, effortless style of a casual Friday. Think good quality basics and classic accessories.
Denim is ok but leave the distressed look for after hours. I love the distressed look but it might not get the approval of the powers that be in your workplace.
Never underestimate the power of a blazer. The blazer is your friend on any work day but on casual Friday it can pull a tee and pants outfit together to make you feel more professional (handy if you have one of those meetings with a non-casual Friday employee at another office).
Never underestimate the power of a statement necklace. Much like the blazer, if you add a statement necklace to a tee or dress, you'll immediately add impact and lift your outfit up a notch.
Do wear dresses but opt for a more relaxed style. We're not talking beachwear here but something without the structure of a typically corporate frock.
Save the sneakers for the weekend. Opt instead for flat sandals, brogues, loafers or ballet flats.
Choose heels that are more casual than corporate. A block-heel sandal is a great option (as long as your workplace doesn't have a policy of no open-toed shoes) as it's comfortable for all day wear but dressed up enough to after-work drinks.
Avoid arriving at work already dressed for the club you're planning to go to later that night. Instead change up your smart casual outfit at 5pm with a change of shoes, bag and accessories.
Have fun with it. If casual dressing is not something that comes easily to you, keep playing around with different combinations until you find a formula that gives you the confidence factor you're looking for in an outfit.
… and, of course, these pieces and outfit combinations below would work just as well for work-from-home or weekend casual looks.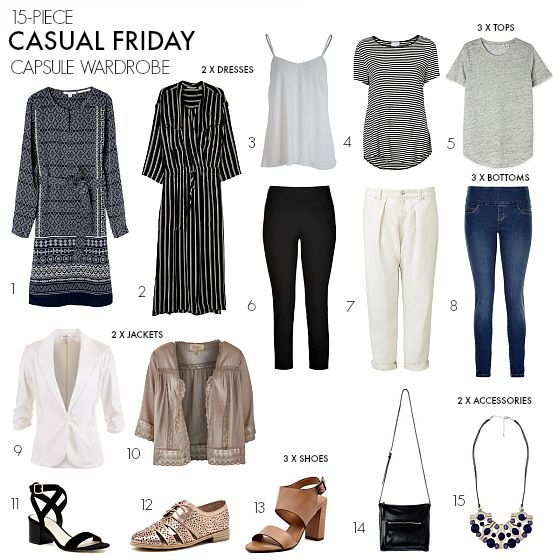 1. Trenery dress $299
2. Country Road dress $199
3. Birdsnest cami $39.95
4. Witchery tee $39.95
5. Country Road $59.95
6. Katies 7/8 pant $49.95
7. Witchery pant $129.95
8. Katies jeans $49.95
9. Bird Keepers blazer $89.95 @ Birdsnest
10. Boho Bird jacket $89.95 @ Birdsnest
11. Witchery heels $149.95 @ David Jones
12. Django & Juliette shoes $169.95 @ Styletread
13. Top End heels $169.95 @ Styletread
14. Country Road bag $199 @ David Jones
15. Katies necklace $39.95
---
Just a few possible outfit combinations
1 + 11 + 14
1 + 12
1 + 13 + 9
2 + 9 + 11 + 14
2 + 12 + 15
2 + 13
6 + 3 + 10 + 13
6 + 4 + 9 + 11 + 14 + 15
6 + 5 + 9 + 12
7 + 3 + 10 + 13
7 + 4 + 12 + 15
7 + 5 + 13
8 + 3 + 10 + 12
8 + 4 + 9 + 11 + 14
8 + 5 + 9 + 13 + 14 + 15
---
Do you work in an office? Is casual Friday a thing for you? What's your casual Friday uniform?
* This post contains affiliate links. If you buy something via one of these links I may receive a small commission. Full disclosure policy here.