Nina does re-wear some of the pieces from her wardrobe but not usually so quickly in succession.
Last week – in episode 4 – she wore a silk-printed Mes Demoiselles blouse and this week she trotted out the same blouse again but with a midi suede skirt. There's a story behind the skirt which I'll share with you but, before I do, I know that many have been curious about the Mes Demoiselles label.
This is one of the new labels which the costume designers came across overseas and knew they wanted to make it Nina's.
There are some small boutiques in Australia which stock the label (if you're one of them, let us know!) but online, you'll find Mes Demoiselles at Net-A-Porter, Matches Fashion, Shopbop and Stylebop.
Designer Anita Radovanovic started the French label began in 2006. It's very much a label that would appeal to Nina's feminine boho sensibilities. The luxe fabrics and intricate, embellished details are signature features.
You won't find Nina's blouse available but you might find something current that appeals.
Now about that tan suede skirt. When I spoke to costume director Michael Chisholm before this season began, he told me about his search everywhere for the perfect tan, suede skirt.
"I looked everywhere. I'd been asking around for about two and a half months and one of my recycle shop suppliers contacted to say she had a lady come in the day before and here was this fantastic, calf-length suede skirt, made in Germany," said Michael.
So there you have it. The skirt is not available, nor is the top but in the spirt of this series on the blog, I've put together a look-alike-for-less version that I hope will inspire you to continue to adapt and work with what's already in your wardrobe to get the Nina Proudman look.
There are also a couple of jewellery pieces below that just might be the exact match. They're all from Rock Finders Keepers. I'm wondering whether the earrings were adapted specially for Nina by removing theLapis Lazuli drop.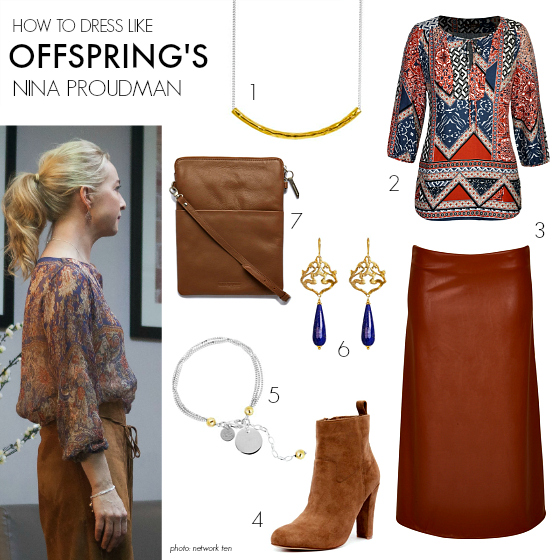 1. Rock Finders Keepers necklace $119 (exact match)
2. Katies top $49.95
3. Boho Bird skirt $89.95 (on sale) @ Birdsnest
4. Lipstick boots $82.47 (on sale) @ Styletread
5. Rock Finders Keepers bracelet $139 (possible exact match)
6. Rock Finders Keepers earrings $149 (possible exact match that's been modified and stones removed)
7. Stitch and Hide shoulder bag $149.95 @ Birdsnest
Other looks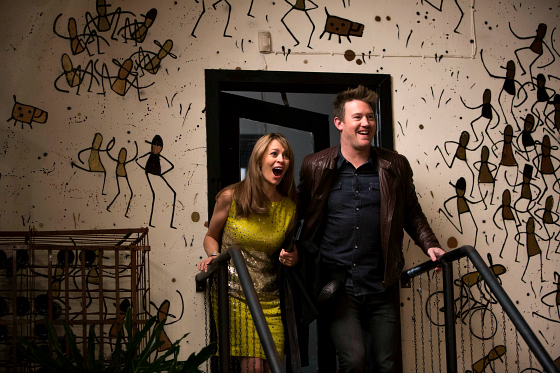 Naeem Khan dress and Fiorina earrings
 Vintage rayon printed georgette dress | Primness washed silk trench coat | mushroom Rugged Hide leather bag 
The de-brief (spoiler alert)
My first thought when I saw that fictitious Nina was going to appear on real-life show, The Project, was just how excited presenter Carrie would have been. Carrie is mad for Offspring. Mad, I tell you.
Anyhoo, poor Neens ended up having to front a national TV audience because she accidentally ended up as the face of the hospital and as "the face", it came down to her to talk the hospital's way out of Kim's handball baby doll viral internet scandal.
Except Kim's video was quickly replaced by Elvis' running man skills in a corridor game of kiss chasey. Project presenter Waleed misconstrued Elvis' enjoyment of the game for repeated sexual harassment. No Waleed, "he's faster than he looks. No-one's caught him yet," babbled Nina.
Either way, it just meant that Nina was more in the poo with the new "crisis and culture" manager, Harry Crewe. On meeting Harry, Nina's head talk described him as "handsome but annoying". Could Harry be Neens' next love interest? Dr Angus was strangely missing from last night's show.
Nina did give it to him after she saved the life of the mum haemorrhaging post-birth in the operating theatre. I liked that but it seems that Harry will be around for a bit longer given the late night message to Nina about a new scandal, a possible baby mix up at St Francis.
Meanwhile, Brodie confesses to Mick that she's pregnant while Mick's composing a song for Billie – a gift for her 40th – the 40th she thought Mick was organising a surprise party for.
"The afternoon knows what the morning suspected," Billie said in her self-help, guru-like way we've come to accept.
Except he wasn't organising what her morning and afternoon suspected. When he did realise how much Billie wanted a surprise to be on the cards, he called on Jimmy to help.
Credit to Billie, she knows how to spoil herself on a big day, spending her birthday enjoying the spa day "tokens of appreciation for myself" that she organised. I think we should all take a leaf out of Billie's books.
As for the party, it was lovely to see everyone together and it was awesome to see her surprise that there was actually a surprise party.
It was funny to watch the Jimmy-Will sibling rivalry thing continue to play out. "You can't buy Billie's affection," Jimmy told Will after presenting her with a Prada handbag. "Yes he can can. He just did," said Billie. Bang.
Favourite line in Mick's song about Billie: "she's the wine in our cup". AWWW.
Sadly the joy only made the absence of Darcy feel all the greater. Billie, who'd held it all together until now just couldn't hold it any longer. And I'm glad. It had to be out.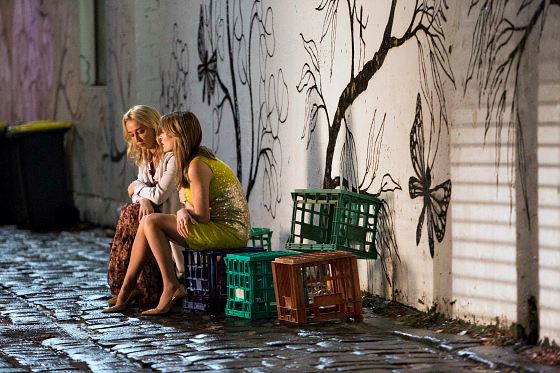 Good stuff to come out of the party: Zara and Jimmy finding each other again and Cherie proposing to Clegg, despite of – or because of – him wearing a post-surgery-compression vest, "sans the surgery".
That's it from me. Time for you to share your thoughts about Nina's style this episode and the plot developments.
PS. We'll also be chatting all things Neens and Offspring in the SY #everydaystyle community. Have you joined yet?
* This post contains affiliate links. If you buy something via one of these links I may receive a small commission. Full disclosure policy here. Photo credit: all scene photos are from Network Ten.