I cannot wait to catch up on Offspring when I fly in tonight. I don't care if I'm jetlagged and lacking in sleep. I NEED to know what's been happening.
Today I'm sharing with my interview with one of the members of the wardrobe design team from the show. You get so much intel when you get it from the horse's mouth – costume director Michael Chisholm.
You're going to want to bookmark this post.
Has Nina's style evolved?
Every season with Nina there is always slight changes. This season there are more pants. We're certainly gone for some new labels and created some new silhouettes. She's got the wide culottes in some scenes. She's got jeans culottes. Some of the culottes Nina is wearing we've made ourselves.We played around with them and changed fabrics. The tan look is strong too.
A lot of companies say they've got pieces that are Nina but the thing is Nina evolves. We try not to go back. We try to move on. We don't stay fashionable as such. We try to keep in front of it.
I'm always in shops and people will say, "this is great, this would be so Nina" but people forget that Nina's evolved. This year people will notice that evolution a bit. 
What brands and labels will we see Nina wearing?
She shops in many shops. She doesn't just go to one shop and say, "I like that look". She goes to lots of different shops and and plays. When she's in a different mood, she likes to have a different style.
We've got great labels again. I travel overseas, as I've said before. I've got some new pieces from different labels and we've put a little more retro into the show again. 
Here are just some of the clothing and accessory labels featured:
We love the label Binny. What will we see Nina in?
We've got some new Binny bits. You'll be thrilled. She's got a new blouse we're using. She's got a new signature look that's a tuck-in neck design so she's got a dress in that and a blouse. We've used the blouse and we'll be using the dress, maybe in the last block of the year. I like to go out on a Binny, so I'm hoping I can work that. I'm very fond of Binny, she's a lovely person and I really like her style.
Does Nina wear pieces more than once?
Nina wears pieces again that become her favourite pieces but she never wears them the same way the second time around. Nothing goes back with the same combination.
You always love to give her a signature boot, don't you?
I know. Part of it is about the comfort level. It's a long day for Nina (and Asher) and any woman going to work and doing what she does. She wants a boot that really feels comfortable. This season's boot (vintage Gucci) is like an old favourite. In reality I think that's what women do, they have their favourites. Spend good money and you'll get your money's worth out of those boots.
Any other signature pieces we'll see?
There is an old 1970s men's belt, plaited. The great thing is that signature pieces work. They help to combine her look and make it all work as one.
What about Nina's bag collection? Any new additions?
Nina has about five bags. We've got some new bags and some of her original ones too. That's the thing, we never lose the old Nina, we just find an updated version. Some little bits of old creep back into her wardrobe.
What does Nina's wardrobe look like?
We've actually got a scene on the show this season inside her wardrobe. She has a lot of wardrobe!
What kind of scarves will Nina be wearing?
She's wearing scarves but they're a lot bigger this season. They're beautiful – there is a lot of Scandinavian scarves.
Do you think that you've helped to mould fashion trends?
I don't think we've changed the fashion. We've just taken aspects of fashion and made it more interesting. Two years on, the boho look Nina championed has continued. I had to get rid of a lot of those old looks to find new looks because otherwise it would feel like everyone's seen it. Boho is still around a little bit but we had to clean out the wardrobe and find a newer version of it. 
What is it about Nina that keeps us coming back for more?
It comes back to Asher playing a great character Nina. Asher has her own style and doesn't like to get bored with her pieces. She challenges me and I think that's why we have a good work relationship. It really is a collaborative thing. I think also we play a little bit and I think that's what's so good about it. Even though each outfit looks quite effortless, it's quite involved. A lot of women can wear the Nina look without a lot of trouble. You can find the cheap version or a very expensive version of it.
Any final words?
I hope we haven't disappointed our audience. They'll see their Nina but a new version of her.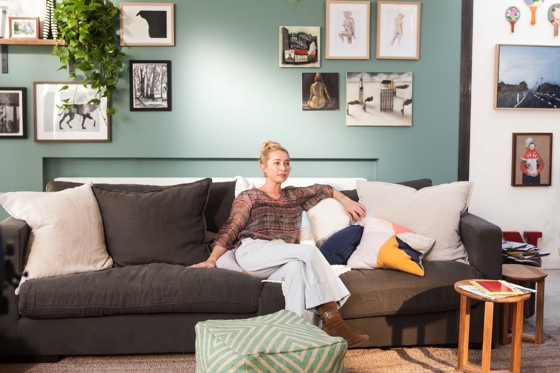 Top: Isabel Marant (vintage)  | Pants: Haikure  | Boots: vintage Gucci
Dress: Shakuhachi
WIN a $2000 11-piece Nina Proudman inspired wardrobe
Get excited Nina Proudman style fans. This is the competition your wardrobe has been waiting for. Head on over to last week's post for details on how you can enter. There's still one week to go to get your entry together. Nina wore the earrings (number 3) in last night's episode.
1. Johnny Was scarf $189 @ Zambezee Boutique
2. Nicole Fendel Seize The Moment bar bracelet $79 
3. Nicole Fendel Maya teardrop earrings $69
4. Nicole Fendel Sofia long pendant blue agate $109
5. Johnny Was bell sleeve tunic $499 @ Zambezee Boutique
6. Binny Lake Alexandria maxi skirt $275 (from the upcoming Binny spring-summer 2015 collection)
7. HabaAustralia scarf $59.95
8. Noosa Amsterdam grey Nivkh shopper bag $420
9. A Beautiful Story silver/lapiz lazuli James bangle $86.95 (available soon)
10. A Beautiful Story silver/lapiz lazuli Syl necklace $79.95 (available soon)
11. Noosa Amsterdam natural Divali printed belt $165
The de-brief (spoiler alert)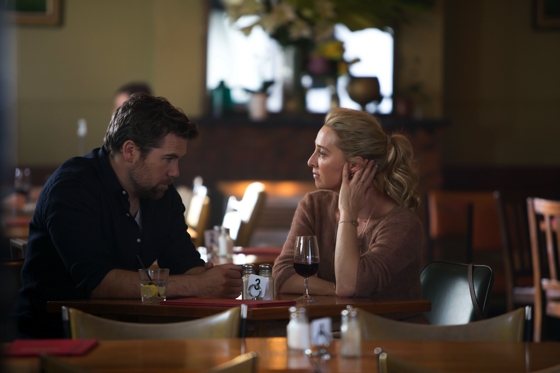 Cashmere Jumper: Mademoiselle
I'm on my way back from my Hawaiian juice cleanse, which was very much indeed code for drinking as many Mai Tais as humanly possible so I've got fellow Offspring fan Robyna to de-brief here for us. Robyna is also going to be part of the Styling You team from next week … more about that very soon.
… So this week we got to find out what on earth happened between Leo and Nina. We also got to see those awesome Marc Jacobs striped pants again. I'm wearing a grey knit with wide-legged pants ASAP. Anyway, back to Leo and Nina. The big question is whether Nina has gotten any better with romantic relationships over the past two years. And we were left hanging on that one for a while.
While Jimmy and Billie go through Darcy's things, we learn that Jimmy is in significant debt to the estate. So I guess that answers another burning question about how Jimmy's business is going.
Over at the hospital the typically blunt Zara innocently compliment/insults Nina by asking how Nina manages to "switch off" the sex. As if Zara could ever turn off the sex! Apparently the new doctor Angus (who does nothing for me) flirts with everyone. Even Elvis. Even the vending machine (I've seen him sex a Kit Kat out of a vending machine without putting any money in, it just fell out). Just not Nina.
Will gets a comprehensive introduction to the dysfunctional Proudman clan and strangely still wants in. Even after Billie's constant interrogations and witnessing Nina's bumbling mediation attempts. Is it that he just wants to get know his Dad and siblings, or is something else going on? Billie beautifully explains that their family is like a loyal, loving tinder box — but catch them on a windy day and they go off. Darcy was the cool change that brought relief and perspective. Or as Jimmy less eloquently put it "We're all pretty f*ed without him."  For a short moment it seems like Will might take the role of cool-change guy but then he makes Jimmy an offer that Darcy never ever would. And I'm thinking Offspring could probably do with a bad guy.
Onto the juicy stuff.
Leo is leaving because he can't be around Nina. He is clearly still in love and not cool with the close friends play (guys never are). The mutual agreement to end the relationship was not as mutual as Nina thought. An argument escalates and Leo makes some excellent points about Nina not living in the real world. Then he says Patrick is lucky he died because he has become an unassailable deity in Nina's mind. Too far, Leo, way too far.
They (sort of) make up with Leo wishing Nina to be happy. In the real world. Hmmm, are we sensing a theme here?  I think so and it's driven home by Billie. When Nina asks whether she was happy with Patrick, Billie replies "As happy as you can be." Nina wonders — did she mean as happy as you can be?  Ah Nina, maybe this season your perspective will evolve along with your style and you really will learn to love the real world. As long as you keep playing in the fantasy one.
So, it's now over to you. This is seriously one of the most fun parts of our weekly Offspring de-brief. Tell us your thoughts about last night's episode. Favourite outfit?
Photo credit: all Offspring images are courtesy of Channel Ten