My friend Carly (from Smaggle) commented on one of my outfits this week:
"Your 'winter' style is so amusing to me. I've reached Melbourne peak fashion where I wear my down coat all day. I'm a walking ugg boot."
This made me laugh. So much.
Because, yes, I am a Queensland girl and our winter attire looks so crazily different from that of our southern sisters. I also laughed about the walking ugg boot statement because in that very moment, I had my ugg boots on.
It actually does get cold here overnight in winter but it warms up very quickly so that by 9am you may as well call it spring.
And then yesterday the weather gods threw us a mild-summer-like day of 28. I'm thinking these weather gods knew I'd this week had a spray tan for the FRANKiE4 Footwear spring-summer catalogue shoot (OMG, cannot wait to share this with you!) and wanted me to get my pins out from behind my jeans so as not to waste it.
Whatever the reason, I did get the legs out, but they'll most probably be back behind jeans today, which is a lovely segue into this blog post topic.
By popular request, many SY readers have asked for winter outfit ideas that don't include jeans.
My frock and exposed leg outfit from yesterday didn't count. That was merely an aberration in the winter wardrobe scheme of things.
What I'm talking about is the rut that we can easily get into – a rut I most certainly do fall into – and that's the rut of pulling out a pair of jeans every day to form the base of our outfits.
Don't get me wrong. I LOVE my jeans (these are my seven most comfortable pairs) but I also love mixing it up so that what I wear each day feels fresh.
If that's you too then read on, I've got four non-jeans outfit ideas for you.
4 winter outfit ideas that don't include jeans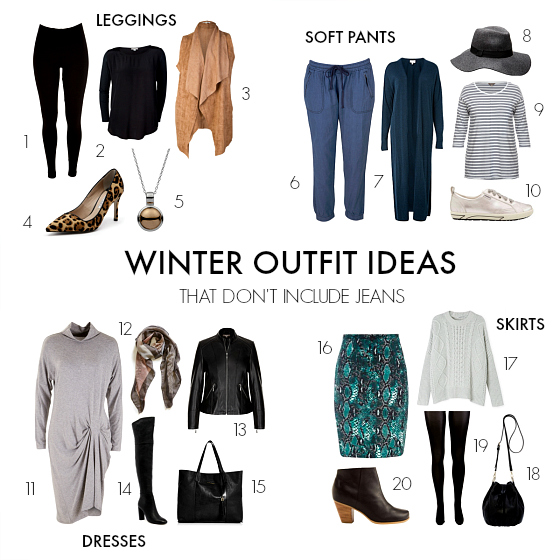 LEGGINGS
1. Betty Basics leggings $19.95 @ Birdsnest
2. Surafina top $129
3. Bohemian Traders vest $209
4. Tony Bianco heels $159.95 @ Styletread
5. Najo necklace $79 @ Birdsnest
SOFT PANTS
6. Bird Keepers pant $69.95 @ Birdsnest
7. Witchery coatigan $129.95
8. Country Road hat $44.96 (on sale)
9. Katies top $39.95
10. FRANKiE4 Footwear sneakers $229.95
DRESSES
11. Hammock and Vine dress $189.95 @ Birdnest
12. Katies scarf $24.95
13. Katies leather jacket $299.95
14. Mollini boots $359.95
15. David Lawrence bag $249
SKIRTS
16. David Lawrence skirt $179
17. Country Road knit $134.25 (on sale)
18. Oroton bag $118.50 (on sale)
19. Ambra tights $14.95 @ Birdsnest
20. FRANKiE4 boots $299.95
Leggings
Embrace all grades of leggings and you have a comfortable alternative to jeans. I favour either bamboo/modal leggings or ponte if I'm needing a thicker style. Leggings are not pants (keep your front and back bottoms covered) but they do enable you to wear a long top or a shorter dress or tunic than you might otherwise do with bare legs in spring or summer.
Soft pants
I cannot imagine my winter wardrobe without a soft pant – or several pairs of this fabulous garment. I'm not afraid of the droppie version; but I also have pairs that really are a fancy version of a trackie pant. Nothing pleases me more than feeling comfortable in what I'm wearing but still being socially acceptable to be seen in public.
Soft pants and off-the-shoulder top
Casual soft pants and long-sleeve tee
Dresses
You can embrace a dress in a thicker fabric or even a knit in winter. Simply add tights if it's cold or leave legs bare if not. My favourite winter dress style is the sweater dress – this dress style is the frock version of trackie pants. If a more fitted style is your thing, these can work a treat with tights and a coat.
Skirts
Your imaginary friend and mine, Nina Proudman, rocks a maxi skirt and knee-high boots. You might choose to as well. Or you might like a short tube-style skirt with tights instead. However way you like your skirts, adapt them for winter.
Remember, everyone's level of winter is different. Refer back to my capsule wardrobe of winter layering basics and add on or subtract whatever is appropriate to your needs.
So tell me, if you're not wearing jeans this winter, what are your go-to outfits?
* This post contains affiliate links. If you buy something via one of these links I may receive a small commission. Full disclosure policy here.