Pinch and a punch, it's the first day of the month and the official start to winter.
I've had a little taste of cooler weather this week and quickly remembered how our Queenslander house is not made for anything but summer.
If you can get out into the sun, that's a whole different story. Winter in Queensland is glorious.
What is layered on in the morning is peeled off by the half hour.
It's this layering that I want to address here. I liken it to those Sara Lee danish ads of long ago. It was all about the "layer upon layer" that produced a deliciously light and fluffy pastry.
With clothes, we want to create a deliciously light (but maybe not fluffy) layer upon layer of clothes – without an end result that would have us imitating another TV ad of old, the Michelin Man.
There are a few tips and tricks to successfully nail how to layer clothes in winter without looking bulky and I'm going to share them here.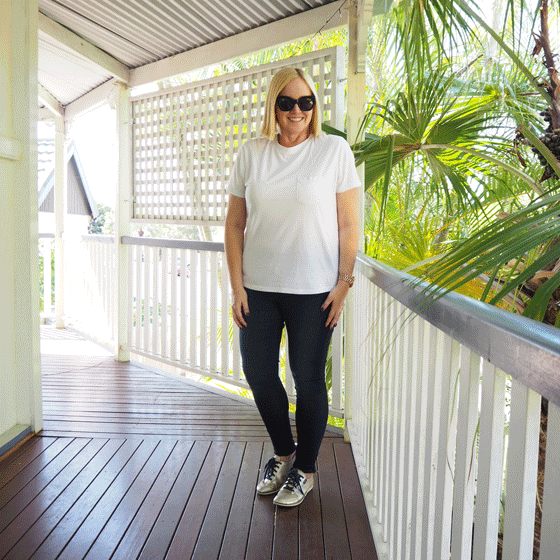 Weekend layering
Base layer: (similar) Jeanwest Prima jeans | Bohemian Traders tee | FRANKiE4 Footwear JENNi sneakers
Add: Light-wool scarf (similar here)
Add: UNIQLO flannel shirt worn as open jacket
Add: UNIQLO Ultra Light Down jacket
7 tips for how to layer your clothes
1. Your base pieces need to look ok without anything layered on it. This is where I can often be let down if it warms up and I haven't considered how my base pieces (eg jeans and tee or long-sleeve tee) look when the layers are off. Does the t-shirt sit well and look smart enough without any icing on top? Nail the base and you'll never be afraid to de-layer.
2. Make your layers light in weight. If you live somewhere cold this doesn't mean sacrificing warmth. It means utilising layers that don't require bulk to keep you warm. Think cotton blends, cashmere and merino wool. Even a jacket can have warmth without the bulk – the ultra light down range at UNIQLO fits this brief. .
3. Wear pieces made from technical heat-retaining fabrics as undergarments. Hands up if your mum made you wear a spencer back in the day. Yes, me too. They were scratchy and made me feel like a nana. Not so, the spencers of today – particularly in the HeatTech range from UNIQLO. Layer HeatTech leggings under jeans or a tee or tank underneath shirting. The fabric is super thin and won't add bulk but works to keep you warm.
4. Keep thick knits, coats or jackets as the very outer layer. If you look at each of your winter outfits and make only once piece on the thick side, then your outfit will be balanced out. You won't feel like the layers have made you look and feel bulky. A heavy coat will not appear bulky if worn back with streamlined, lightweight knit or technical fabric layers. If you work in a corporate office then the coat will be key because once you're at the office, it will be warm, so underneath will be similar to what you wear all year round. A chunky knit will appear balanced in an outfit when worn with skinny jeans or leggings.
5. Embrace the cape or wrap. My favourite outerwear pieces are the ones that essentially give you permission to leave the house wearing a blanket. The rise of the cape, wrap or shrug in all manner of fabrications has been an absolute win for those of us who aspire to "couch chic". Underneath you wear any level of layers you might need for warmth. It could be just be a short-sleeved t-shirt and jeans if you live where it's mild. Add on the blanket/cape layer and you immediately have a layered/put-together look that keeps you warm but also looks the business because of the addition of winter textures.
6. Swap out leggings for ponte pants. If you're wearing an outfit that includes a tunic-style dress or top, opt for a thicker pant in ponte. They're still the streamlined shape of a legging but with more warmth. If it's super cold, add heat-retaining leggings or tights underneath the ponte pants.
7. Concentrate on covering and keeping your extremities warm. My dodgy thyroid lets me know the minute the weather has changed and my hands and feet are perpetually cold for the duration of winter. Keeping feet encased in wool or heat-retaining socks and boots helps; as does keeping a pair of gloves in the pockets of my coat or in the car for early mornings. Hats, beanies and scarves work to keep heat from escaping around the neck and head. All of these extremity layers can make great fashion statements so embrace not just for the practicality.
15-piece layering capsule wardrobe
Sort and prep your wardrobe for the winter ahead with layering pieces that keep you warm but enable you to easily peel off if required.
Below is a mix of pieces, from undergarments, to knits, pants, jackets and coats that will be your winter wardrobe friends for many a cold-weather season to come.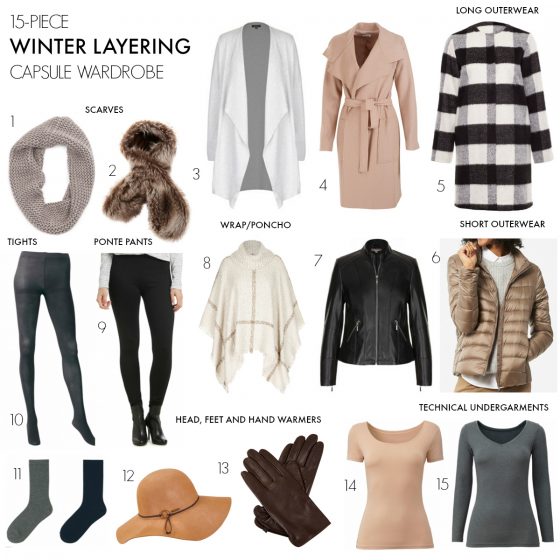 1. Metalicus snood $49 (on sale)
2. Hammock and Vine faux fur stole $99.95 @ Birdsnest
3. Katies cotton cashmere cardigan $79.95 
4. Very Very coat $429.95 @ Birdsnest
5. Metalicus coat $199.95 (on sale)
6. UNIQLO Ultra Light Down jacket $109.90 
7. Katies leather jacket $299.95
8. Katies poncho $49.95
9. Sussan ponte legging $79.95
10. UNIQLO HeatTech tights $14.90
11. UNIQLO HeatTech socks (two pairs) $14.90
12. Kooringal hat $49.95 @ Birdsnest
13. Dents leather gloves $69.95 @ Birdsnest
14. UNIQLO HeatTech t-shirt $14.90
15. UNIQLO HeatTech long-sleeve top $19.90 (on sale)
How is your winter layering wardrobe looking? Are you sorted? And if you live where it's very cold all winter with no chance of a de-layer during the day, share how you keep warm without the bulk.