Many things get me excited about what I do here at Styling You.
Connecting with you, my gorgeous readers, that's a big one. Another big one is meeting and getting to know a bunch of fabulously talented independent designers creating and working in the Australian fashion industry.
I first met White Label Noba's Tracey Watkins after her show at the Mercedes-Benz Brisbane Fashion Festival in 2015. Sadly, the festival is no more, but on that night I got to meet the dynamic woman behind the designs.
It's the back stories as to why someone starts a fashion label always has me curious. Tracey studied interior design but, while studying, modelled for the iconic Maggie Tabberer label. The seed was planted to create her own label, a label that wasn't just for the "size 10s" in this world.
Testimony to her design skills, White Label Noba pieces DO suit and fit size 10s but they also fill a fabulous gap for those of us who are not, with sizing catering for up to size 22.
"White Label Noba is a very special label. It's one which celebrates all woman, of any age and size. I found it very difficult and incredibly frustrating to find clothes that were both stylish and flattering – given I sit in the styling category of having a larger bust and the absence of a defined waistline. When my original vision to dress plus-size women in beautiful clothing resonated with women of ALL shapes and sizes, it became very clear to me that in fact, size really doesn't matter – how you feel when wear a piece of beautiful clothing does. And that's the secret behind White Label Noba." Tracey Watkins
A couple of months after that fashion festival showing, I finally took the trip across town to her flagship boutique in Hawthorn, Brisbane, to try on some pieces for myself. I bought two things that day – a floaty top and a gold-sequinned dress – and I walked out knowing that I'd just fallen hard for a new label.
It was very much about the FEELING of wearing those clothes – the feeling Tracey talks about. I felt a million bucks.
The overall aesthetic of the label is one of relaxed sophistication. The designs slot right into my everyday and occasion wardrobe like they were always meant to be there.
White Label Noba is stocked in boutiques around Australia but when I started wearing some of the pieces … and then some more during the end-of-season sale, many of you were hoping for a little online shopping action.
That's now happened and you can add to cart from anywhere around Australia to get your WLN fix.
I'm featuring below one of my favourite combinations from the autumn-winter 2016 collection.
The model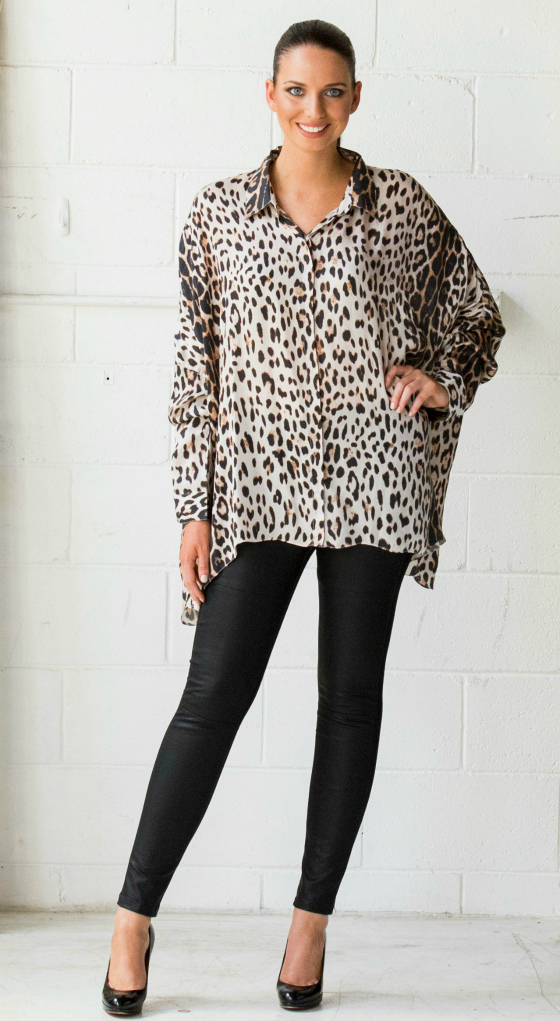 White Label Noba Congo shirt $189.95 and Ralph pants $259.95
and me
White Label Noba shirt* (I'm wearing size 1); pants* (I'm wearing size 1); necklace | FRANKiE4 Footwear VANESSA boots
with White Label Noba Tori Tassel Wrap* $189.95
I can never resist a little leopard print in my life and my wardrobe but I usually can't get away with wearing it near my face. Not this time, the white/ivory base and the graduated print just worked.
There may have been a little happy dance in the change room. This shirt is intentionally an over-sized design but the fabric and cut means that it is not overwhelming on.
I love that there are darker panels of leopard print down each side as this creates a beautiful, streamlined illusion.
Balancing out the over-sized shirt is easy with these pleather-up-the-front-ponte-up-the-back leggings. I cannot stress how comfortable these are on and how amazing the waistband is. It doesn't dig in at all, nor does it fall down.
You do need to buy super firm, though, as is the case with any stretch pant. I'm wearing size 1 but my measurements would normally have me in the 3. The Ralph pant also comes in tobacco colour.
A word on White Label Noba sizing. It's not the norm – you can check out how it correlates with the norm here. I generally wear size 1 (which can work for size 12-16) but I've been known to go down in over-sized pieces to 00 and up to 3 if something is more fitted.
I've completed the outfit with a wrap and necklace, showing how I would layer this outfit when the sun goes down. The wool blend and the pom pom detailing in the wrap is all kinds of wonderful.
Love a bit of leopard print in your wardrobe? What about pants that do all kinds of magic for your legs? 
* These pieces were gifted to me for editorial consideration. Full disclosure policy here.
---
Share your outfit to WIN
Every month in 2016 I'm giving away a $100 gift card to help freshen up your wardrobe.
This month you could win a $100 gift card from Vigorella.
Each month, I'll propose a different wardrobe theme for you to consider incorporating into your #everydaystyle outfit planning.
Each day that you incorporate that theme, simply upload your photo as you normally would, using the #everydaystyle hashtag. To be in the running for the prize, you just need to add the specific hashtag for each month's theme. You can enter as many times as you like.
This month's theme is: Winter textures. Show us your favourite way to style your outfits using winter textures.
This month's hashtag is: #SYtexture
Your outfit photo could be featured here on the blog with a link back to your Instagram page. This is a short challenge month as I'm heading to Hawaii late June. Entries will close, June 22, 2016. The winner will be announced on the blog, June 23, 2016.
---
#everydaystyle email list
If you're reading this and you join in with the #everydaystyle hashtag on Instagram, then I'd love you to please sign up to this email list. I'm so grateful for your participation in this community which I started just over two years ago, that I'd love to be able to share exclusive events, prizes and offers with you. I promise you won't be spammed. You'll only receive information for the #everydaystyle community. For possible event invites, it's also important that you indicate your nearest capital city.