The winter wedding season is almost upon us.
While spring is traditionally the season of the bride, winter offers up a completely different experience.
And if the location is chosen well, it can enhance the whole experience.
I'm thinking a big positives are that there is a lot less sweat involved and a that there is a high chance of cosy fireplaces at the reception venue.
When it comes to attending a wedding, it's one of the few occasions that you generally get more time to plan out what you're going to wear.
This is a good thing.
Also a good thing is a wedding host who is super clear on the dress code for the day.
If you're a host and you're reading this, please DO be specific. If you want your wedding to look a certain way, say what certain way you'd like us to dress.
This not only means you don't end up with a mixed bag of smart casual and black tie all in the one room but it means your guests will be less stressed about what they plan to wear.
I know, I know … you think YOU are the only one to be stressing about what you're wearing on the day. Your guests want to look and play the part too. Help them along in that.
Guests, I've got some tips for what to wear to a winter wedding – tips that apply across the seasons.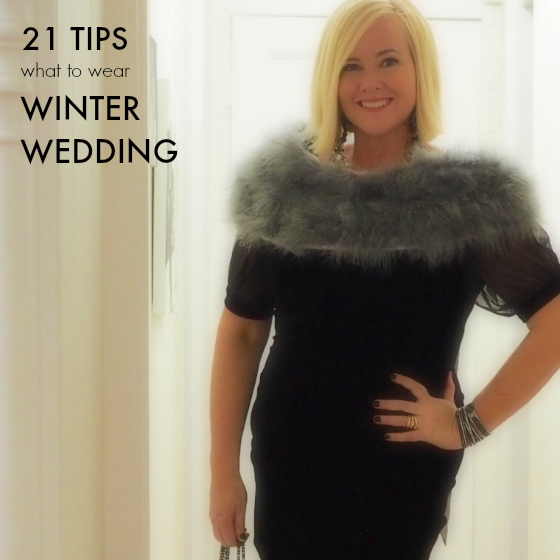 21 tips for what to wear to a wedding
1. As soon as you have an invitation or a save-the-date, start thinking about what you'd like to wear. Visualising an idea in your head really does help.
2. Research the average day and night-time temperatures where the wedding is being held. You need to dress to be warm.
3. Don't shop under pressure – use the time that you have in advance to try on a lot of outfits.
4. If you try on an outfit months out from the wedding and it makes you feel so fabulous that you immediately do a little happy dance in the store, BUY it. Don't fret that you might see something better. Go with that feeling. If the outfit FEELS fabulous on you, then you will FEEL confident wearing it.
5. A formal wedding usually indicates full-length gowns. If unsure, ask others attending what length of gown they plant to wear.
6. A cocktail wedding usually indicates shorter dress styles. A jumpsuit or pants outfit will also suit a cocktail style.
7. Think about winter coats and accessories that are on the dressy side if you know that you'll be outside in the elements and need to keep warm.
8. Wearing black to a wedding is totally acceptable these days. It mightn't sit well with you if you're a traditionalist (and that's ok!) but if you love your black then go for it.
9. If buying a new outfit, look for a dress or pant outfit that you know you'll be able to wear again for a different occasion. My go-to labels for occasion wear are Sacha Drake, White Label Noba, Maiocchi and Leina Broughton.
10. Ask girlfriends and family members if they have occasion-wear pieces and accessories they'd be willing to lend you. I have one sequinned cocktail frock that's been to two weddings in the past year – without me in it!
11. Consider hiring a frock. You get all the glitz and glam without the budget bam. GlamCorner has a great selection.
12. Wear something from the vault. Do you have an occasion piece that just sits forlorn in your wardrobe, sad that it has not been out to a party for a while? Get it out, try it on and think of how you can make it work with new accessories.
13. Take care with your shoe selection. At a country wedding you might find yourself standing on grass (even if there is a marquee) – opt for a shoe or boot that doesn't stick into the ground or won't be ruined at the first sign of wet grass or mud.
14. There's a lot of sitting down at most weddings. Dress so that you feel comfortable doing so. Yes, you might enlist some armour in the form of shapewear but before you go the full-I-can't-breathe-but-at-least-my-tummy-is-flat-look, consider whether seam-free underwear will do a good job but with with the added bonus of full breath-taking capabilities. Some suggestions here might help.
15. A destination wedding means you will be planning more than the outfit needed for the main event. Get all my packing tips here.
16. Mother of the bride – or groom – outfits do not need to look matronly. You need to dress to your personality right now, not what your mother or mother-in-law might have done back at your wedding. More than ever you need to be true to YOUR personal style so you feel comfortable in photos on the day.
17. If you are a mother of the bride or groom, find out what colours the bridal party is wearing – not to match those colours – but to complement the colour scheme in photos.
18. DO get opinions from your daughter or future daughter-in-law. They will like to be kept in the loop and involved. If you both like shopping, it might be a fun thing to do together.
19. If logistics are in your favour, book in to have your hair/makeup done on the day of the event. On the day of an event or occasion, I employ this tactic as it takes away much of the time stress of getting ready. All you need to do afterwards is pop on your frock, shoes and accessories and hop into your car/taxi/Uber.
20. If you planning a spray tan, get this done two days before the event so it has some to develop – and not rub off on to the clothes you're wearing.
21. Have fun with the whole process. Getting all dressed up is not something most of us do every week – or every month. It's a time to dress to your own style but in a fancy-schmancy kind of way.
Most of these tips don't just apply to weddings. Consider them and employ them for any special occasion event you might have on the calendar.
Here's an example of a winter occasion or wedding outfit you might pull together for an event during the winter months. Just add hosiery.
1. Belle Bird trench $135 (on sale) @ Birdsnest
2. Sacha Drake navy Juniper dress $239 @ Birdsnest
3. Mimco earrings $79.95
4. Seed faux fur style $59.95
5. Samantha Wills ring $79
6. Oroton clutch $197.50 (on sale)
7. Diana Ferrari heels $149.95
So tell me, will you be off to a wedding in winter … or later this year? Been to one recently? What's the most unusual dress code you've ever seen on an invite?
* This post contains affiliate links. If you buy something via one of these links I may receive a small commission. Full disclosure policy here.
PS. Check out these posts from my blogging friends for more tips and shopping advice for winter weddings and occasions.
What to wear to a winter wedding