Editor's note: Sammy is Miss SY's best friend from school and a journalism/PR student. Each month she shares some style and beauty tips that are relevant to teenage girls of all ages – please leave us a question if you have a teenage style/beauty question you'd like answered.
Oh uni ball season… you are my favourite time of the YEAR.
It's almost been two weeks since the last one, and I am still somewhat recovering 😉
So to put it in a nutshell, I had the absolute time of my life. And not just because of the glitz and glam, but also because it's a night to look forward to throughout the semester, as a bit of a celebration for midterm exams!
For the second year running, QUT's annual law ball was held at the ever-so-beautiful three-story venue Cloudland in Fortitude Valley. Each year the ball has its own unique theme, and for 2016 it was The Sweet Escape.
Having visions, right? Let me detail it for you!
There were baths literally filled with candy and all sorts of sugary treats, photographers and photo booths left, right and centre, and a generous bar tab for us uni students to indulge in.
But of course, getting back to the fashion, which I would say for me (and any other girl) was probably the highlight of the night!
If you're heading off to your uni ball anytime soon, or even a school formal, below I will detail some of the most important tips for the night. This includes everything from the dress and shoes, hair, makeup and accessories, as well as some extra tips too.
What to wear to a uni ball
To begin with, I must say, start your preparations early. Each year, I couldn't tell you how many girls I've spoken to who left their preparations until the week before, and found themselves in a desperate situation.
Most uni balls are held at really busy times during the semester, so by starting early, this will allow you to focus on your assessment before the big night!
Whether that means starting to browse online for outfit ideas, working out whether you will have your hair/makeup done professionally, and shopping with the deals for accessories, or organising to borrow.
1. Sheike Grecian Maxi Dress $119 (on sale at time of publishing)
2. Colette Multi Diamante Drop Earring $8.99 (on sale at time of publishing)
3. Forever New Rita Embellished Clutch Bag $59.99
4. London Rebel Scrunchie Heels $59.99
5. Wayne Cooper Double Triangle Stud Earring $19.95
6. Lipstik Kimbah Black Sandal $99.95
7. Colette Carissa Thick Metal Bar Clutch $34.99
1# The Dress
First up, and certainly most important, is the dress.
Before you even consider buying, first you must do your research. Be sure to browse magazines, blogs, and social media to get the ball rolling – pun not intended 😉
Then begin to create a mental notes of what colour, style and fit you might be after. Once you have a clear idea, put those thoughts into action – which means time to hit the pavement! While this doesn't necessarily mean time to purchase, it's definitely a starting point to get a good idea of what's about.
For each event, I personally try to do something a little different from the last. So when it came to browsing for the ball, I had absolutely no idea what I was looking for.
And sometimes (only sometimes) this can work in your favour. It just happened that I received a message from my sister to go check something out in Sheike while I was in the city.
I presume you know how the rest of this story goes? Well as I walked in, there it was, hanging smack bang in the middle of the boutique. Perfect colour and style. Oh, and once I tried that baby on, it was the perfect fit too.
Did I mention it had also been reduced just minutes before I walked in? Dress, check!
So girls, remember, you don't need to fork out hundreds of dollars on a ball gown, especially if it's for your uni ball. Because unlike a school formal, you have plenty of these events throughout the year, therefore it can become rather costly.
Alternatively, if you are shopping for your school formal, why not purchase a dress that could work for a uni ball the following year? If you choose to do so, it's great to go for block colours or a style that won't date, which will allow you to either alter the length to knee height, or change the entire look with different accessories.
Or, why not borrow from one of your closest girlfriends? That way your wardrobe will expand, without costing you any more pennies. I think Miss SY may pinch mine later in the year 😉
2# Shoes
Oh shoes. I will admit you were probably my biggest blunder of the night.
You know how they say, beauty is pain? Well, to some extent – I rocked that!
While my dress had no splits down the sides, this meant that shoes most certainly weren't the feature. But do you think I listened to that?
Instead, I chose open toe heels with a fair bit of height, and so by the time you've had a bit of a boogie on the dance floor, walked multiple flights of stairs, and stood for roughly 7-8+ hours, things can become very painful, very quickly.
While I do have a particularly high pain threshold, I was able to fight it off until the very end of the night.
But I can tell you right now, don't make the same mistake I did. Instead, choose something that is:
Comfortable to walk in
A style you're used to
Sensible height
And I can guarantee, you'll thank me later 😉
3# Clutch + Jewellery
Now we're moving on to perhaps the easiest step of them all.
With your accessories, you can pretty much either borrow some classics off your Mum, take a peak in your current collection, or buy cheap from Forever New, Colette or Myer.
I chose to do a mix of both. I already had some classic drop earrings stored away, in fact it was the perfect time to bring them out since they were still in their original packaging.
And once I brought home the dress, I knew instantly what accessories I needed. I then paired the crystal drop earrings back with my treasured Swarovski bracelet. And voila, my jewellery was done! Nice and simple.
As for my clutch, once again I do own my fair share, so I was able to reinstate a classic, which was a happy medium of both colour and texture.
4# Hair + Makeup
Now for some, this step can be rather daunting.
Coincidently, I had actually booked to have my hair cut, coloured and blow-dried the day before the ball. Perfect time for a refresh!
I chose to pull my hair back into a classic low bun, using a donut bun for more volume, because of the elegant and relatively low back on my dress. So if you do decide to have your hair up, make sure you're supplied with an excess stock of pins and hairspray.
As for makeup, fortunately for me I work in cosmetics. So I was able to take the day off and sit back whilst having the girls at work fuss over me.
And if you do decide to have your makeup done professionally, book in PLENTY of advance. Because with an event of this capacity, it doesn't take long for makeup counters to book out.
Alternatively, you can have a mobile makeup artist come to you. Otherwise there is absolutely nothing wrong in doing your own makeup, but I will admit having it done professionally definitely takes the pressure away.
Nowadays, most cosmetic counter's makeup fee is redeemable on products, so try and go to a counter whose products you already use, that way you're virtually getting your professional makeup complimentary, and in turn are stocked up on your favourite goodies.
As for a tip – always have a photo taken with flash once your makeup is complete. This is to make sure there's no flashback, so you don't end up looking like a ghost with a brown body in all your photos on the night!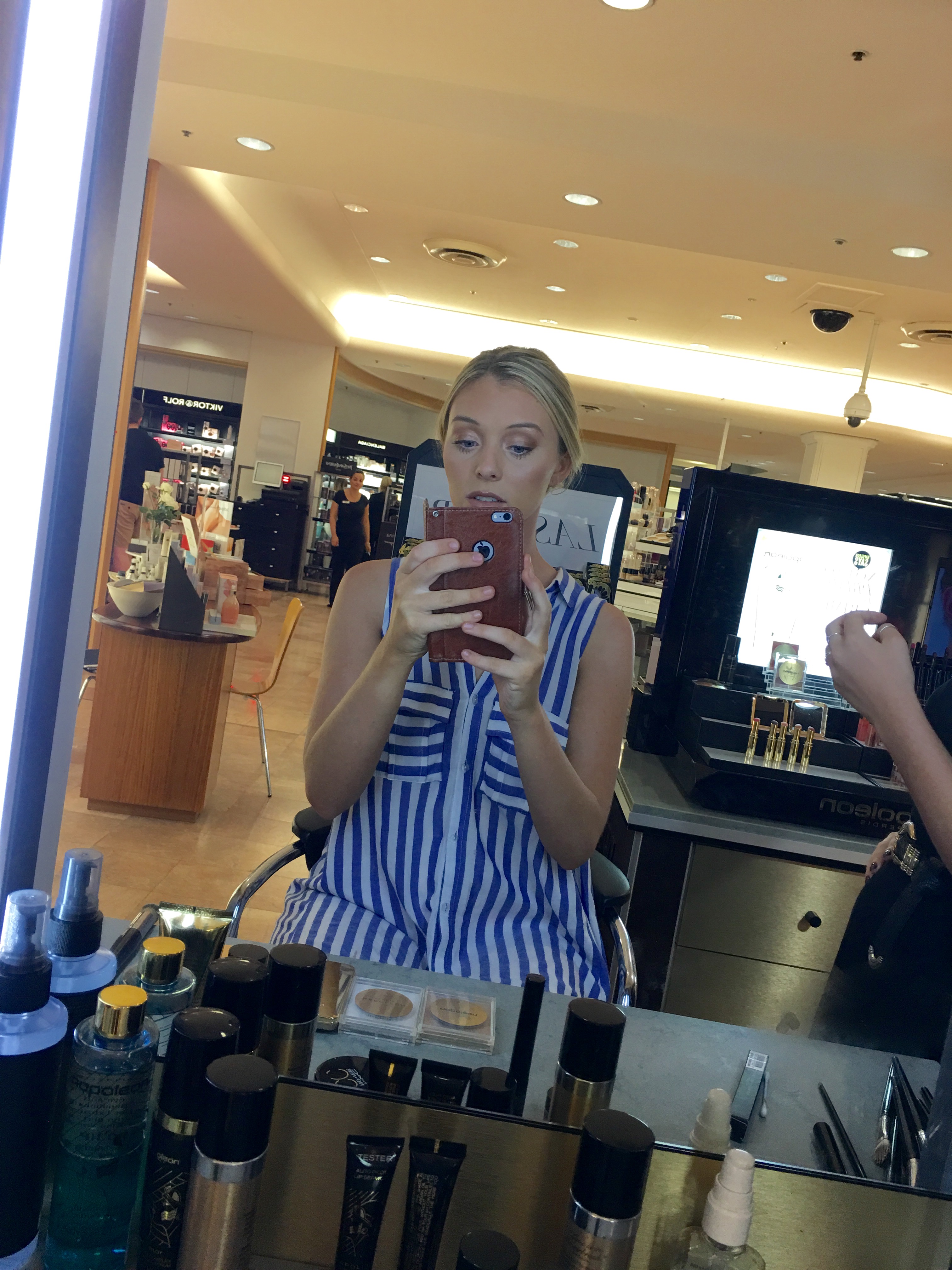 5# Extras
Spray Tan: As for extras, I decided to invest in a spray tan, since my last few months have been spent indoors with absolutely zero exposure to sun. And let's be real, it's definitely a lot safer, and is a bit of fun as part of the whole experience.
Perfume: This tip is probably the best I have. Take a small 2 or 3ml vile of a fragrance sample in your clutch for the night. Why? Because it gives you a refresher if you've been on the dance floor for a little too long! Plus, chances are you'll be the only one still smelling like roses after such a long event.
Underwear: Ladies, invest in a good bra and set of pants for the night. Especially if you go for a more fitted style of a dress. For my dress in particular, a good and somewhat supportive bra was definitely required to give shape. While my dress was not particularly fitted, I still decided to go with seamless pants.
Haircare: Now this may sound bizarre and completely unnecessary, but due to having pictures snapped when you least expect at an event like this, a comb is great to keep in your clutch, especially for when you're sporting a sleek hairdo.
While hairspray does keep everything pretty much intact, a quick trip to the bathroom for a bit of a tidy and brush kept me looking well groomed all night.
---
Now take a closer look at the girls and myself below for a range of ideas for hair, makeup and accessories.
Samantha's ball style: Sheike Grecian Maxi Dress
Kyla's ball style: ASOS Crepe Frill Maxi Dress
Lexy's ball style: Missguided Maxi Dress
Brittany's ball style: Sabo Skirt Neon Constellation Dress
And finally, HAVE FUN! While all these tips and tricks may sound rather overwhelming, it's just to make sure you're fully prepared, and will mean less stress on the day.
Now tell me, do you have a uni ball or school formal coming up soon? 
Samantha Cheney is a Brisbane-based freelance writer at www.samanthacheney.com, and is currently completing her Bachelor of Journalism and Bachelor of Business degrees at the Queensland University of Technology. Her interests include travelling, writing, and photography. Check Samantha out on instagram to follow her adventures @sammycheney